Why You Should Be Alert and In Control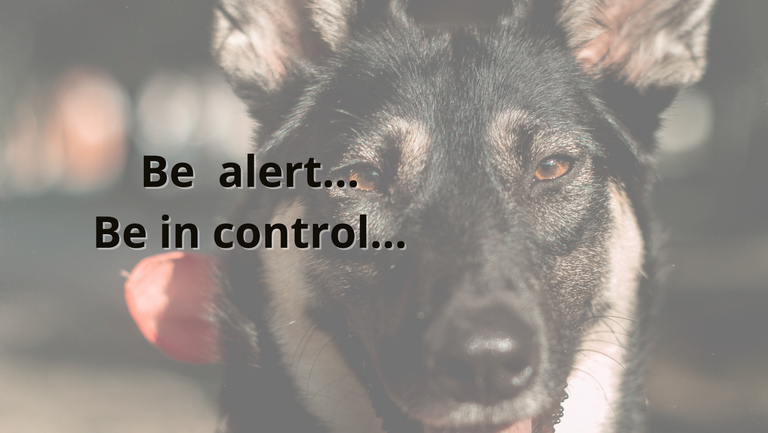 Source: CANVA
Today, I ask beforehand...forgive me if I am going on a rant...But I am livid!
My youngest daughter and her husband are expecting to become parents for the second time in February 2022.
But guess what happened to her this morning...
She got bitten by a dog!
It wasn't very serious, but in my opinion, it was serious enough.
Due to the pregnancy, she is currently not following a strenuous exercise routine, but she and a long-time friend of hers go for daily walks so that she can still get some exercise even during this time.
This morning, the two girls were out for their daily walk again.
As they were passing the gate of one of the properties, they saw it was open. The couple who obviously live there were outside and it appeared as if the husband was about to leave.
The next moment my daughter and her friend heard a commotion of dogs going beserk and the wife called to the husband that "there are people in the road".
The next moment 4 German Sheppard dogs came charging towards the gate while the husband was casually reversing his car out the driveway.
Three of the dogs hesitated at the gate and my daughter told her friend to remain calm and just keep walking.
But the fourth dog (seemingly the alpha male) came charging out into the street. The other three immediately followed.
The three went for my daughter's friend and the more aggressive one charged at my daughter, grabbing her by the wrist.
Fortunately, my daughter was able to pull away. I have taught my kids to never leave home unarmed, so she had a weapon in her hand and she started striking back.
By now the owners of the dogs were calling the dogs, and fortunately, the dogs retreated and went back into the property.
My daughter's friend didn't get bitten, but they noticed my daughter's arm bleeding profusely from her wrist.
Lucinda (my daughter) and her friend requested the dog owner to bring some water, but he was just staring at them in shock. This is where I can think of many ways to get him out of that shock...very quickly...
Eventually, Lucinda just took her jacket and wrapped it around her wrist in an attempt to stop the bleeding, and they started heading back home again.
About halfway back home, the dog owner pulled up alongside the two girls (well maybe not girls, my daughter turns 32 in November)...but offered some cotton wool and disinfectant.
Lucinda's friend took her to the hospital from where they called us to inform us about what happened.
Not knowing the history of the dog, she had to receive injections but only after they have established what would be safe for both her and the unborn baby.
The wound in her arm is severe enough for her to receive stitches, but due to the risk factor and lack of knowledge about the dog's history, they left it open, to allow the body a better chance of healing and getting rid of any unwanted stuff. It will obviously leave an ugly scar though.
The hospital took the address of the dog owners from Lucinda and apparently they are going to open a case themselves due to the circumstances under which this happened and the severity of Lucinda's injury.
I just want to follow up and find out exactly what course this case will follow and what the consequences will be.
Because in my mind, steps will be taken.
Due to my background where I'm coming from as well as my personal experience of what can happen, I am one of the first people to say make provisions for security.
But with that comes responsibility. Being alert goes hand-in-hand with that responsibility. Not only for your own safety but also for those around you.
To own a dog or even a few dogs are wonderful. I am an animal lover myself. But, whether you keep them as pets or for an extra layer of security is immaterial and I couldn't care two hoots what your intentions are, you need to be responsible and in control.
I also have a dog. And I love her to bits and she has a lot of love to offer back. But I also know she's vicious. If you come onto my property and she doesn't know you, it's going to be a mess.
When we leave our property, she doesn't come close to an open gate unless she is on a leash.
When we receive guests, she is not allowed access to the guest until we allow her to enter under controlled circumstances.
Oh, by the way...she is a Bull-Terrier.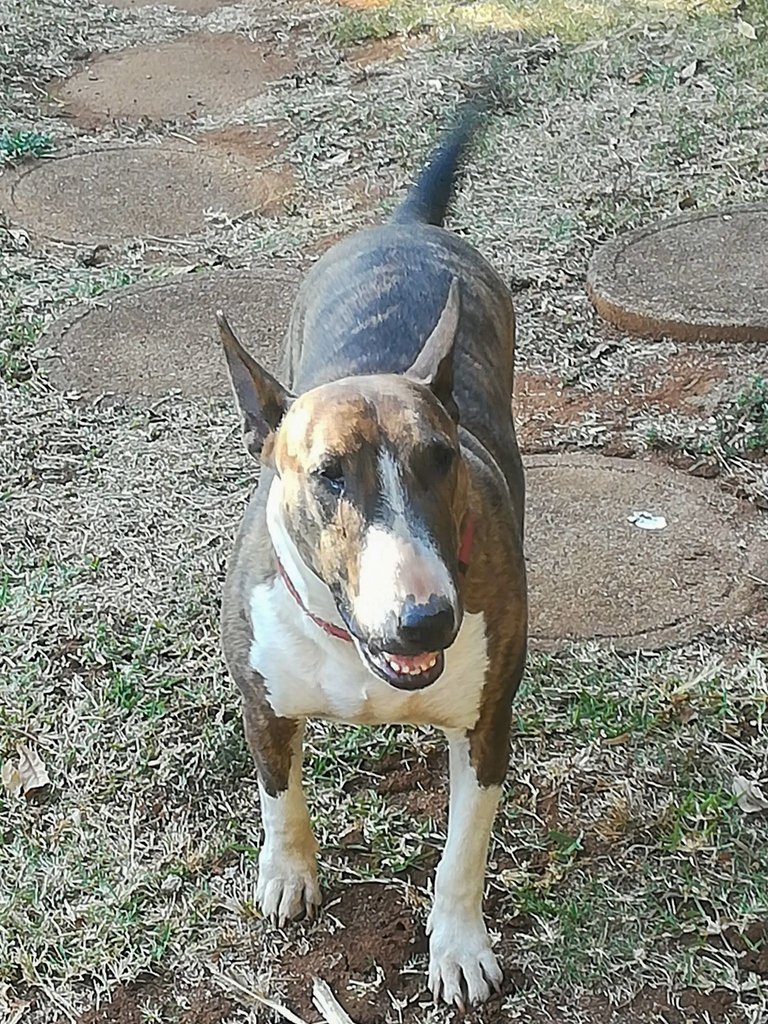 My pride and a bundle of love. But I cannot ignore the fact that she is also dangerous and has to be controlled.
In case you are wondering...we were playing and a piece of dry grass ended up on her face. That's what you see just below her eye, hanging over her nose. I saw it after taking the photo and she didn't want to stay still for another photo...lol.
But we know she is dangerous... That's why we got her after being attacked in our own home two years ago. The fact is that, with that, there comes a responsibility.
So, do you want to feel safe? Do you want to upgrade your security? By all means, go for it.
But whether you get a knife...whether you get a fire-arm...or whether you get a dog...please, remember the following:
Know what you are letting yourself in for.
Take control, be in control, and remain in control of whatever you have.
Be alert and know what is going on around you.
Saying that you have to be alert doesn't mean you can never relax.
But for heaven's sake, just know what is going on around you. Don't open a gate if you know you have a dog/s unless you have taken the necessary precautions.
Don't leave weapons lying around in the house if innocent people can get hurt.
You would say to me "that's common sense".
Yes, and I agree with you 110%...until my child gets bitten (in a public area) by a dog who cannot be controlled by his owners.
I think I can say the moral of the story is...if you can't control it, don't own it. It's as simple as that.
Thank you for reading my post and listening to my rant...
---
---