JURASSIC TARZAN. Arte de Manipulación en Photoshop #0006 + PREMIO
Hello!, today I bring a great work of art, but before that I want to inform you that I have just made some changes in the blog, I have updated it with a new cover and a new separator (the separator changes color depending on if you use the mode normal or nocturnal), soon I will also be adding some more things that will give beauty and elegance to this blog, so if you want to enjoy this content well... YOU JUST HAVE TO SEE IT! Seriously everything is free! except the shirts I make :D
Hola!, hoy traigo una gran obra de arte, pero antes de eso quiero informarles que acabo de hacer unos cambios en el blog, lo he actualizado con una nueva portada y un nuevo separador (el separador cambia de color dependiendo de si usas el modo normal o nocturno), pronto tambien estaré agregando algunas cosas mas que le darán belleza y elegancia a este blog, así que si quieres disfrutar de este contenido pues... SOLO TIENES QUE VERLO!, en serio todo es gratis! excepto las camisas que hago :D.
---
TARZAN JURASICO
JURASSIC TARZAN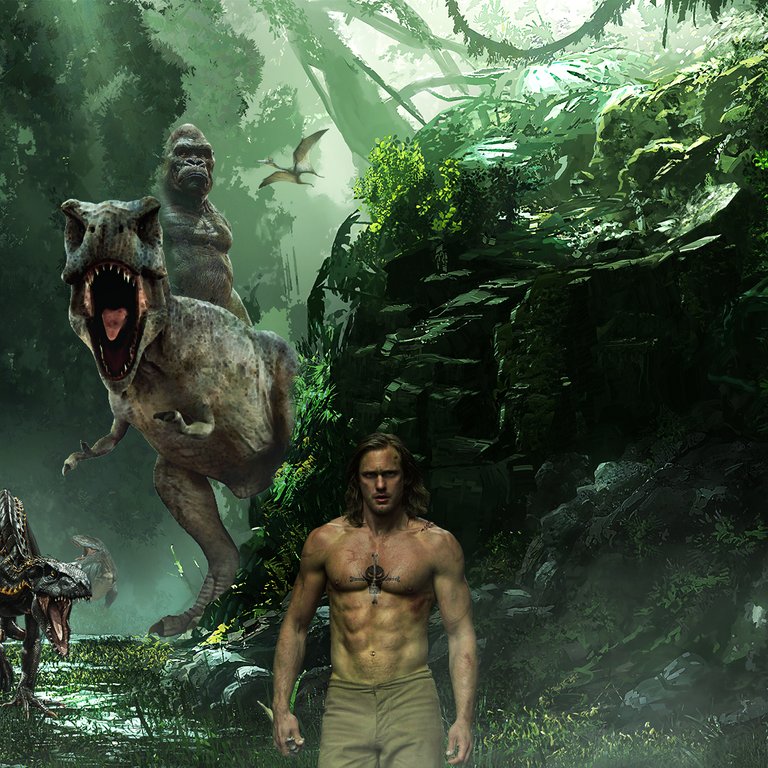 ADOBE PHOTOSHOP 2022

PROCESO
PROCESS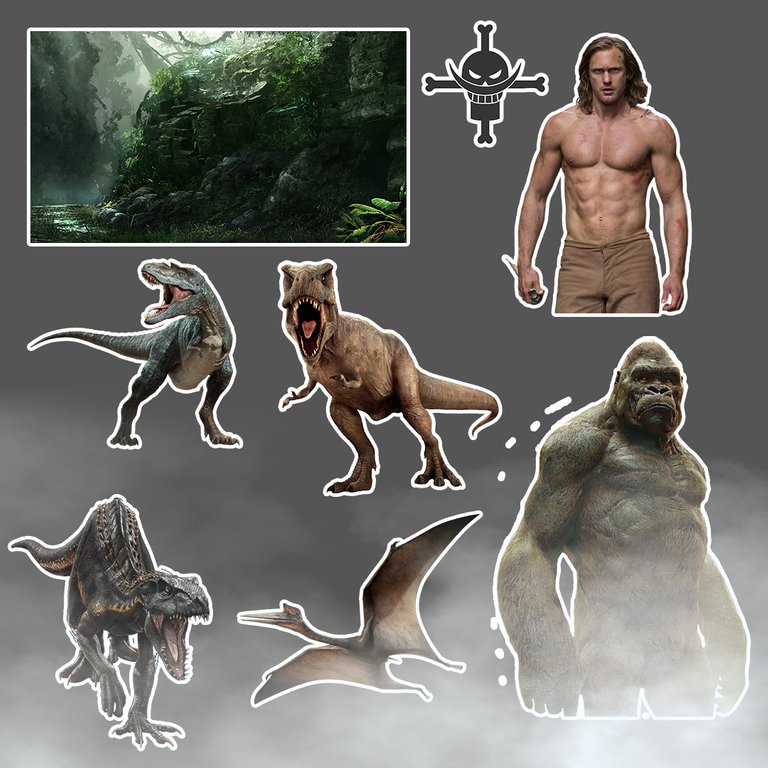 ---
BANCOS DE RECURSOS DIGITALES
www.pngegg.com
www.pngwing.com
wall.alphacoders.com

---

DETALLES
DETAILS
Well as you can see we have a Tarzan in a Jurassic world, bone, full of hungry dinosaurs, and of course the classic King Kong of the skull island cannot be missing to destroy all these dinos, although I think I exaggerated a bit to put Tarzan dominant in the edition since the truth is that he could not do anything against these terrible monsters, although it can be seen easily, the truth is that it took me more or less 90 minutes to finish it, and finally, whoever knows where the Tarzan tattoo comes from I will make a gift.
Bueno como pueden observar tenemos a un Tarzán en un mundo jurásico, ósea, lleno de dinosaurios hambrientos, y claro no puede faltar el clásico King Kong de la isla calavera para destrozar a todos estos dinos, aunque creo que exagere un poco a poner a Tarzán de dominante en la edición ya que la verdad el no podría hacer nada contra estos terribles monstros, aunque se pueda ver fácil la verdad es que me tomo mas o menos 90 minutos terminarla, y por ultimo quien sepa de donde proviene el tatuaje de Tarzán le hare un regalo.

Es importante que sepan que las ediciones las hare en base a las ideas que me digan en la caja de comentarios, y si hago su idea te etiquetare en próxima publicación.
It is important that you know that I will make the editions based on the ideas that you tell me in the comment box, and if I make your idea I will tag you in the next publication.

---
---