Let's Talk About... HiveStats, an Interface of All Hive Interactions and Rewards!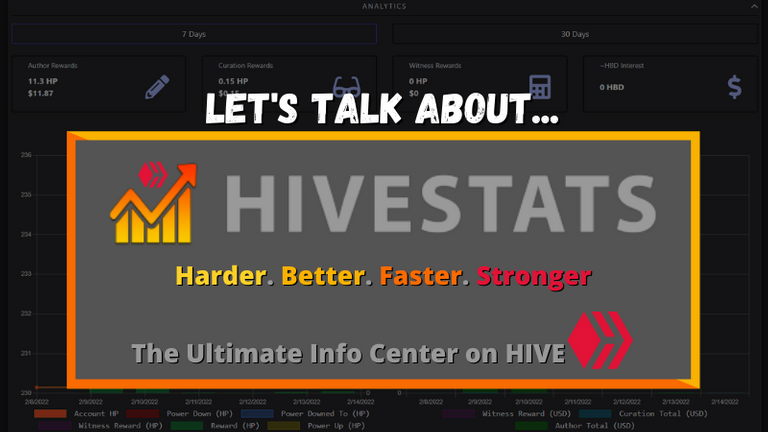 I rarely post on LeoFinance: It's kind of scary, I never know if I'm talking about something 'financial' enough, and so I usually err on the cautious side, and avoid the tag unless it directly pertains to Leo, Liquidity Pools, or something Investment worthy. Generally speaking if I have any doubts, I nix the tag altogether. I like the LeoFinance community, and still keep up with it regularly, but I don't like posting potentially unwanted content in the wrong tribe, as that's a no-no!
Finally, I have a post that is perfect for Leo, and so this is my first time posting directly through the LeoFinance front-end! Spooky, but exciting! I hope you guys like what I have to say:
Hivestats? What is it?
This was one of THE most important Hive Engine related products BEFORE it was overhauled... I use it religiously, it's one of my favorite parts of Hive, and it's how I learned about a LOT of Hive's functionality. Now, it's been overhauled, upgraded, and made Harder. Better. Faster. Stronger.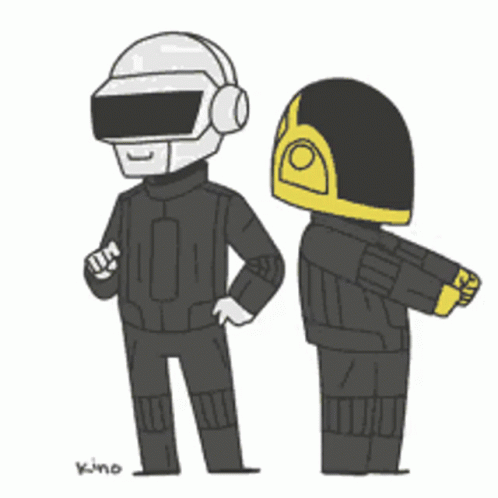 You can find Hivestats here where you will be able to look up anyone on the blockchain and see what's going on 'under the hood'. It is, without a doubt, one of the most comprehensive information centers and resources for Hive currently available in a single place.
---
Top of the Page: General Info
After looking up your name, you will be directed to a huggeeee page of information, the first section of the page looks a little something like this: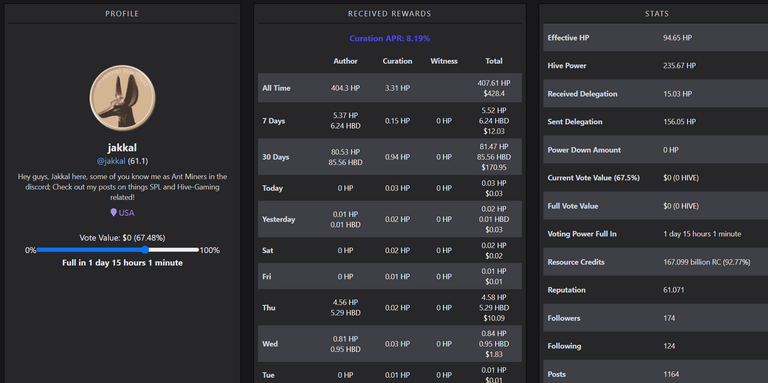 Showcasing a sort of basic overview of your more important, general stats, it conveniently gets across your curation across different days, your voting power, your account name, reputation, and various other user interface and social media related stats. I know, I know, I'm a minnow here, I'm working on it!
My Favorite Part: I love being able to see my Curation APR and my Vote Value, and the Vote slider, allowing me to see my vote value from 0% to 100% is pretty awesome. Granted: My vote value is 0, so it's not exactly exciting for MY Account, but it's so cool to mess with and see how it affects Curation on others!
---
7 Day and 30 Day Trajectory: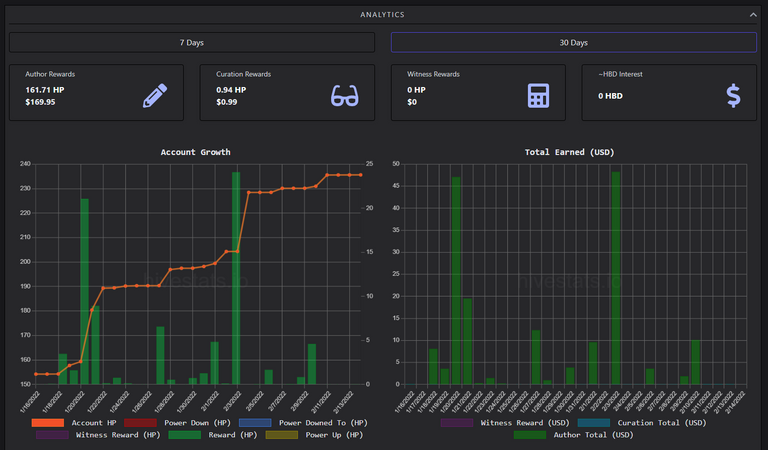 You can check out your growth here, as you can see, my curation values are nothing. I rarely power down or up, and I mostly just keep my assets within the Hive ecosystem. I like it here, I see no reason to take it away and pull out, especially since we're only at the beginning of Hive's growth in my humble opinion.
These are 2 sections of nearly... I don't know? 30 different advanced interfaces that pull your blockchain and API information, providing you with clean graphics, interfaces, and tables to display that information in.
My Favorite Part: These are absolutely beautiful graphs, and they are even prettier when they start to get a lot more going on, with the fatter purple bars and the smaller blue bars creating a colorful, extremely informative graph. I especially love the decision to make the Account HP an Orange Dot Graph, as this makes it particularly visual! I need to get my curation up so I can start having those blue bars as well!
---
Wanna see your pending curation and post rewards? They've got that: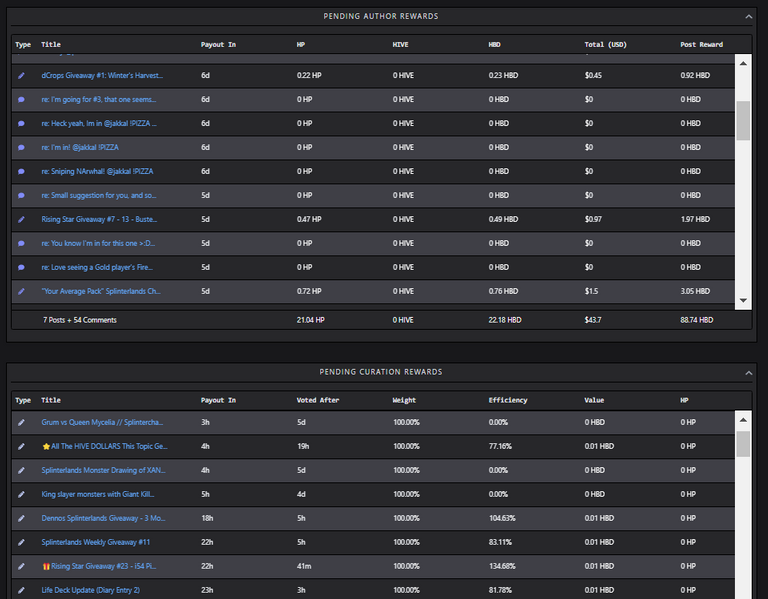 Each post is divided into your total rewards, your HBD vs HP payouts, how much Hive they pay out in, if applicable, and are organized based on when they payout. This is a pretty simple, but powerful table, with each post/comment being hyperlinked and easy to navigate to and from, along with your previously curated posts from others as well! This makes an awesome curation / interaction history that anybody can follow and interact with if they so chose.
My Favorite Part: Hyperlinked articles and comments, I can easily navigate to any one of these, and I can see their individual pending rewards! This is hugely exciting, I would love to see similar functionality included in other Front-Ends in the future, for instance a lot of my upvote value is in SPT/OneUp.
---
Want to check out your Hive-Engine Rewards?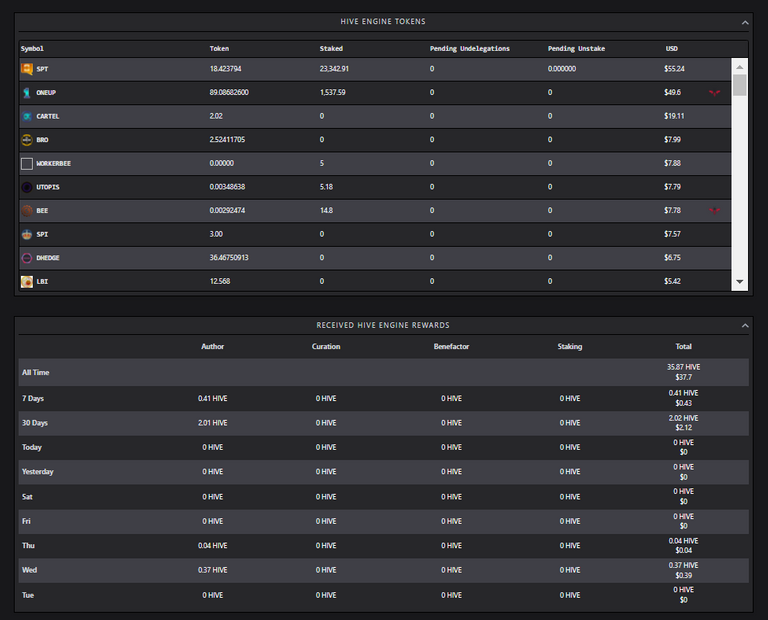 You can conveniently see all of your Staked and Liquid Tokens. One thing I'd personally like to see here is Delegations separated out as well.
You can also see the Hive-Engine Rewards you receive each day, however, due to them being small amounts of many, many tokens, generally you will see this in Hive instead.
This one for me feels like it needs just a little bit more work, but it's also extremely likely that my account is so small that I'm just completely missing the value of it, so take my thoughts here especially with a grain of salt.
---
Jakkal why are you showing your info?
Because this is all public guys, I can look up any one of you, and see your transactions, interactions, and wallet information across multiple sites: If I wanted to see all of this information on somewhere OTHER than HiveStats, I would have to use HiveBlocks to see your Curation and Resource Credits, Hive-Engine to see your Wallet and Tokens/Delegations, Peakd to see your Hive Power and SBI shares, and even then, I wouldn't have this beautiful interface to look at, which uses formulas to determine your Curation APR, your daily graphs and monthly graphs.
With so much power and finesse in one place, LeoFinance has really outdone themselves here, they took an already great interface and decided, you know what? What if we make it better. We're not going to settle for "Great". We'll settle for "Best."
You can utilize this tool to track your favorite Authors and Curators, seeing what they do, when they're active, etc. You can look up and verify transactions on the chain when so-and-so says NFA but I bought 1000 of this thing, and you can check and make sure they actually did just that. This puts DYOR to another level, and puts it all in one place. Furthermore, you, as a content creator, can see your curation APR, your monthly/weekly income from writing, and you can use this information to figure out things like peak posting times, peak days, you can fine-tune your curation APR, and you can see all of this general information in one single play, quickly, and effectively, allowing you to see what's going on with the collective value of your account.
---
Jakkal, why is #SPT and #Oneup there?
You know I'm very particular about my tags, often times, I won't even tag Leo Finance, because I don't feel like whatever I'm talking about is "financial" enough for Leo's interface, so why am I tagging SPT and OneUp in this post about a Hive tool made by LeoFinance?
Oftentimes, the gaming oriented community of Hive is the most vulnerable to the penalties of not Doing Your Own Research, and it can be an extremely punishing aspect to learn. This is especially true of younger Hivians, and those who came through Splinterlands, or found a game they like, and they don't really know either Finances, Blockchains, etc. These particular people I'm referencing are vulnerable to being mislead, misguided, or manipulated easily, and this tool is a way for you to get the transparency you need to research your Source, and more importantly, understand the Ecosystem.
One person might say something, and be biased and/or benefit heavily from the thing they're saying: This isn't really a problem in itself, we all are going to support and interact and promote the projects that we ourselves are invested in, that's natural! But, at times, there can be malicious intent disguised as guidance, and it's my hope that by this being ALSO on the OneUp/SPL community, some of those less experienced users will have access to a tool that kind of levels the playing field. It's not easy to dig through HiveBlocks, Hive-Engine, and a user's posts/curation trail to see what they're doing. In Splinterlands especially, many players will naturally upsell and talk up their cards. Again, there is nothing wrong with this at all, many people buy a card, or a stock, or a tribe token because they believe in it and it rewards them for that. The issue is that for a newcomer to Hive, it can be scary to navigate, it can take months to learn for less savvy users, and that's where HiveStats comes in:
It TELLS you your Curation APR, it SHOWS you a person's post history, assets, etc, in an easy to digest series of tables and graphs. You can SEE the research. It's not just JSON Blockchain interactions and numbers. It's not just a bunch of text that can be intimidating for anybody without a Tech or Financial background.
That alone can be the difference between somebody struggling to understand some of Hive's underlying mechanics, and a blockchain's underlying transparency, versus makes it an easily digestible thing.
I often talk with some of my Hive and SPL buddies, and for many of the newer ones, their complaints were usually the same: Hive as a whole felt so complicated, there was a site for this, and a site for that, and there were all of these 3rd party interactions and front ends and tribe tokens, and it can be SCARY for an inexperienced user, even ones who are previously experienced in other blockchains! It was a lot of transaction blocks and ids, and some of the code spit out isn't exactly useful to the average viewer.
I think that HiveStats is the accessibility and clarity that we need going forward for onboarding new Hivians faster, and with more awareness of the space and blockchain/ecosystem that they are in! and THAT is worth talking about <3
Thanks Guys!
I hope you enjoyed the post, I'll try to have more LeoFinance related content in the future! I'm still figuring out the balance on what's good to post here and what's not, and I'm the type who likes to get it right the first time, so it may be a bit, but be sure to check out my other posts, which focus heavily on Hive Gaming and Splinterlands News currently, I will be expanding into Tribe Tokens and Dividend Tokens in the future, and I think these will be articles I will be bringing to Leo's front-end! Hope to see you guys again soon!

Want to try to win some Leo? Talk about HiveStats!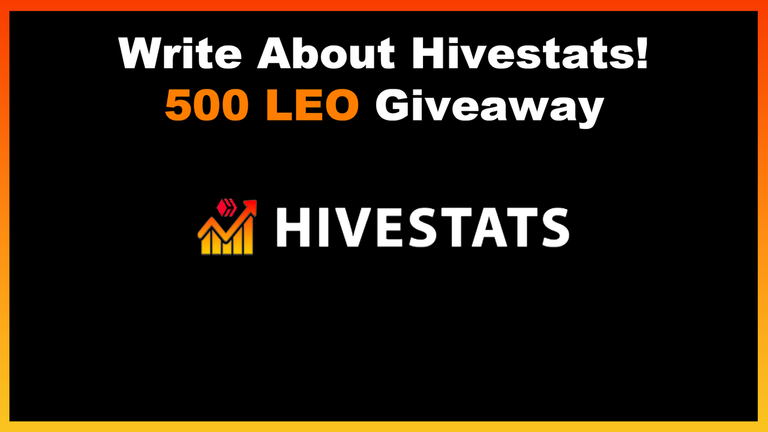 https://leofinance.io/@leofinance/launch-day-introducing-the-new-hivestats-or-rebuilt-from-the-ground-up
Posted Using LeoFinance Beta
---
---