Construyendo el camino sobre la base de decisiones [ESP-ENG]
Ayer leía el post de @eddiespino sobre las oportunidades y me motivó a reflexionar sobre cómo la vida da tantas vueltas y tenemos que estar continuamente haciendo elecciones sobre absolutamente todo.

Yesterday I was reading @eddiespino's post about opportunities and it motivated me to reflect on how life takes so many turns and we have to continually be making choices about absolutely everything.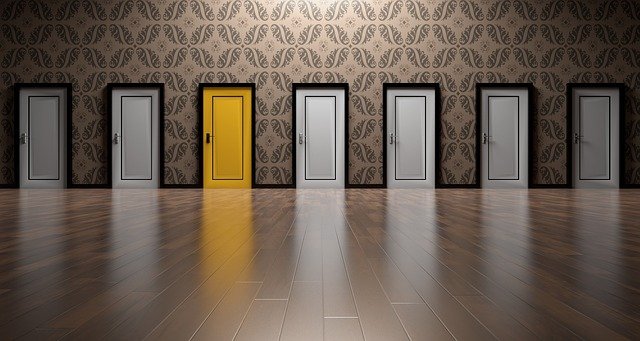 Fuente
Cuando a la edad de 11 años te dan a elegir para qué Secundaria Básica quieres ir a estudiar, si a la que van todos tus amigos de la escuela o la que tiene mejores profesores, pero no va a haber ni una solita persona que conozcas, parece una decisión fácil verdad!? Pues siempre fui un poco testaruda, algunos dirán que es por mi signo zodiacal 😂 Tauro, y parece ser un rasgo bien distintivo de mi carácter, que ha sido tanto virtud como defecto. Escogí irme para la escuela con mejores profesores.
Mis padres, muy pocas veces, los recuerdo imponiéndome algo con respecto a mis estudios. Dice mi mamá que yo era una niña muy juiciosa 😂 y por eso me dejaban decidir a mí, y para que aprendiera también de mis propios errores.
When at the age of 11 years old you are given the choice of which junior high school you want to go to, the one where all your friends from school go or the one with the best teachers, but there is not a single person you know, it seems like an easy decision, doesn't it?
Well, I've always been a bit stubborn, some would say it's because of my zodiac sign 😂 Taurus, and it seems to be a very distinctive feature of my character, which has been both a virtue and a defect. I chose to go to a school with better teachers.
My parents, very rarely, do I remember them imposing anything on me regarding my studies. My mom says that I was a very judicious child 😂 and that's why they let me decide so that I could learn from my own mistakes as well.
Yo no era personita la mar de social, pero tampoco era borde, así que el primer día de escuela ya tenía una nueva peña de amistades nuevas 😂, con la suerte de que semanas después varios de mis antiguos amigos, que conocía desde los 5 años, cambiaron hacia mi escuela también.

Durante los 3 años que dura ese nivel de enseñanza en Cuba mi grupo de amistades más cercanas eran Jorge, Liliam y Yaima y llegó un nuevo momento de decidir: el bachillerato. En esa época, este nivel necesario para continuar hacia la universidad, solo se podía adquirir estudiando en las ¨Becas¨, que son escuelas en zonas rurales del país con régimen de internado o una escuela (una solita!) que era externa, muy cerca de mi casa, pero que era para muchachos con ¨enfermedades¨ (lo pongo entre paréntesis porque también ahí estaban los hijitos de papá que no querían becarse).

I was not a very social person, but I was not rude either, so the first day of school I already had a new group of new friends 😂, with the good fortune that weeks later several of my old friends, whom I knew since I was 5 years old, changed to my school as well.
During the 3 years of that level of education in Cuba, my closest group of friends were Jorge, Liliam, and Yaima and a new moment of decision came: high school. At that time, this level, necessary to continue to university, could only be acquired by studying in the ¨Becas¨, which are schools in rural areas of the country with a boarding school system or a school (a single one!) that was external, very close to my house, but that was for boys with ¨enfermedades¨ (I put it in parentheses because there were also daddy's little boys who did not want to get a scholarship).
Siempre fui muy de mi casita, no salía a fiestas ni tenía novios jajajaj así que becarme para mí era un paso enorme. Mis primos apostaron que si me becaba no duraba una semana. ¡Error! Ajajaj nada mejor que un reto por delante 😜. Peeeeero, una vez más mis amigos de secundaria querían ir a una beca, yo quería ir a otra 😳 así que me tocó enfrentarme nuevamente con 14 años a una convivencia de 24/7 con desconocidos bien lejos de mi hogar.
I was always very much a homebody, I didn't go out to parties or have boyfriends hahahahah so getting a scholarship was a huge step for me. My cousins bet that if I got a scholarship I wouldn't last a week. wrong! Ajajajaj nothing better than a challenge ahead 😜. Peeeeero, once again my high school friends wanted to go on a scholarship, I wanted to go on another 😳 so I had to face again with 14 years old a 24/7 cohabitation with strangers far away from my home.
¡El resultado: 3 años espectaculares!!!!
The result: 3 spectacular years !!!!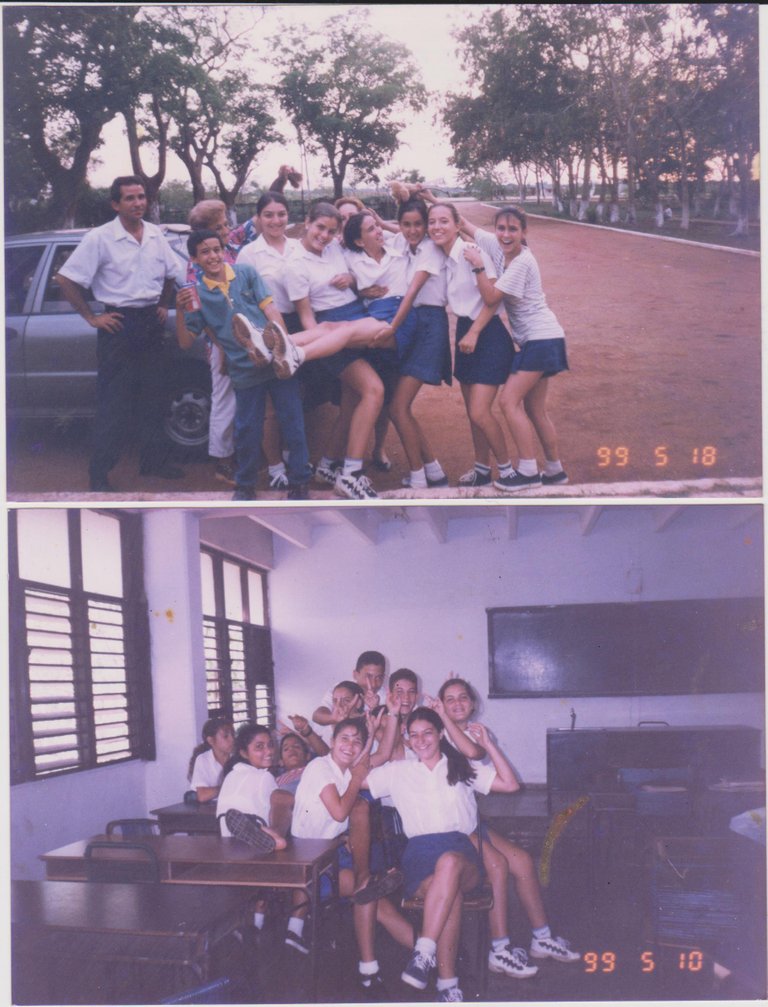 La primera foto fue tomada el día de mis 15 (en el primer año del Bachiller), pues recuerdo que esa semana tuvimos prueba final de Historia y no podía ir a casa
The first photo was taken the day of my 15th birthday (in the first year of high school), as I remember that that week we had a final test of History and I could not go home .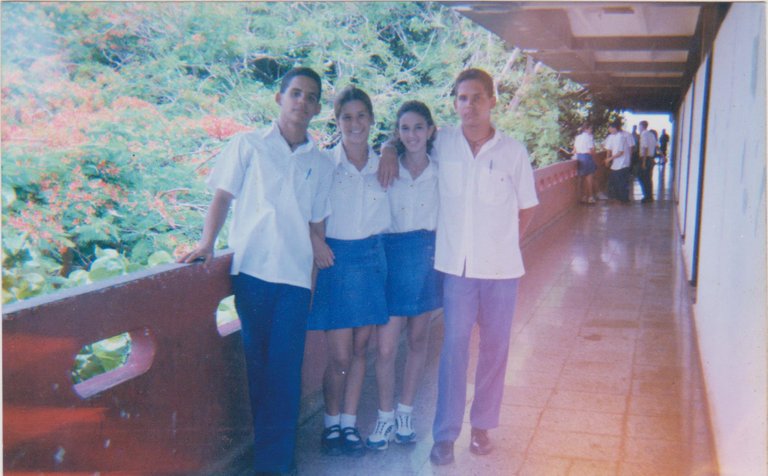 Foto tomada en 12 grado (último año del bachiller), Yasmeli a mi derecha, Osmar del lado de Yasmely y Oscar que me tenía el brazo echado por encima, todos muy buenos amigos de esa época
Photo taken in 12th grade (last year of high school), Yasmeli on my right, Osmar on Yasmely's side and Oscar who had his arm around me, all very good friends from that time .
Casi al finalizar el tercer año una nueva oportunidad se nos presentó a un grupo. Algunos de los mejores expedientes podíamos optar escoger la carrera universitaria que quisiéramos a cambio de dar clases durante 5 años en una escuela primaria. (... en un comienzo este Plan requería un montón de requisitos y accedimos unos cuantos de mi preuniversitario y algunos de los otros incluyendo el de Ciencias Exactas conocido como "La Lenin")
Este cambio implicaba dejar a mis amigos de nuevo, esta vez dolió mucho más, Osmar se sentaba a mi lado en clases y tenía un carácter horrible 🤣, pero que a mí me daba gracia y Neka y Yasmely pues nuestras camas apenas separaban por 1 metro de distancia. Así que fue bien difícil.
Almost at the end of the third year, a new opportunity presented itself to a group of us. Some of us with the best records could opt to choose the university career we wanted in exchange for teaching for 5 years in an elementary school. (... in the beginning, this plan required a lot of requirements and we accessed a few of my pre-university and some of the best records, others including the one from Exact Sciences known as "La Lenin").
This change implied leaving my friends again, this time it hurt much more, Osmar sat next to me in classes and had a horrible character 🤣, but that gave me grace, and Neka and Yasmely because our beds were barely separated by a 1-meter distance. So it was very difficult.
¡Lo interesante: en el nuevo pre coincidí nuevamente con Jorge!!! Mi amigo de la secundaria 😂 que siendo un cerebrito en su pre también había sido escogido. Esos meses fueron muy intensos, por la preparación, nos levantábamos 5:30 am y el horario de dormir no comenzaba hasta las 11:00 pm. Recuerdo también los dictados de palabras que nos hacían, eran interminables y muy muy difíciles y de la nota que habías obtenido dependía el momento en el que podíamos irnos a casa a estar dos días por cada 15 días en la escuela.
The interesting thing: in the new pre I coincided again with Jorge!!!! My friend from high school 😂 who was a brainiac in his pre had also been chosen. Those months were very intense, because of the preparation, we used to get up at 5:30 am and the sleeping schedule didn't start until 11:00 pm. I also remember the word dictations they made us do, they were endless and very very difficult and the grade you got depended on when we could go home to be two days for every 15 days in school.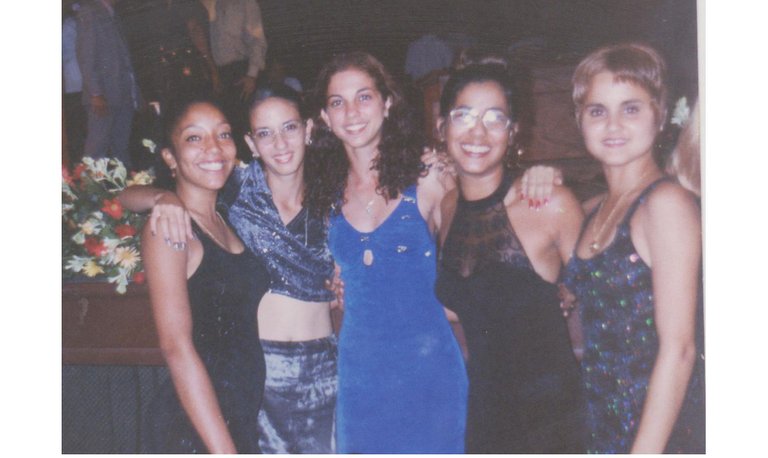 Foto tomada el día de nuestra graduación de Bachiller con la habilitación de Maestros, yo con el dos piezas en gris acero, ya comenzaba a usar espejuelos por aquellas fechas 🤓
Photo taken the day of our high school graduation with the qualification of Teachers, me with the two-piece in steel gray, I was already starting to use glasses at that time 🤓
Luego vino la elección de carrera, estaba indecisa entre Historia o Comunicación, pero al final me decanté por la segunda, pues me parecieron sumamente interesante los procesos de Comunicación que se sucedían en las empresas. ¡Esta vez, varios de mis amigos también eligieron la misma carrera que yo! Al fin! 😂
... Y pues, con Jorge, terminé incluso trabajando, pues coincidimos en la escuela que nos tocaría para impartir los grados de primero a cuarto. Pero, mi experiencia durante 5 años como maestra se las cuento otro día porque es algo bien hermoso que llevo en la memoria y merece un post aparte.
De momento acá lo dejo, y cuando miro hacia detrás pienso en la de veces que pude haber tomado otro camino, uno que me mantuviera en mi zona de confort con mis conocidos, con lo seguro, pero elegí salirme del recuadro.
Then came the choice of career, I was undecided between History or Communication, but in the end, I opted for the latter, as I found the Communication processes that happened in companies extremely interesting. This time, several of my friends also chose the same career as to me! Finally 😂
... And well, with Jorge, I even ended up working, since we coincided in the school that would be our turn to teach grades one through four. But, my experience during 5 years as a teacher I will tell you about it another day because it is something very beautiful that I carry in my memory and deserves a separate post.
For the moment I leave it here, and when I look back I think of the many times I could have taken another path, one that would have kept me in my comfort zone with my acquaintances, with what was safe, but I chose to step out of the box.
Eso me permitió ganar confianza en mí misma. Ya no temo llegar a un lugar repleto de desconocidos y me ha dado la oportunidad de conocer a más y mejores amigos incluso. Pues en mi época de maestra fue que conocí a mis bellas niñas, amigas del alma: Rosario, Lisse y Yami con las cuales ya tenemos más de 20 años de amistad, de la de verdad verdadera.
Entonces, a modo de enseñanza (puritica, deformación profesional 😜) no temas enfrentarte a situaciones nuevas que supongan un alejamiento de tu zona de confort, sino, por el contrario. Tómalo como un reto personal a lograr, una pequeña meta en la vida.
So, by way of teaching ( professional deformation 😜) do not be afraid to face new situations that involve a departure from your comfort zone, but, on the contrary. Take it as a personal challenge to achieve, a small goal in life.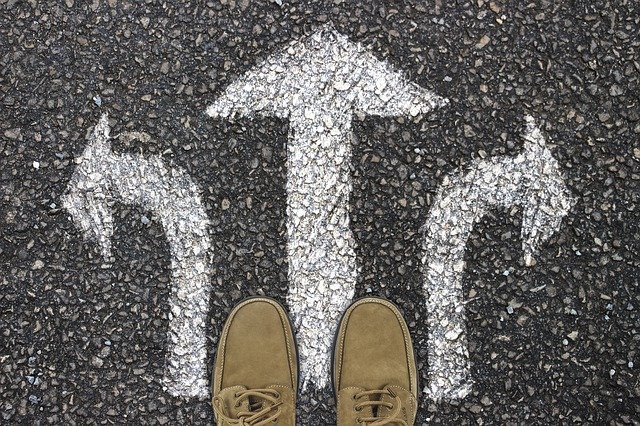 Fuente
Esta, muchas veces nos pone bifurcaciones enfrente y algunos caminos dan más temor que otros, pero sé valiente y exígete a ti mismo ese extra que hace falta. Que erraste, ok, recuerda que: "El único hombre que no se equivoca es el que nunca hace nada" (Goethe).
This one often puts us in front of forks in the road and some paths are scarier than others, but be brave and demand from yourself that extra that is needed. That you made a mistake, ok, remember that:
"The only man who makes no mistakes is the one who never does anything". (Goethe)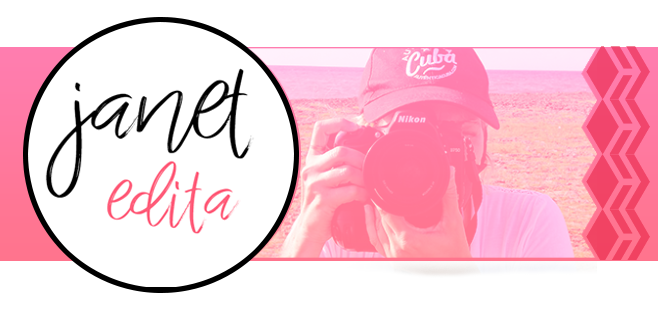 |
MIS REDES SOCIALES
INSTAGRAM ♦️ TWITTER ♦️ LINKEDIN

Apoyo a la comunidad @hivecuba😍

Apoyo a la comunidad @aliento😍
---
---