Iniciativa "Celebrando el Dia Mundial del Pan": Pan de Jamon y Pan Dulce relleno [ ESP-ENG]
Hoy traigo mi participación en la Iniciativa de @hivefood de la mano de mi amiga @mariale07, en la cual no podia dejar de participar, el pan es uno de mis preferidos en la cocina y la propuesta de esta iniciativa es realmente atractiva para todos los amantes del pan.
Today I bring my participation in the @hivefood initiative from the hand of my friend @mariale07, in which I could not stop participating, bread is one of my favorites in the kitchen and the proposal of this initiative is really attractive for all bread lovers.
---
Iniciativa "Celebrando el dia mundial del Pan" en Hive Food 🍞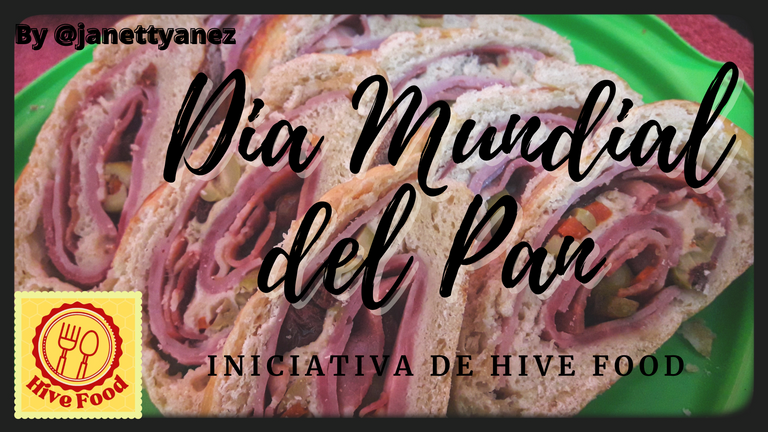 El pan lo considero un compañero ideal para muchos platos tanto tradicionales de mi amado país Venezuela, como para otros de diversos países a nivel global.
Particularmente una de mis recetas favoritas de pan es el "El Pan de Jamón Venezolano" el cual me encanta y lo preparo siempre para final de año cuando se acerca las navidades.
La receta que utilizó actualmente para realizarlo sufrió muchas modificaciones atreves de los años, ya que la inicial era de mi madre, pero que fui mejorando y agregando algunos tips hasta perfeccionarla y lograr que hoy en día mis panes de jamon tengan la consistencia y textura que tanto me gusta.
I consider bread an ideal companion for many traditional dishes from my beloved country Venezuela, as well as for others from various countries globally.
Particularly one of my favorite bread recipes is the "Venezuelan Ham Bread" which I love and I always prepare it for the end of the year when Christmas approaches.
The recipe that he currently used to make it underwent many changes over the years, since the initial one was from my mother, but I kept improving and adding some tips until perfecting it and achieving that today my ham loaves have the consistency and texture that I like it so much.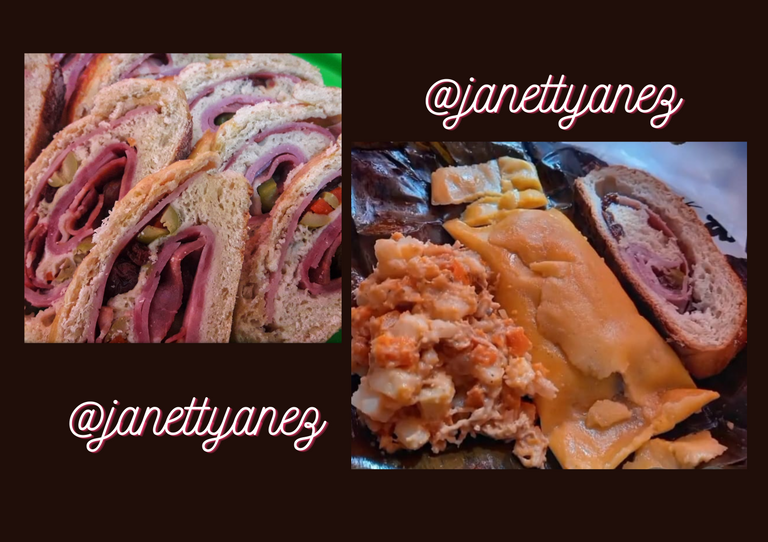 El Pan de Jamon es considerado el acompañante perfecto para nuestras hallacas venezolanas, conjuntamente con otras guarniciones o contornos que usualmente preferimos, pero en el caso de "El Pan de Jamón" le proporciona un contraste perfecto de los sabores dulce-salado que permite una excelente combinación con la hallaca.
Básicamente la clave para la preparación del Pan de Jamón es la masa, si se logra la consistencia y textura deseada, te queda perfecto.
A continuación, les comparto una imagen de los ingredientes que agregamos al Pan de Jamón en su interior, donde podemos visualizar la combinación del jamón, tocineta o panceta, aceitunas y uvas pasas; cuya cocción se realiza en el interior del pan dando como resultado un delicioso sabor que definitivamente es inigualable.
The Pan de Jamon is considered the perfect accompaniment for our Venezuelan hallacas, together with other garnishes or contours that we usually prefer, but in the case of "El Pan de Jamón" it provides a perfect contrast of sweet-salty flavors. that allows an excellent combination with the hallaca.
Basically the key to preparing the Pan de Jamon is the dough, if the desired consistency and texture is achieved, it is perfect.
Next, I share an image of the ingredients that we add to the Pan de Jamon inside, where we can visualize the combination of ham, bacon or pancetta, olives and raisins; whose cooking is done inside the bread resulting in a delicious flavor that is definitely unmatched.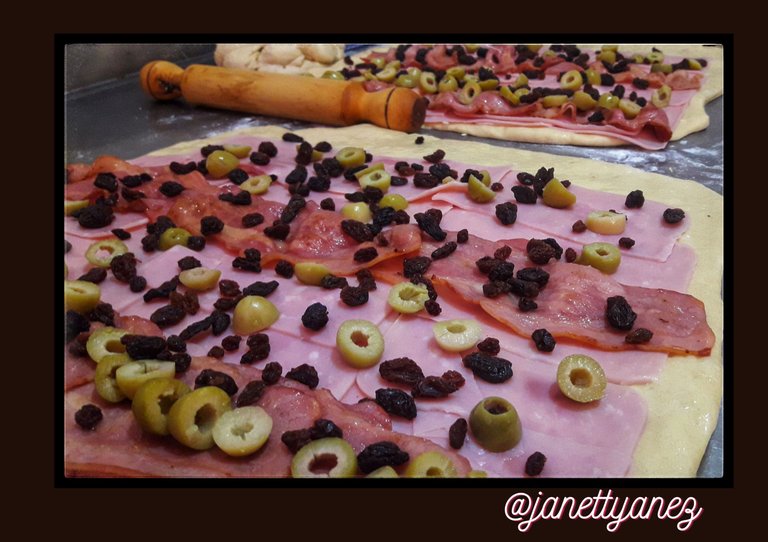 Asi mismo, mi panes dulces preferidos, me confieso apasionada del "Pan Dulce Relleno con Guayaba¨
Siempre cuando estaba en mi país lo compraba en las panaderías cercana, hasta que inicié en el mundo de la pastelería y me propuse aprender hacerlo y lo logré.
Lo que me facilitó seguirlo consumiendo ocasionalmente ahora que me encuentro fuera de Venezuela, aunque aca no se consigue la guayaba y lo sustituí por membrillo que se parece mucho en su sabor.
En este la clave para que el resultado sea el mejor, es el amasado de la masa y cumplir con los plazos para que esta logre levantar tanto como es necesario para que en el momento de la cocción se impregne con la mermelada que se encuentra en su interior.
Likewise, my favorite sweet breads, I confess I am passionate about the "Sweet Bread Stuffed with Guava¨
Always when I was in my country I bought it in the nearby bakeries, until I started in the world of pastry and I decided to learn how to do it and I succeeded.
What made it easier for me to continue consuming it occasionally now that I am outside of Venezuela, although guava is not available here and I replaced it with quince, which is very similar in flavor.
In this, the key for the best result is the kneading of the dough and meeting the deadlines so that it can rise as much as necessary so that at the time of cooking it is impregnated with the jam that is in its inside.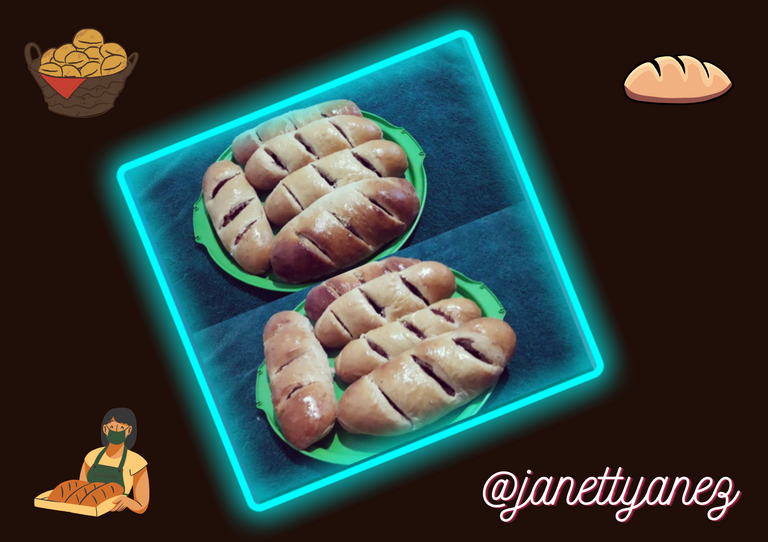 ---

---
---