Bank of Uganda On/off Ramp Ban Takes Effect With Yellow Card Suspending Momo Withdrawals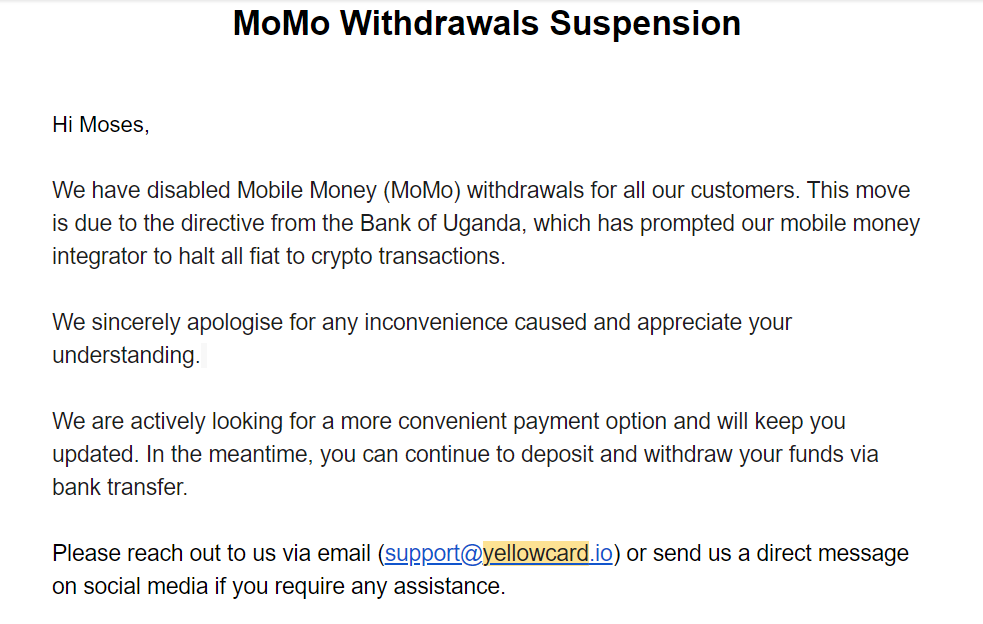 Screenshot image from my email
The Uganda crypto community woke up to shocking news a few days ago as the Bank of Uganda put a ban on/off ramp whereby payment services providers were warned not to facilitate fiat-crypto and crypto-fiat transactions!
This means that crypto exchanges will be affected because they use these payment service providers to provide both the on and off-ramp services.
I just did check my email and as you can see from the screenshot above, Yellow Card, one of the crypto exchanges here in Uganda has already been affected!
The crypto exchange that has been helping people here to buy and sell crypto through both mobile money and bank has had their momo withdrawals suspended due to the Bank of Uganda ban!
In the email sent to all Yellow Card customers me inclusive reads,
We have disabled Mobile Money (MoMo) withdrawals for all our customers. This move is due to the directive from the Bank of Uganda, which has prompted our mobile money integrator to halt all fiat to crypto transactions.
This means that clients shall no longer be able to use mobile money to deposit and withdraw on the exchange as the service provider has halted operations.
Most of these exchanges use third-party service providers to help in these on/off ramp transactions.
The concludes by saying that clients can in the meantime use banks for such transactions as the exchange looks for a convenient option!
We are actively looking for a more convenient payment option and will keep you updated. In the meantime, you can continue to deposit and withdraw your funds via bank transfer.
In the Yellow Card communication group, many people are frustrated with this Bank of Uganda move as they are used to using mobile money as it was more convenient and simpler!
I personally do not have a bank account, so that means I will not be transacting on Yellow Card for a while.
I did convert/sell my Uganda shillings ie UGX which I wanted to withdraw into USDT which I can easily send out of the exchange.
So people's money is not held up, all that someone has to do is convert the UGX back into Bitcoin or USDT on the exchange and send it away to another person who can give them cash ie peer to peer!
Anyway, we are all waiting for an update from the concerned authorities on this matter.
The available option for folks right now is to transact amongst themselves.
I will keep updating more on this.
Love
Jarau Moses
Posted Using LeoFinance Beta
---
---