What Can I Invest $100 Monthly On Hive ? Hive, HBD Savings, HP, pHBD?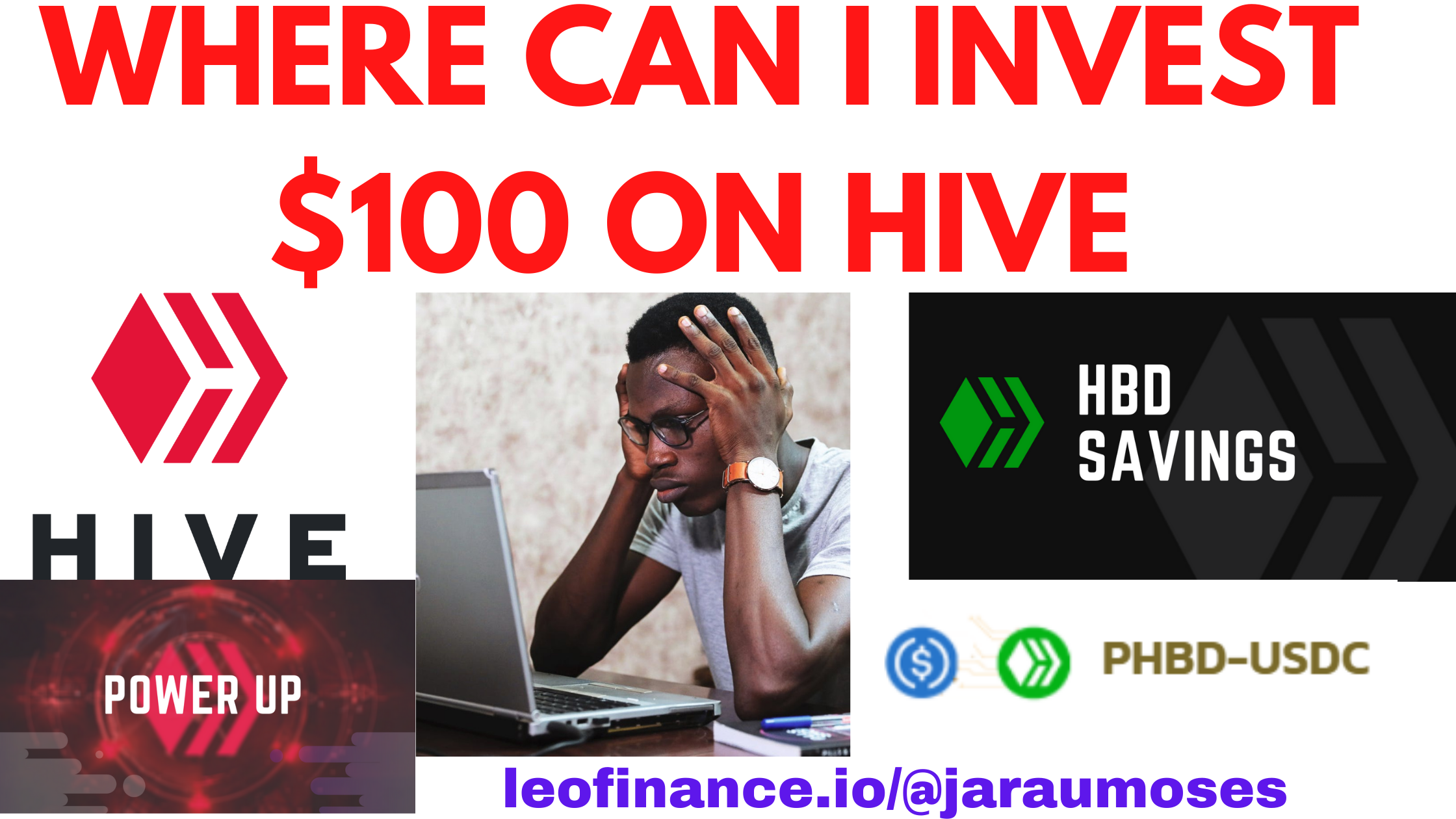 It has been a long time ever since I put some words down here and I am glad that I am doing it now. I have been busy off Hive trying to look for some crypto-related jobs which I luckily managed to secure.
I am glad that I was able to secure some small gigs that can supplement my income and on that note, I can now be able to spare a meagre $100 monthly to invest in Hive!
I do know that investing $100 monthly is really small money, but I also know that no investment is small.
I have been reading and seeing a lot of developments happening on Hive and it seems I am lost for choice on where to throw my meagre $100 with the hope of some profit.
What Is Offering The Best ROI on Hive Now?
I have zeroed down to over four investment decisions, which can be increased based on your replies and experience.
I have come up with these four because it is what I can find with my current state of mind, remember I have been off Hive for a long time, so I can be advised accordingly!
Since I have been off Hive for a long time, there might be new investment opportunities that seem hidden, so I would be grateful if you guys let me know in the comments below.
1. Hive
The easiest and simplest thing to do for any new person on Hive is to of course buy our beloved Hive!



The pic above shows the current Hive price ie $0.88 at the time of this writing.
I am glad that there are many exchanges where Hive can be bought from. I just realized that more have been added when I was off and I just have to keep comparing among the exchanges so that I receive the best deal.
I can decide to buy Hive and just chill and wait like all of us ie the moon hahaha!
Yes, we all know that Hive has great fucking potential out there, especially with the rapidly growing web3 economy.
I can scoop over 100 Hive now with my $100 and if it hits the previous ATH of $3, then I would be in 3x my investment hehe.
2. HBD Savings
The other option I have is to buy Hive and convert it to HBD and then send it to my savings account which will earn me a cool 20% APR!

This is a clear option because the APR is known, so I can easily calculate my APR over time.
3. Hive Power(HP)
The other option available to me currently is to buy Hive and power it up into Hive Power ie HP

I do not know if 100HP can really make any significant difference on Hive, but I guess over time it can.
I can also maybe delegate it to a worthy project on Hive with a favourable ROI.
I might not really go into this investment choice unless someone in the comments convinces me or recommends a great project I can delegate my 100HP.
4. pHBD
The other option available according to the limited reading I have done so far is pHBD!
As I was scrolling through Twitter yesterday or the other day I came across this tweet by Leofinance that's shown in the screenshot below.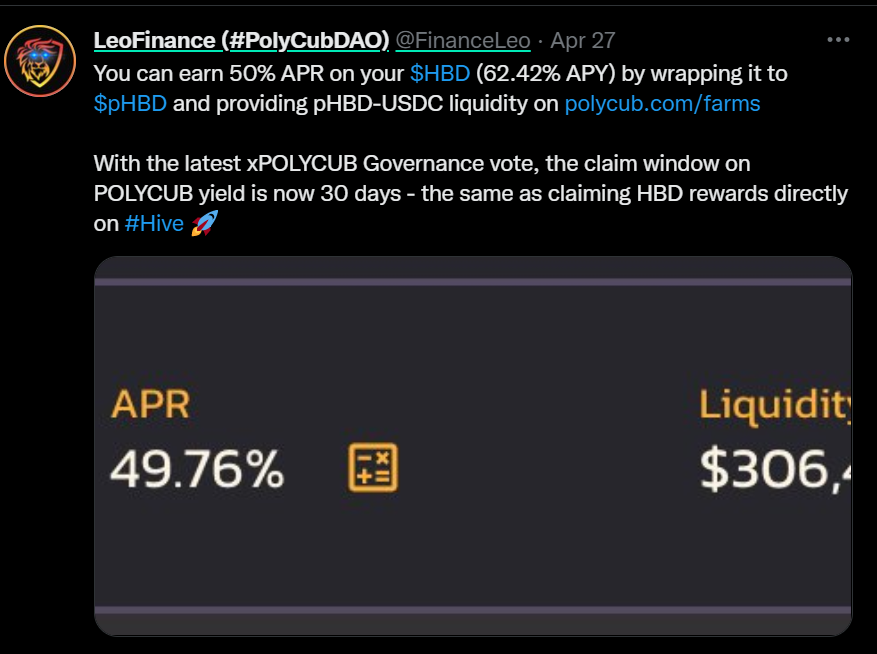 The tweet says you can earn 50% APR on your HBD by wrapping it to pHBD and providing PHBD-USDC liquidity on Polycub farms.
This tweet intrigued me and I going to read further on this and see what I can do.
What Do You Advise Me To Do?
So in conclusion this is what I have come up with and need to make one investment decision and will be able to invest the $100 monthly to any of these Hive projects.
I said earlier that $100 looks small but can compound with time hehe. I know I am supposed to make my own investment decision, but fuck there are many smart folks here on Hive who can advise me and then I pull the final trigger on what to do.
I would be very grateful if you gave me advice on where to drop my $100, I want to start the investment at the start of next month with is just days away.
Do not forget to comment and upvote
Love
Jarau Moses
Posted Using LeoFinance Beta
---
---