Making acquaintances and building relationships
You might not expect it, or it might sound a bit cliche, but I'm great at making acquaintances, and terrible at building relationships.
It's funny, because I used to give networking advice to young professionals. As a matter of fact, while somewhat generic, it is still pretty good basic advice. I used to break it up into 3 different levels. The first one is misconceptions.
Misconceptions
A) Introverts aren't good networkers
This is actually a terrible misconception. There are many layers to networking. Especially in times of covid, we have seen a lot of extroverts (including myself) struggle with attending events or others ways of networking and face-to-face events where we'd be at our strengths. Meanwhile, introverts have taken advantage of platforms like Clubhouse and Twitter spaces where they can actually network, without being the center of attention and where it is ok to lurk away, but still being appreciated for listening in. Listening in and being emphatic, 2 things that more often than not are major strengths that introverts have over extroverts.
B) If you are great at networking you'll be successful
Another misconception, being that networking has so much power that you can network your way to the top. Which you can, we shouldn't underestimate actual skills, or perseverance/hard work, or intelligence, or the 16 other factors that are more important to succes than intelligence. In reality, successful networkers often do posses many of these skills/success factors. But just being great at networking isn't always enough.
C) Networking skills are nature
I can speak for myself knowing that isn't true. Sure you can have a lot of potential and pick up stuff easier in some case, but all extroverts have some introvert tendencies. Everyone has insecurities, and maybe now is a good time to ask your parents how great of a communicator you were when you were 2 years old. It took 3 years of taking every speaking opportunity I had during my student days to be fully comfortable to talk in front of a crowd. I'm still not fully comfortable to speak in front of a camera unless I'm being interviewed by someone else. And I never go to an event alone whenever I don't at least know half of the people there.
Maybe I'll share level 2 and 3 somewhere in the future. But networking isn't really building relationships. It is more like making acquaintances. And like I said, my struggle begins after that.
It's Elementary
The funny thing is, we learn building relationships at a really young age. In kindergarten and elementary school. We are put together with a group of children around the same age. And you just have to get along. At least get along well enough that you survive the end of the school year. Below is one of the most shared pictures of one of my elementary school classes.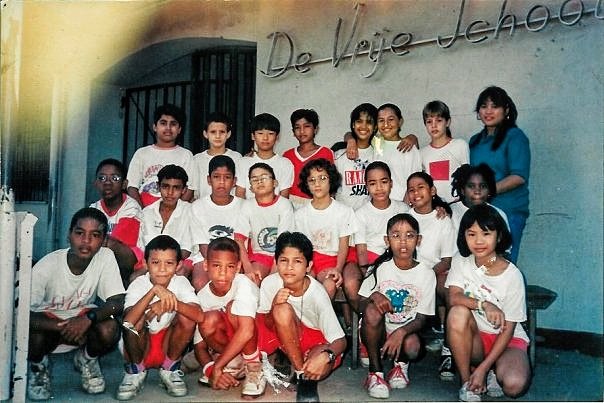 Can you spot me. Hint: The pink socks are a giveaway.
With many of these classmates, I used to have a pretty good bond. But through the years, people change schools, change interested, migrate to other countries, and you lose touch. Some, I still occasionally connect with. With a couple, I'm still pretty close. But elementary school still remains the place where you really make your first real friends. You learn the importance of relationships. And the best part, you learn it before prejudice sets in. Back at that age I was great at networking. And I had no idea what that word meant.
Tan bun and see you tomorrow
#lobi
@jeanlucsr
---
---