HOW TO GET A PERFECT IN A SPLINTERLANDS BATTLE //COMO SACAR UN PERFECT EN UNA BATALLA DE SPLINTERLANDS
Hola amigos, en el dia de hoy vamos a mostrar lo que se conoce como un perfect, para entrar en referencia indicaremos que es un perfect.
Hello friends, today we are going to show what is known as a perfect, to enter in reference we will indicate that it is a perfect.
Que es un Perfect?
En video juegos un perfect lo podemos considerar como una opción de batalla donde uno de los dos oponentes no recibe ningún daño, aquí un ejemplo
What is a Perfect?

In video games a perfect can be considered as a battle option where one of the two opponents does not receive any damage, here is an example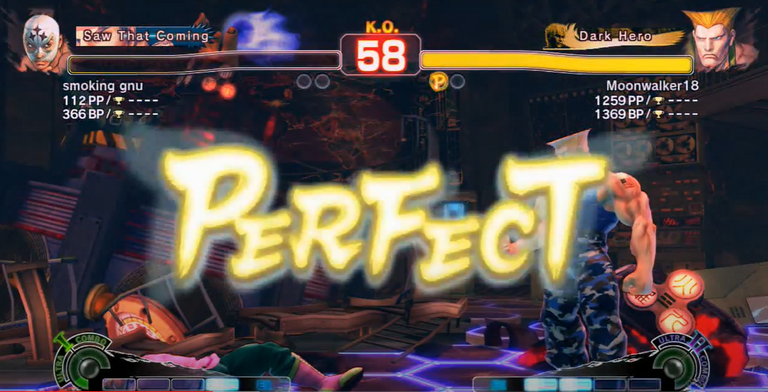 Entre mis juegos favoritos de peleas están,
Among my favorite fighting games are,
Street fighter

THE KING OF FIGHTERS

MORTAL COMBAT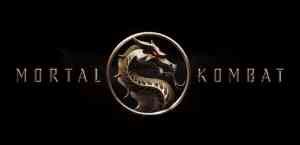 Podemos nombrar un sin número de juegos donde se emple este término, pero aquí estamos en SPLINTERLANDS, y creo que aquí es casi imposible lograr in perfect a menos que nos ingeniamos alguna manera, y para eso es este post para indicarles un posible perfect aunque no es 100% limpio yo de mi parte lo considero un perfect como tal, y aquí vamos a poner algunos ejemplos de cómo lograrlo, y los tipos de splinter que es más fácil lograrlo.
We can name a number of games where this term is used, but here we are in SPLINTERLANDS, and I think that here it is almost impossible to achieve in perfect unless we contrive some way, and for that is this post to indicate a possible perfect although it is not 100% clean I for my part I consider it a perfect as such, and here we will put some examples of how to achieve it, and the types of splinter that is easier to achieve it.
ESTRATEGIA A SEGUIR
Aquí podemos decir que son varias, lo he visto realizar con el splinter de vida,agua, tierra y dragón, supongo que se puede realizar con todas los tipos, solo habría que buscar la forma.
La más fácil creo yo, es la de doble curación y con tierra se lo puede hacer de manera sencilla inclusive con tierra, lo malo es que necesitamos de los servicios de WOOD NYMPH que es una carta común que me cura a mi tanque. obviamente esto combinándola con GOBLIN PSYCHIC obtenemos una doble curación.
STRATEGY TO FOLLOW
Here we can say that there are several, I have seen it done with the splinter of life, water, earth and dragon, I guess it can be done with all types, you just have to find the way.
The easiest I think, is the double healing and with land you can do it in a simple way even with land, the bad thing is that we need the services of WOOD NYMPH which is a common card that heals my tank. obviously this combined with GOBLIN PSYCHIC we get a double healing.



Dicho esto mi estrategia con Tierra es así colocar un tanque fuerte como lo es MYCELIC SLIPSPAWN es un buen tanque y según yo la mejor posición es colocarla de primera, porque no colocarla de segunda o última, es por las siguientes razones:
Este tanque tiene la habilidad de Taunt que atrae todos los ataques, es ideal para batallas de maná alto ya que la debilidad de tierra es cuando el enemigo usa Sneak, o Opportunity y te matan los curadores, por lo tanto mientras te ataquen lo pueden curar.
Si lo colocamos de segundo o de último, el tanque va a atraer los ataques pero la desventaja es que nuestros curadores no curarán la carta más afectada sino solo la que está en primera condición por lo tanto no es buena idea.
Les dejo la batalla completa para que la analicen y vean cómo funciona la estrategia.
That said my strategy with Tierra is to place a strong tank like MYCELIC SLIPSPAWN is a good tank and according to me the best position is to place it first, why not place it second or last, it is for the following reasons:

This tank has the Taunt ability that attracts all attacks, it is ideal for high mana battles because the weakness of land is when the enemy uses Sneak, or Opportunity and kill you healers, so while they attack you can heal it.
If we place it second or last, the tank will attract the attacks but the disadvantage is that our healers will not heal the most affected card but only the one in first condition so it is not a good idea.
I leave the complete battle for you to analyze and see how the strategy works.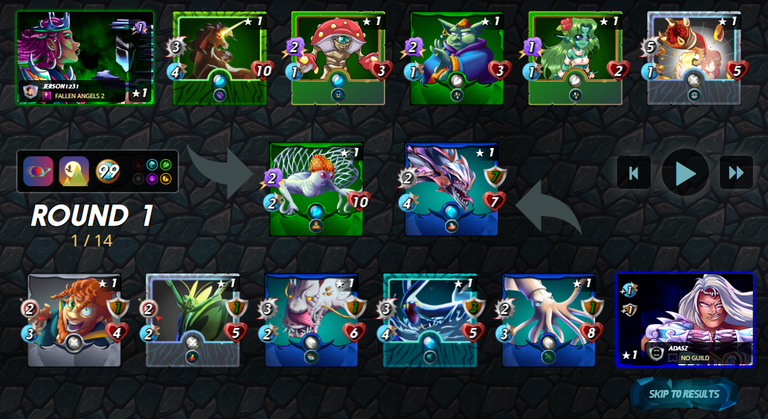 La idea es que el tanque pueda soportar todo lo posible hasta que entren en acción los curadores, y para esta estrategia es necesaria complementar con MUSHROOM SEER lo cual tiene la habilidad de reducir ataques de magia, esto realmente lo utilizo ya que en batallas de alto maná todos suelen usar Tierra bueno al menos en plata 3, obviamente en ligas mas altas usan splinter de dragón para batallas de maná alto.
The idea is that the tank can support as much as possible until the healers come into action, and for this strategy it is necessary to complement with MUSHROOM SEER which has the ability to reduce magic attacks, I really use this because in high mana battles everyone usually use good Earth at least in silver 3, obviously in higher leagues use dragon splinter for high mana battles.
)
Aquí tenemos otro ejemplo con la misma formación "doble curación" con -1 para ataques de magia enemigas y vemos la importancia de la carta MUSHROOM SEER, hay q recalcar que SAND WORMS cumple un rol importante ya que mientras el tanque aguanta todos los ataques SAND WORMS ataca con Sneak acabando uno por uno desde atrás, anteriormente en lugar de esta carta usaba GOBLIN TOWER algunas veces iba bien y otras no por tal motivo busqué la mejor opción y esa fue la de usar SAND WORMS
Here we have another example with the same formation "double healing" with -1 for enemy magic attacks and we see the importance of the card MUSHROOM SEER, we must emphasize that SAND WORMS plays an important role because while the tank holds all the attacks SAND WORMS attacks with Sneak finishing one by one from behind, previously instead of this card I used GOBLIN TOWER sometimes it went well and sometimes not for that reason I looked for the best option and that was to use SAND WORMS.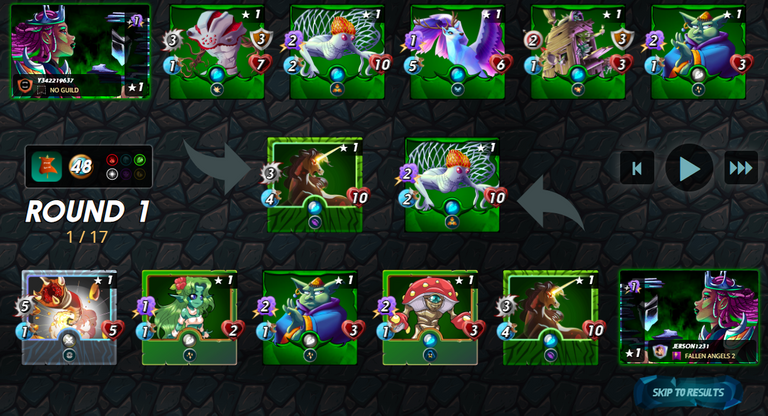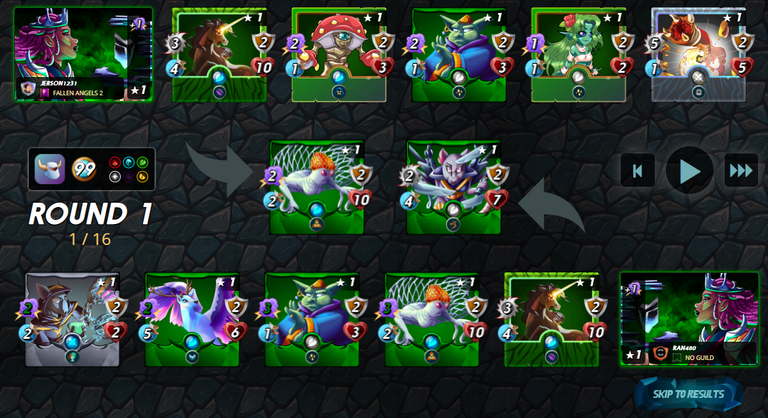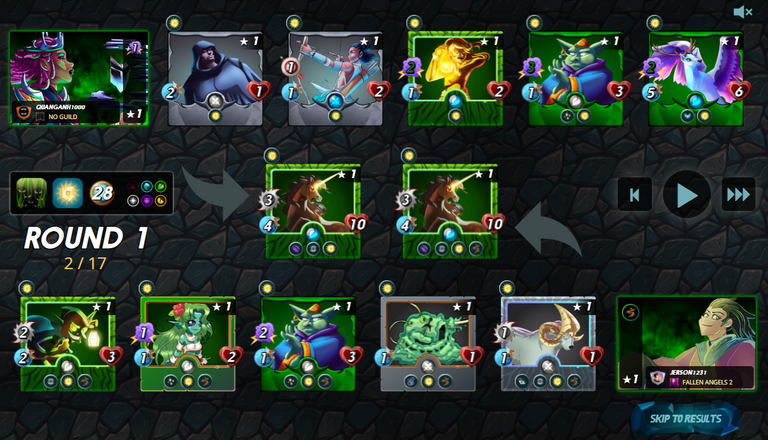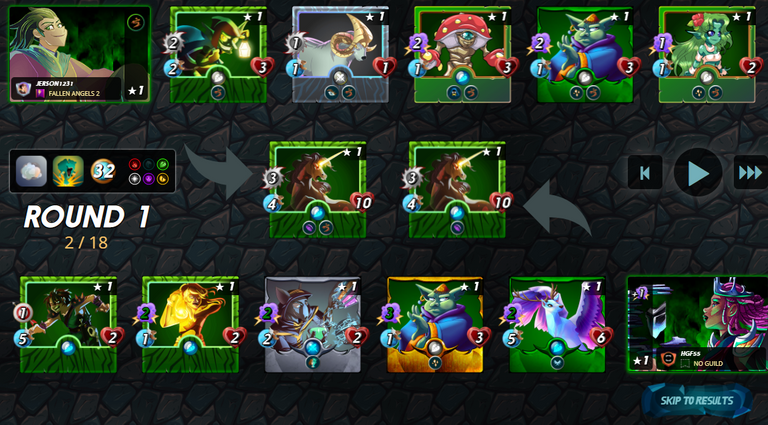 AGUA
Ahora usamos una estrategia pero con el splinter Agua, aquí vale recalcar que esta estrategia funciona cuando el enemigo usa tierra y específicamente magia, ya que la idea aquí es restar magia con el invocador Bortus y adicional poner de tanque una carta que reste magia como lo es TORHILO THE FROZEN luego la idea sería colocar doble curación pero aqui en mi caso solo cuento con MERDAALI GUARDIAN que es parte de las cartas fantasma así como SCAVO HIRELING que repara la armadura, si bien es cierto contra magia no es de mucha ayuda pero de qué sirve sirve, finalmente una carta de respaldo que me gusta mucho y es RIVER HELLONDALE que tiene la habilidad de resucitar al primer splinter que muera, es así que la batalla y formación queda así.
Now we use a strategy but with the splinter Water, here it is worth emphasizing that this strategy works when the enemy uses land and specifically magic, since the idea here is to subtract magic with the summoner Bortus and additional tank a card that subtracts magic as is TORHILO THE FROZEN then the idea would be to place double healing but here in my case I only have MERDAALI GUARDIAN which is part of the ghost cards and SCAVO HIRELING that repairs the armor, Finally a backup card that I like a lot is RIVER HELLONDALE that has the ability to resurrect the first splinter that dies, so the battle and formation is like this.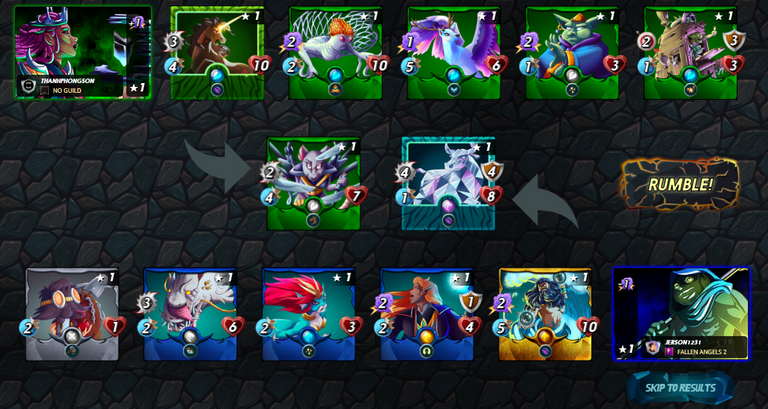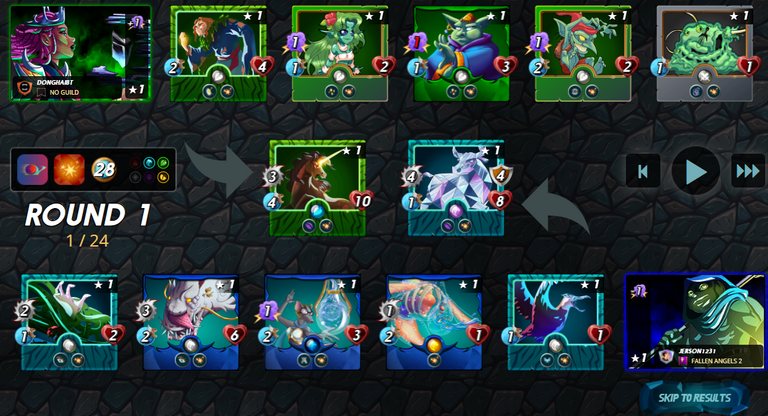 ---
Para esta ocasión se intuyó que el enemigo no usaría magia y en su lugar iría con splinter vida por tal motivo para ataques cuerpo a cuerpo o a distancia la mejor opción es SERPENT OF ELD que esquivará una gran cantidad de ataques (al menos eso siempre espero)
For this occasion it was intuited that the enemy would not use magic and instead would go with splinter life for that reason for melee or ranged attacks the best option is SERPENT OF ELD that will dodge a lot of attacks (at least I always hope so).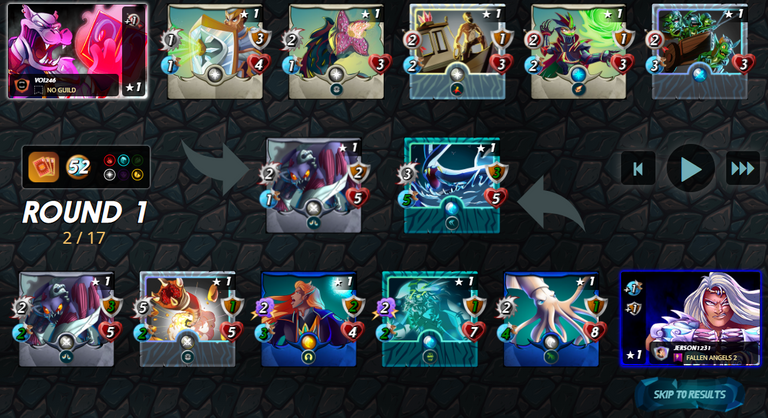 ---

DRAGÓN
Para esta nueva batalla hicimos la prueba con el splinter dragón combinado con magia.
For this new battle we tested the dragon splinter combined with magic.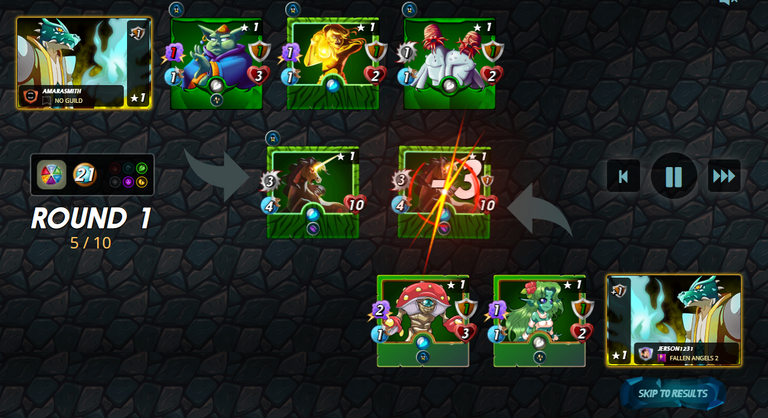 VIDA/LIFE
Para vida normalmente lo suelo usar mucho esta estrategia pero aquí hay un inconveniente que vida es debil contra magia al menos si no se tienen las cartas convenientes, por tal motivo no suelo al menos yo usar esta estrategia muy seguida, la temática es igual usar alguna carta con habilidad de Taunt y lo idóneo sería doble curación o restablecer su armadura e incluso resucitar, para esta ocasión solo atacamos con todo el arsenal tal cual se muestra en la batalla.
For life I usually use this strategy a lot but here there is a drawback that life is weak against magic at least if you do not have the right cards, for this reason at least I do not use this strategy very often, the theme is the same use a card with Taunt ability and the ideal would be double healing or restore your armor and even resurrect, for this occasion we only attack with the entire arsenal as shown in the battle.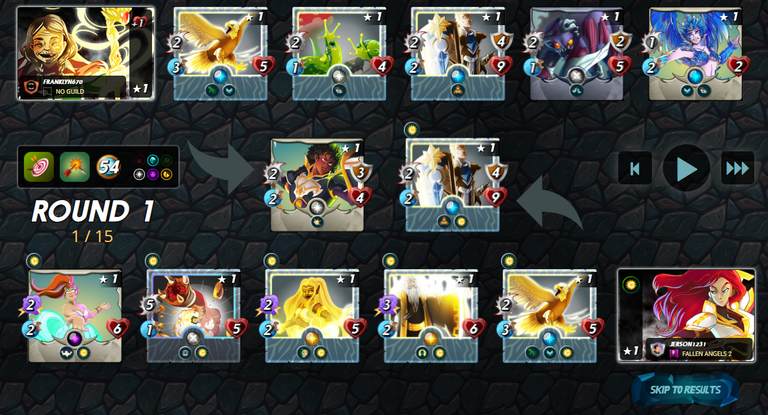 ---
En la siguiente batalla me la pasó mi compañero de Clan @elfino28 a quien le agradezco por su colaboración, para esta batalla nuestro protagonista apuesta por curar y reparar y de tanque colocar a una de las mejores cartas de tanque del splinter de magia como es el poderoso pelacor de vida y por la retaguardia a CHAOS KNIGHT debido a que por la condición de batalla de sneak es la mejor opción para esta batalla:
In the following battle my clanmate @elfino28 gave it to me and I thank him for his collaboration, for this battle our protagonist bets for healing and repairing and as tank to place one of the best tank cards of the splinter of magic as it is the powerful pelacor of life and for the rear to CHAOS KNIGHT because by the condition of sneak battle is the best option for this battle: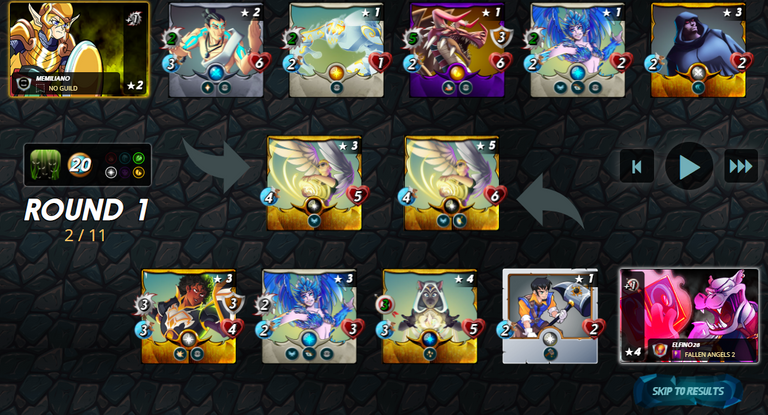 ---
Para esta batalla me la paso el jugador @deimosfobos a quien le agradezco por el pedazo de batalla que compartió y que gracias a él la podemos ver...esta batalla es distinta mucha estrategia en la misma algo no tan común para usar en las BRAWL (Batallas de clanes)
For this battle I got it from the player @deimosfobos to whom I thank for the piece of battle he shared and thanks to him we can see it...this battle is different a lot of strategy in it something not so common to use in the BRAWL (Clan Battles).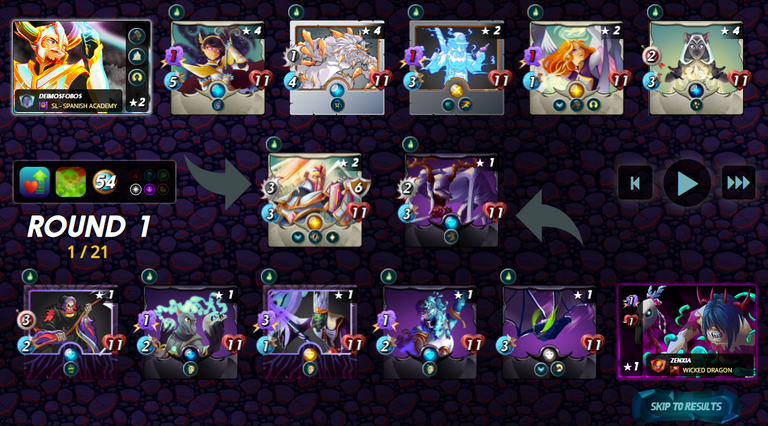 FUEGO/ FIRE
Para esta ocasión se ve una estrategia con el splinter fuego, la verdad es raro y no pensé que se podía hacer un perfecto con este tipo de splinter sin embargo nuestro amigo @jats-0 nos demuestra que todo es posible en este juego..... hay que ver que la batalla, es una paliza sin precedentes.
For this occasion we see a strategy with the splinter fire, the truth is rare and I did not think you could make a perfect with this type of splinter however our friend @jats-0 shows us that everything is possible in this game..... you have to see that the battle, is an unprecedented beating.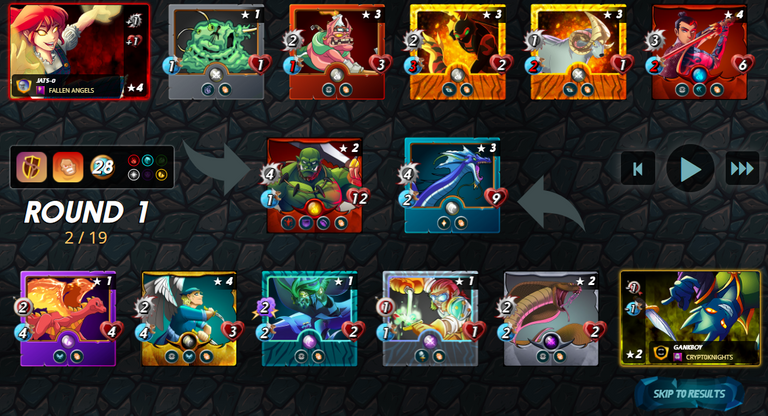 EXTRA
Como ya saben lo mejor se deja para el final y esta es una batalla que me dejó con la boca abierta porque el poderío de esta carta es una pasada y hay que analizarla a profundidad ya que puede dar muchas victorias, los créditos a @bronzemind por permitirnos ver esta batalla.
As you know the best is left for last and this is a battle that left me with my mouth open because the power of this card is amazing and must be analyzed in depth as it can give many victories, credits to @bronzemind for allowing us to see this battle.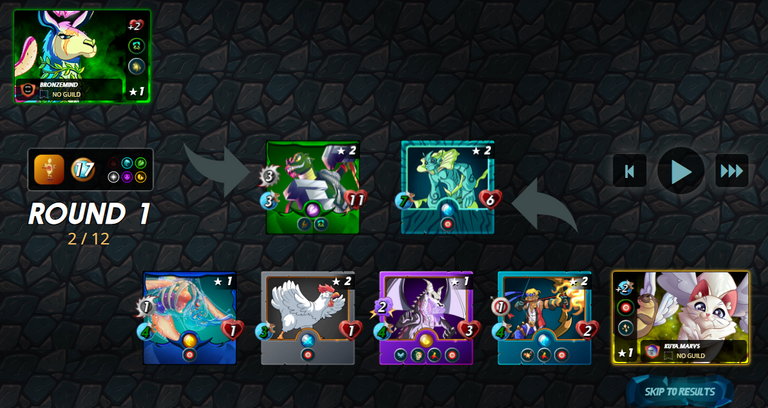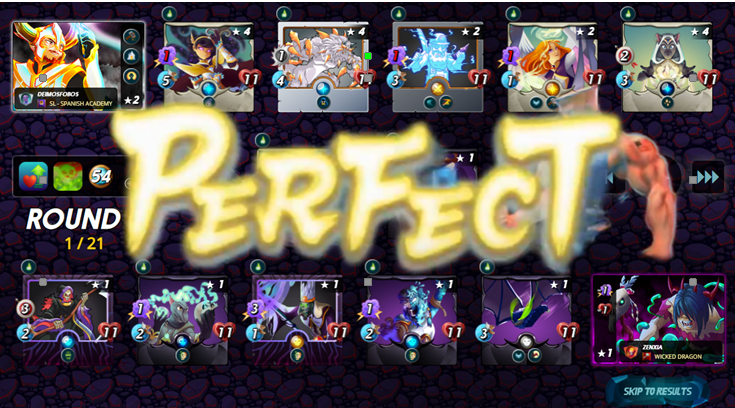 En nuestro clan @fallen-angels tenemos ideas innovadoras para beneficiar a todos, mira el siguiente post, no te arrepentiras Information Here
In our clan we have innovative ideas to benefit everyone, see the next post, you will not regret it Information Here
All info & images are copyright Splinterlands.com
COPYRIGHTS
| Separators | HERE |
| --- | --- |
| [1] | splinterlands.com/ |
| [2] | splintercards.com/ |
| [3] | reddit.com |
| [4] | alexusrenee.com/ |
---
---