WHY YOU MUSTN'T SLEEP AT NIGHT WITH YOUR HEAD IN THE DIRECTION OF THE DOOR
I invite my good friends @omosefe @onos-f @ksam @treasuree @tipu @starstrings01 @olujay @monioluwa and the entire family to come and behold some of those old time tales.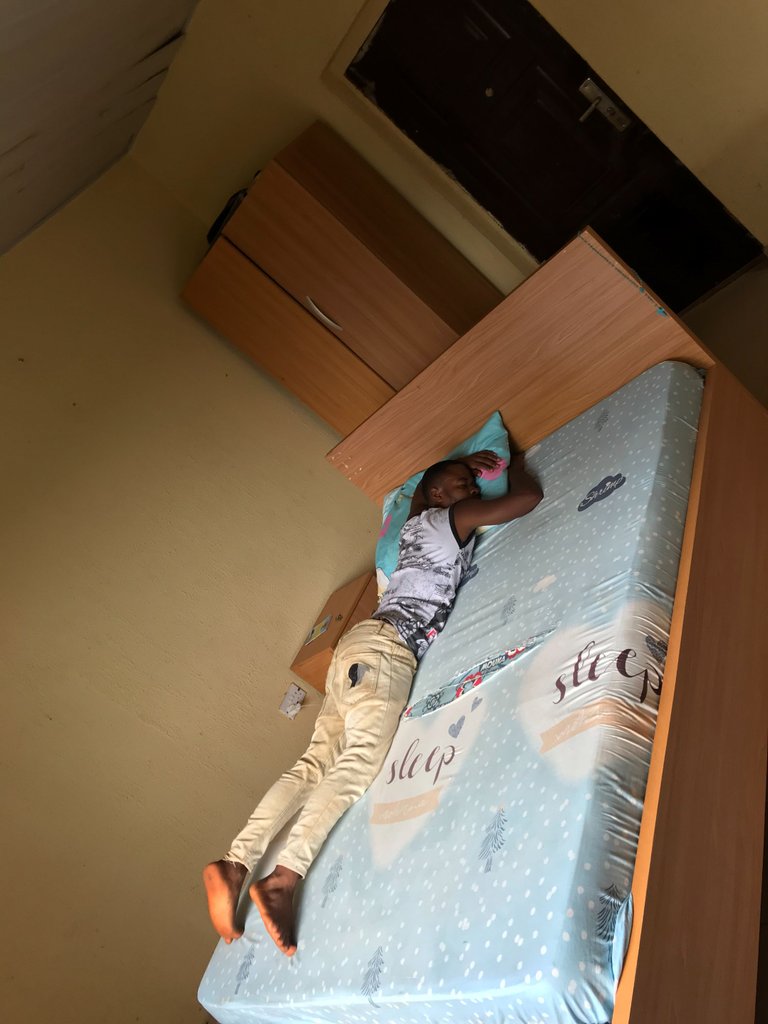 The said wrong posture😅😅
---
From the company of friends in school and at recreation centres, I have heard a lot of things which people hold as beliefs from the different religious and traditional communities represented in the cliques. Most of these beliefs I have often tagged as superstitious and therefore never gave them serious thoughts .
Some of the stories shared by people include tales about the dangers in: using the mirror at night, sweeping at night, accepting to drink of a cup of water that is not filled up to the brim, cross passing a line drawn on the road, sleeping at night with one's head in the direction of the door, etc.
About using the mirror at night, one of the guys said it attracts evil spirits. He tried to convince us by narrating a story of how a woman in his village used the mirror at night and evil spirits troubled her through out that night.
Furthermore, the only lady in the clique narrated that it is very dangerous to cross pass a line drawn on the road. She explained that it can cause swelling in one's anus. To avoid that, she said instead of crossing the line, one should use one's feet to wipe off the line before passing.
Each took turns in narrating the different beliefs held in their traditions and people would exclaim at the mention of the horrible things that happen to people who fall victim of those beliefs.
But guess what? I was never fascinated by these stories. I was the only one indifferent about the whole stories. I never believed a thing and so never took them serious. But not untill I had an experience which changed my mind. It is therefore out of this experience that I wish to make you dear reader see reasons why you shouldn't sleep at night with your head in the direction of the door. 😱😱
It was last week Tuesday that I went visiting my friend, Amos who lives just a few yards away from my house. I went there because of the unfinished business we had which we were to finalize that night.
I got to the house at about 6:23pm and he was just returning from work. Amos was exhausted and wished he could just go to shower and eat then off to bed but because I was already there, he had to make a little sacrifice. After some moments in the bathroom and dinning, we embarked on the reason of our meeting.
We eventually rounded off the business and were very happy being that we had been postponing the work for a very long time. It called for celebration and as for celebrations, Amos has it. There are always several kinds of drinks in his refrigerator.
We had a lot to drink and in fact, we were drunk. After some time, I stood up and made move to go and Amos followed to see me off. That was all I could recall for the night.
The next I remember is that I woke up in the morning right on the floor in Amos' house and he just beside me and both of us lay through the night with our heads in the direction of the door. To make things worst, the door was wide open throughout the night.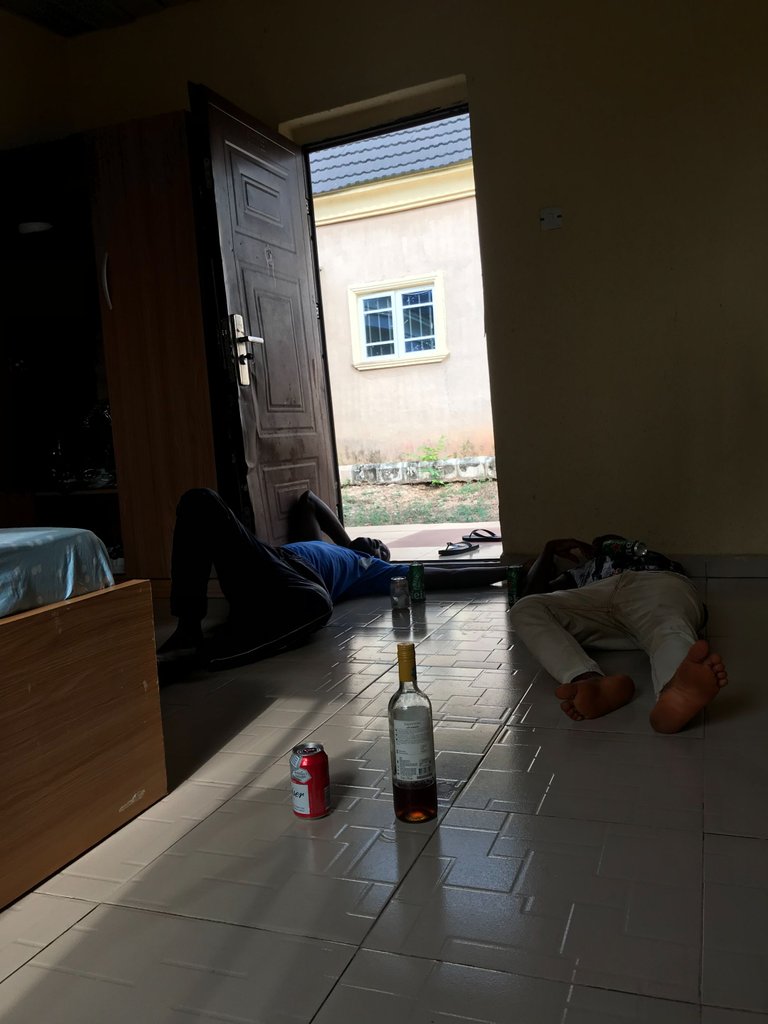 we slept and forgot the rule 😆
---
Hm! Do you know what happened to us?
It was indeed disastrous. When I woke up, I tried to wake my friend but he refused to wake up o. Hm!!! I slapped him, matched him and even tried to stand him up but he refused to wake.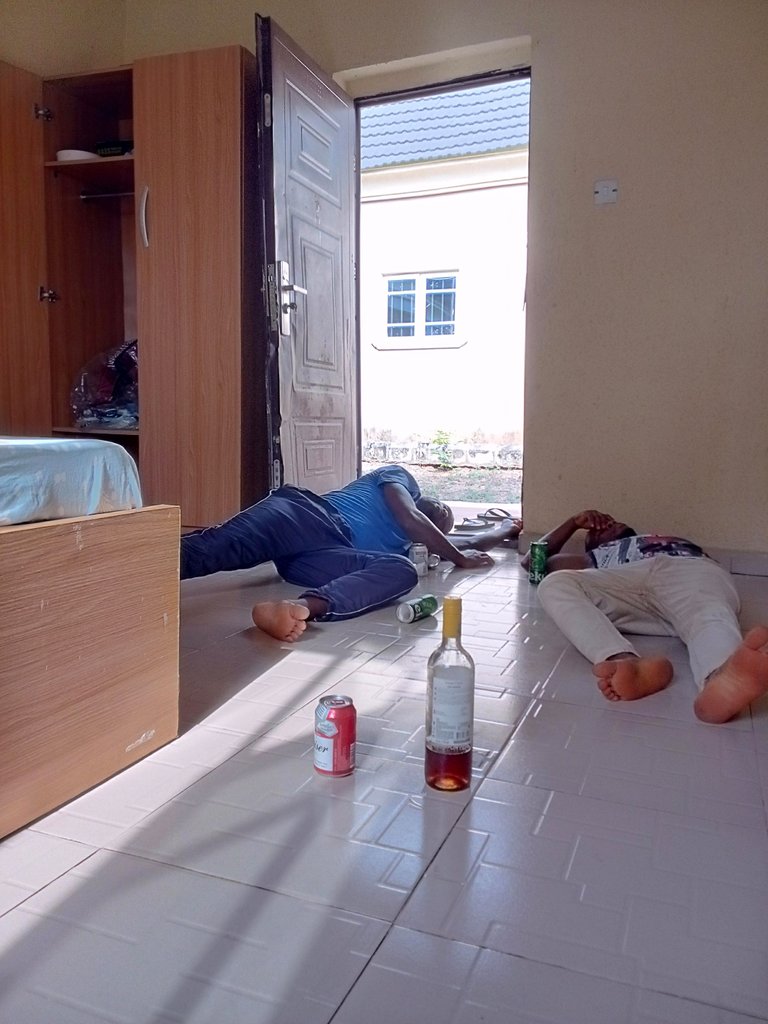 And we woke late 😱
---
I became afraid and brought water and poured on him and he came alive. The young man was still deeply asleep by 8:26am, you can imagine 🤷
Hmmm, that was what happened o. We over slept and woke up late for work.🙄🙄
It's disastrous right? 😅😅😅
But wait o, what were you waiting to hear? 🤪🤪
You like stories too much, see yah eyes and ears 😅😅 Amebo!!! Abeg sleep your sleep. No b only no face door, mtcheeew.😆😆
This is meant to make you laugh, please do not take anything here serious. Nevertheless, there are actually some beliefs like those mentioned above. Thanks for stopping by to read. I am only trying to be consistent and not bee-zy according to my mentor @brittandjosie .
For personal matters dm me in my discord (jesus-son's server) https://discord.gg/pGVjVrbJ
I will be so grateful.
---
---