Changing my Hive keys and getting back my Metamask account
If you didn't know, my old laptop failed and I had to send my hard drive to a data recovery specialist to recover my data. You can find more about it in this post. Now that I do have all my data, I decided to update the keys to my Hive account to be safe and how I recovered my metamask information.
Changing my Hive keys
I went threw a few different posts and it just seemed like an annoying process to change my keys until I found this post. When I got my keys from Splinterlands (after paying for the spellbook), I never changed the password. So I think it's a good thing to do security-wise. I followed the instructions there and I thought I would show you how to do so as well.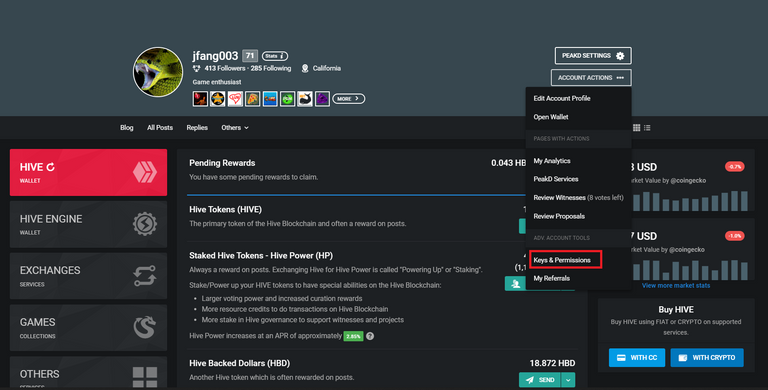 First, you go to your wallet in PeakD and click the "Account Actions" tab. Once you open it, click on "Keys and Permissions".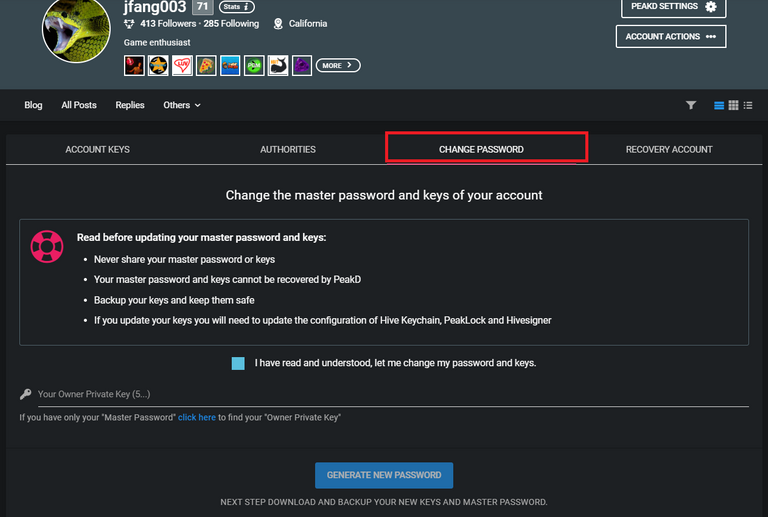 Once I get there, I click the third tab "Change Password" and input my owner's private key. As for the next page, I didn't show it because it contains my new private keys but you do need to press the confirm the updating of keys. So you should make sure the keys work before you delete your old ones.
To make sure things worked, I deleted my old keys in Hive Keychain and then inputted the new keys. If you input the old keys, it will say it's incorrect and only the new keys you set will work.
Recovering my Metamask account
I tried using the instructions through the Metamask page for recovering your secret recovery phrase but it just didn't work for me. I tried using the Vault Decryptor in offline mode but it just outputs an error and it doesn't even give me my secret recovery phrase.
In the end, I found a Youtube video about an alternative way to do so. So I followed the instructions in and traveled to the "C:\Users\USER_NAME\AppData\Local\Google\Chrome\User Data\Default\Local Extension Settings\nkbihfbeogaeaoehlefnkodbefgpgknn" folder in my old hard drive, copied it and placed it into my new laptop. Afterwards, I downloaded Metamask and I could log in using my previous password.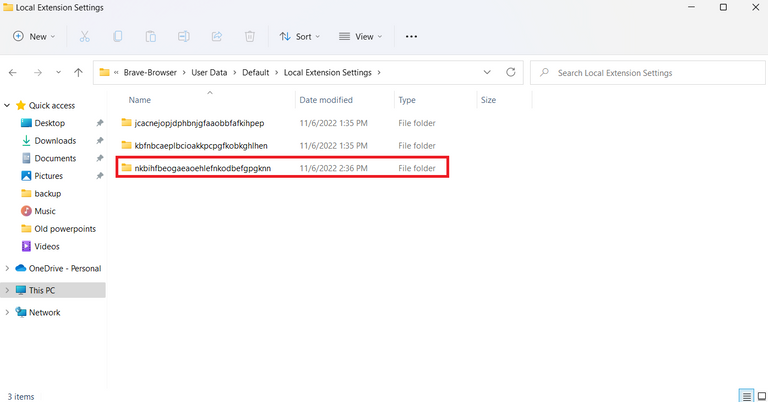 I followed the last bit of the instructions in the video and also got back my secret recovery phrase in case I needed it in the future. Overall, I liked this approach way more than the one given on the Metamask documentation because I didn't need to go through any annoying processes to import back my blockchains or tokens and it also made the process of getting back my secret recovery phrase a lot better. In fact, I have decided to just backup the entire folder in case I need it in the future as it works well as a backup too.
Conclusion
As I stressed in my previous post about recovering my data, it's important to keep backups and I had to resecure my accounts after all of this as well. It was a bit annoying going through the entire process of figuring out how to recover my Metamask and change my keys, but I learned a lot from this experience. In fact, I like this new way of backing up the data because it can make the importing process over to your new computer even easier.
Please feel free to leave a comment if you have any questions or feedback.
Posted Using LeoFinance Beta
---
---