Splinterlands Season Earnings, Gladius Packs and Rental update
The season ended earlier today so it's time to view how my rewards ended up as. It's been a tough season as I got fewer chests compared to last season and I lost most of my fights in the new season so far. Of course, I have only done about 4 fights but winning 1 out of 4 doesn't sound that great to me. I did end out the previous season at Gold I just like last time.
Season Rewards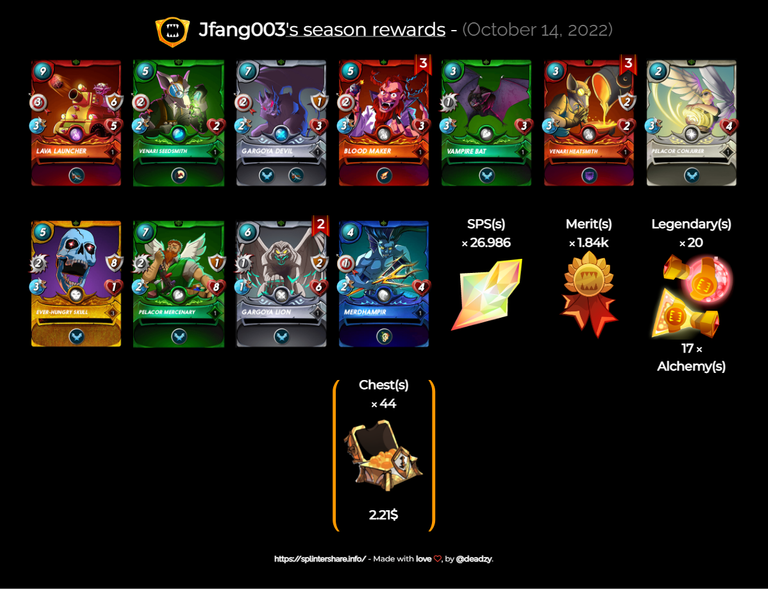 I ended up with 9 fewer chests than last time but it was the same league. However, I do think the rewards this season were better than my last season. Two epic cards and the gold foil common card are the notable items in my rewards. I did get fewer potions but more SPS and merits from my rewards this time around.
Gladius Packs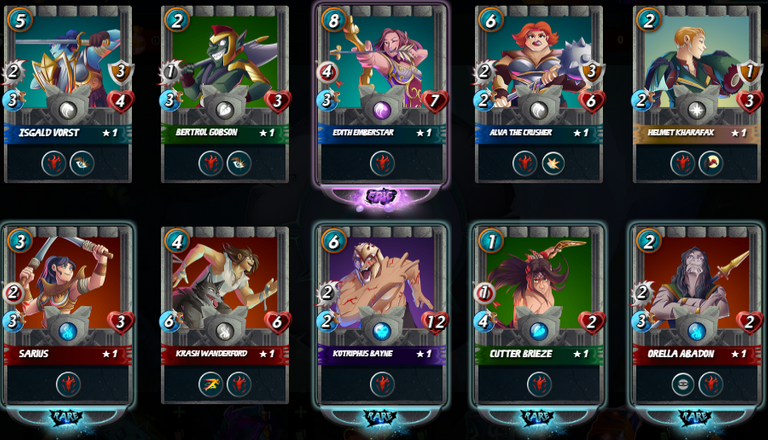 My rewards from the season rewards and brawls allowed me to buy 2 packs. From these, I was able to get 1 epic card and 4 rare cards. Overall, it doesn't look like a bad pull and I didn't have a copy of that epic card so it opens up more options for me in Brawls. It's a bit too bad that I can't upgrade any cards in my deck.
Rentals


Above was my rentals over a week ago and below is the changes after I listed a few more cards on the market. Both of which were gotten from the Peakmonsters interface as I prefer to do rental management over there.



I am putting up more of my excess collection power slowly onto the market but it's a slow process because the tool in Peakmonsters to find cards that are not on cooldown for yourself still does not work. So I have to manually find out the cards and list them out.
I don't remember which post I saw, but I heard that some of the ghost untamed cards can get rented so I just listed them for near the minimum price to get some extra income. Besides that, I did some minor management on the epic and legendary cards. There is still a lot of excess power that I am not using in modern and putting them to work for rentals is better than not doing so. Besides this, I have also heard that slightly leveled-up cards might be better for rentals so I will have to go look into things when I have more free time.
Unfortunately, the APR is still kind of low for rentals. So it makes me wonder if I should even manage this and use a bot to manage my prices instead. I have heard that the new hard fork might cause some RC issues so I am not sure if that would affect me either for doing so.
Conclusion
Overall, my rewards this time around were slightly better than last time but there were no packs or legendaries. I also opened up some gladius packs and managed my rentals to increase my income with some of my spare cards. Over time, I will manage my collection power close to what I need for my rewards and have the rest earning more DEC for me.
Feel free to leave a comment if you read my post. If you have any questions, feel free to ask and I will do my best to answer.
Posted Using LeoFinance Beta
---
---