Splinterlands Season Earnings, Gladius Packs and Rental update

The season ended earlier this week so it's time to view how my rewards ended up as. It's still tough as I barely got over 50 chests on the final day and I am just glad that I was able to reach Gold I. I did get close to Diamond but I eventually gave up after I got a losing streak. It just didn't seem worth the effort to attempt for the champion league but it looks like improving my deck has definitely helped me in the rankings.
Season Rewards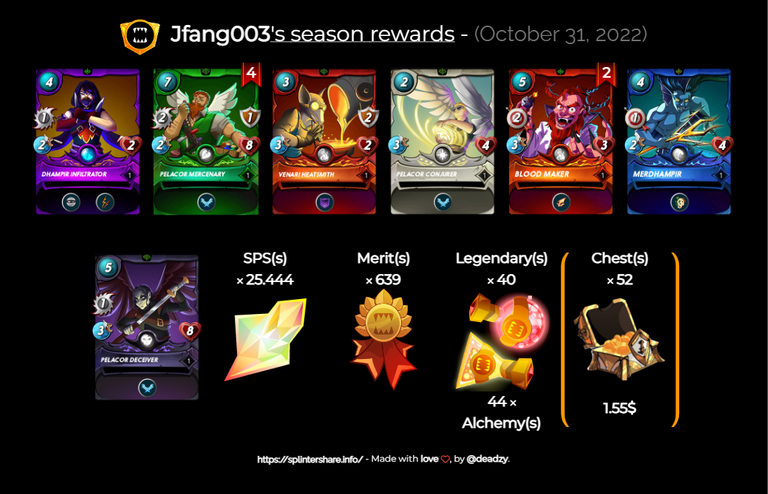 I ended up with more chests but it looks like my luck was way worst this season. There are no epic cards, legendary cards, gold cards, or chaos legion packs. The best I got was some rare and common cards along with the usual SPS and merits. Even the SPS and merit numbers are down so it looks like potions made up a decent bulk of my rewards this time around.
Gladius Packs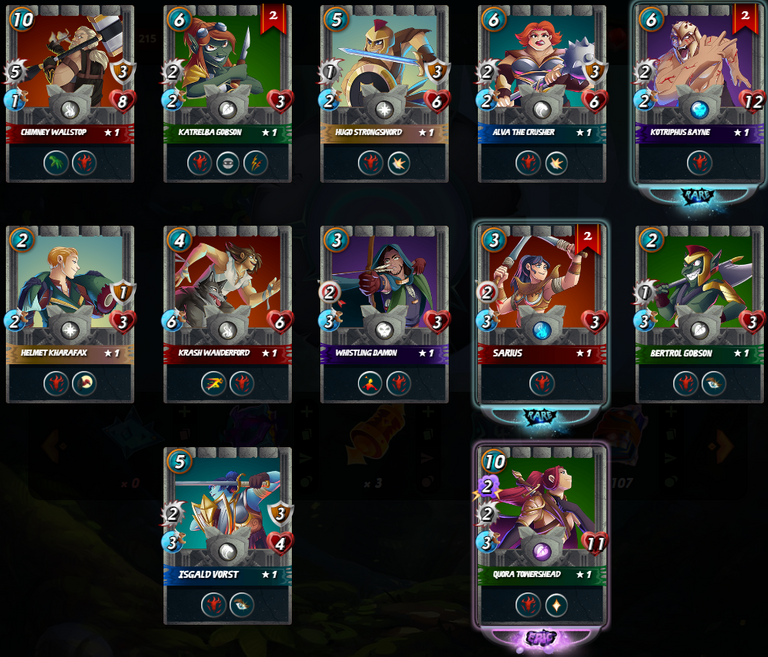 My rewards from the season rewards and brawls allowed me to buy 3 packs (1 more than last time). I was hoping to see a legendary or a gold foil card but my guild shop isn't high enough level to boost my chances just yet. I did get an extra Quora and I was able to level mine up to level 2. It's a bit unfortunate that it only gets 1 more health but surviving longer so it can gain bloodlust is still a great thing.
Rentals


Above was my rentals over a week ago and below is the changes after I listed a few more cards on the market. Both of which were gotten from the Peakmonsters interface as I prefer to do rental management over there.


Peakmonsters has solved the issue I had before about seeing cards on cooldown so I was able to list cards at a better rate. At the same time, I think I may try splex to rent out my cards. From what I saw on the estimate, my income could triple on the minimum side. If that is the case, then it might be worth it. I will look into the service to make my rentals easier to manage. The APR has also recovered somewhat and I am liking my current APR, but if I have to do less and earn more, I think I will. I should have some free time over the weekend so I should try to set it up the weekend and see how things go.
Conclusion
Overall, my rewards this time around were slightly worst than last time. I also opened up some gladius packs and managed my rentals to increase my income with some of my spare cards. I am thinking of automating my rental income just to make things easier and I am also expected to earn more through this change.
Feel free to leave a comment if you read my post. If you have any questions, feel free to ask and I will do my best to answer.
Posted Using LeoFinance Beta
---
---