Splinterlands Weekly Challenge Battle! DRAGONS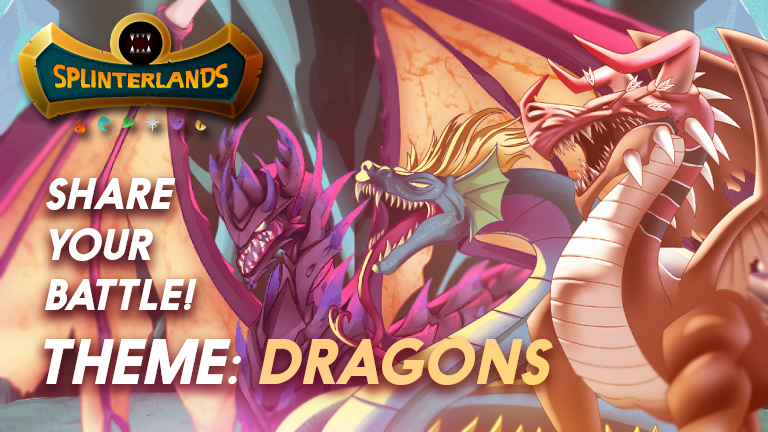 Every week there is a Splinterlands challenge to share a battle using a specific card and on this week's post it is a dragons battle. I also encourage Splinterlands players to partake in the challenge because you get to try different strategies and earn some crypto in the process.
Featured Monster: Djinn Chwala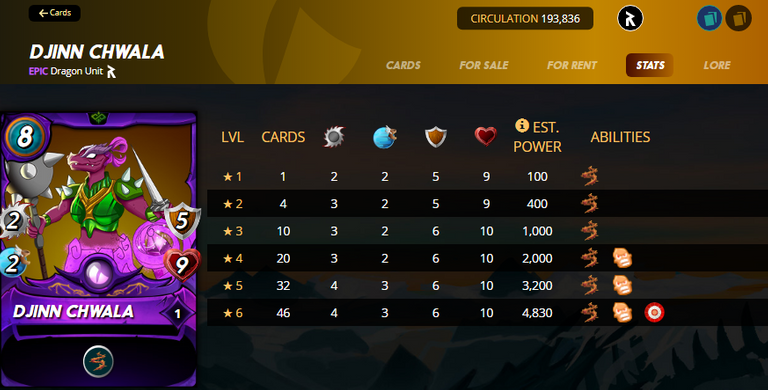 Djinn Chwala is a dragon splinter card that costs 8 mana. It starts with thorns, learns the enrage ability at level 4, and true strike at level 6. The stats are great as it has plenty of shield and health but it can't attack from anywhere.
I do use this card from time to time because the thorn's ability is just that great. This card can be placed in two spots: the front-most tank or the last spot. Melee monsters tend to attack either of those two spots so either spot is great.
Rule set, Battle and Plan
The ruleset this time is up close and personal. This ruleset means that only melee monsters can be used. There is 44 mana available and you can use any splinter you wish. So there are a lot of choices available to people.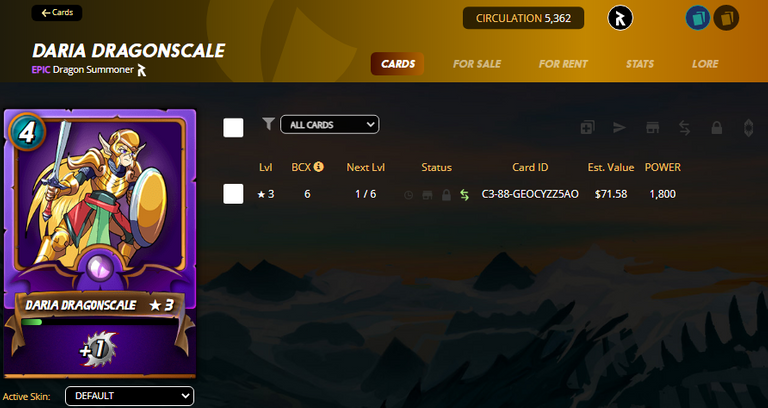 The summoner I choose to use this time is Daria Dragonscale. Daria allows me to use my cards to the highest level and it also gives a +1 melee attack. This is great on this rule set because it means that it will benefit any card I place on the field.
| Splinter | Mana Cost | Position | Reason |
| --- | --- | --- | --- |
| Daria Dragonscale | 4 | Summoner | +1 physical attack |
| Chain Golem | 8 | 1st | Shield and main tank |
| Manticore | 4 | 2nd | Reach monster |
| Flesh Golem | 6 | 3rd | Self-heal and backup tank |
| Dragon Jumper | | 4th | Opportunity |
| Disintegrator | 7 | 5th | -1 enemy physical attack |
| Djinn Chwala | 8 | 6th | Thorns |
| Total Mana: | NaN | | |
My plan is above and I plan on using Chain Golem for its shield ability. It will drastically drop the damage I take towards the front. Manticore can attack from the 2nd spot and it works up well as a tank top. Flesh Golem is kind of a gamble but I think it can work out well if I take out enough of my opponent's team before it gets to the front. It will let me win in a match of endurance. Dragon Jumper is my opportunity attacker and Disintegrator is to debuff my opponent. Lastly, Djinn Chwala is my counter to sneak monsters.
Round 1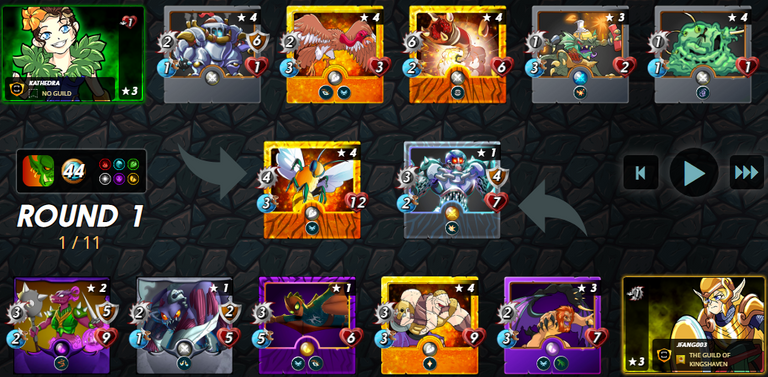 At the first glance of my opponent's lineup, I believe that I will do well in this fight. With my current lineup, I should be able to take out most of Sandworm's health from Djinn Chwala and my Dragon Jumper should slowly take out my opponent's monsters.
Round 2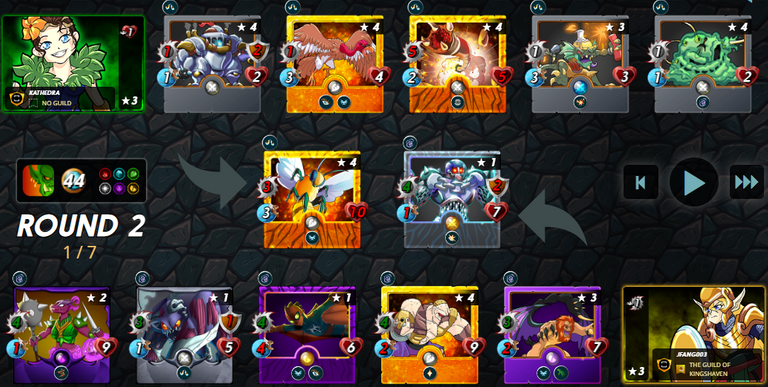 It's a slow match as nothing much happened besides trading some damage between our teams. So I will fast-forward the match.
Round 4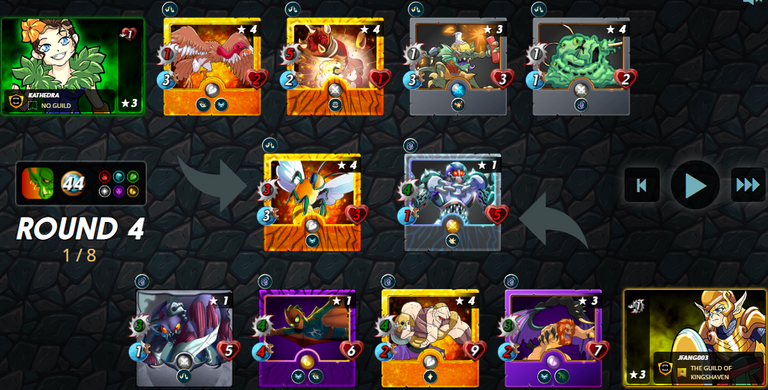 My Djinn Chwala has died but it has dealt quite a bit of damage over to my opponent's lineup. Both I and my opponent have lost one monster but all of his monsters are in low health now.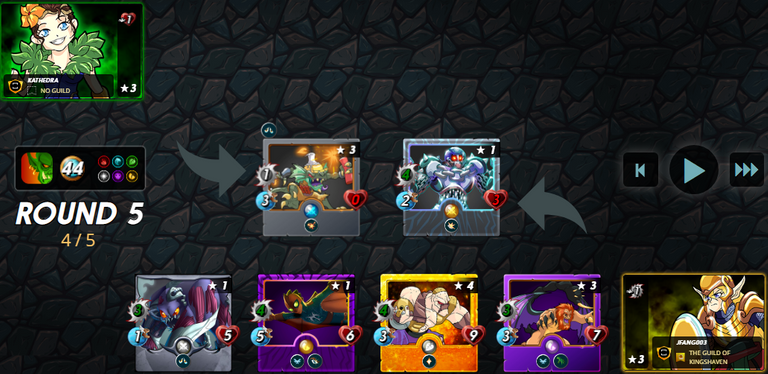 After two rounds, I was able to clear out the rest of the my opponent's lineup and win the match. It just took some time toward the start to lower down the health while the rest of my time attacked.
Conclusion
The battle this time around went exactly as I expected. The Djinn Chwala in the back did a great job of damaging my opponent. It's a bit unfortunate that it wasn't able to kill off any monster but dealing 8 damage just through thorns and allowing the rest of my team to attack makes it worthwhile. I had more lined up for my opponent but it's a bit unfortunate for my opponent as he didn't manage to beat my team to the Flesh Golem. Disintegrator did a great job of lowering my opponent's attack.
Daria was a great choice as a summoner as it increased my team's attack. It definitely speed up the match as I was able to deal more damage. I feel like my opponent's team could use some work. Some of the monsters can't attack from their current position so it seems like a waste. Besides that, I think his lineup was fairly solid as it took me a few turns before I could even take down the first monster on his side.
You can see my entire match here.
What did you think of my match? Was there anything you would have done differently? I think it is quite interesting to see how different players use the same card.
---
---