I4I #10 - Ideas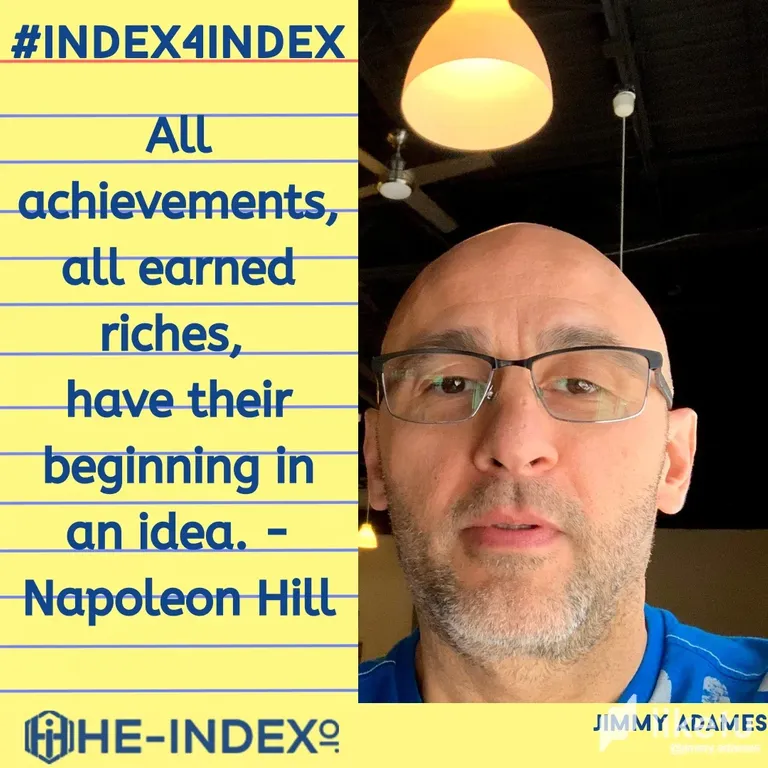 Today's #Index4Index submission hits a nice round number of ten so far. Again, I did not have a specific number I want to stop at or put gaps in between; but being at ten is cool.
I found this Napolean Hill quote and it made me think, because I'm not the go to idea guy. I'm pretty much cautiously spontaneous by nature and a Gemini - lol, because if I think about things too long, I'll end up procrastinating.
That is what I love about my content creation here on the HIVE blockchain and to that extent a platform like LikeTu as it allows me to just be myself and not have to try to post stuff that is over my head and play the fool of writing about stuff I know very little about.
In my day to day life outside of HIVE, I'm a guy who started working on his health and fitness much later in life and has stuck to it for over 9 years. Can I be a fitness trainer? - nope. I'm an enthusiast who puts in the work and yell about how a great the brand is where my sweat equity goes towards 5 to 6 days a week and I'm immersed in the community under the orange lights.
On the HIVE blockchain, I also have the same enthusiastic passion for the community and it's platforms.
Perhaps, if I continue my dedicated daily activity on HIVE and it's dApps, I will come up with an idea that will fit NAPOLEON HILL's quote: "All achievements, all earned riches, have their beginning in an idea."
OR I can just like the quote lol.
============================================
Want to participate or consume some motivational quotes?
Let's Try Something New.....We'll Call It #Index4Index
---
For the best experience view this post on Liketu
---
---