I4I #29 - Daylight Savings Time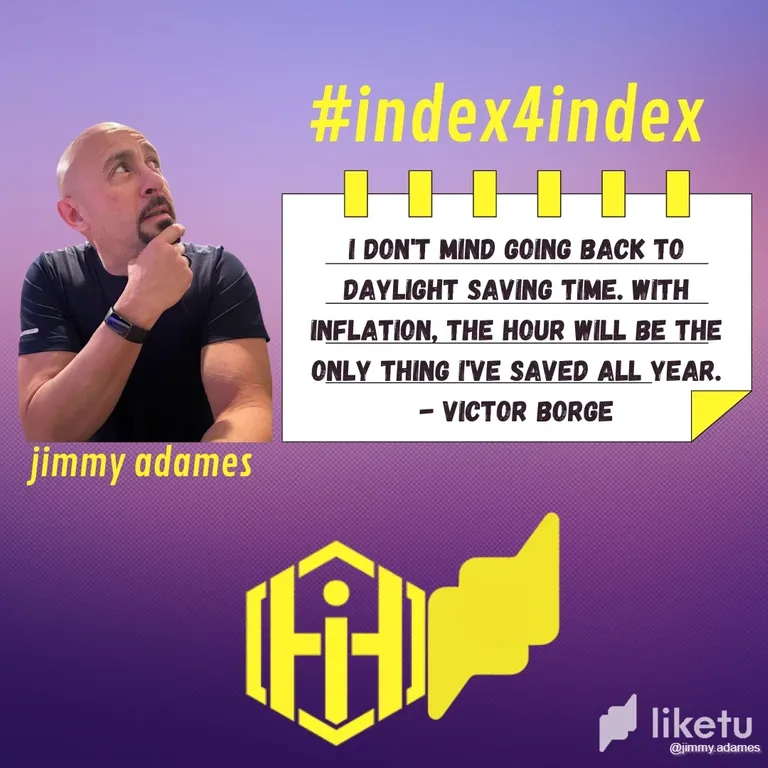 I was trying to find a motivational quote that would fit Daylight Savings Time and I ended up finding a quote that actually will add some levity to my latest #index4index submission, which is my 29th.
I'm not what you would consider a sleeper, so unlike folks like my wife Tiffany, the loss of that hour irks that in that sense. For me, I'm a creature of habit, so there are things that bother me. Just the time change alone and yes, I do feel the impact of it with the whole trying to fall asleep at my normal time.
I still woke up this morning at 4am and was working out from 5am to 6am burning calories while getting the week off to another great start.
The weekend went well as Tiffa and I did our first 90 minute HIITS session of 2023 and although we have done plenty on our health and fitness journey's this one was extra special for us, because it's part of our path back to full recovery. The workout on Saturday was an ass kicker and I burned 1200 plus calories, so it was gratifying to get it done.
We decided to take the day off yesterday and skip the walking activity to give ourselves that extra time to recover and were better able to get through today's workout and with our scheduled rest day tomorrow the rest of the week should be easier to manage.
On Saturday, we will be driving out to West Palm Beach to see my favorite baseball team in a spring training game and we will also workout at another studio under the orange lights and will be burning calories for another catch to add to our list of over 200 and the bonus to all this that phase one of the reset put me at 183 to 169 pounds leaving me with just 4 pounds to my goal and it only took 8 weeks. When you take your health and fitness seriously even through the rough times it's easier to recover.
Now back, to the quote:
"I don't mind going back to daylight saving time. With inflation, the hour will be the only thing I've saved all year."
MORE LIFE
Want to participate or consume some motivational quotes?
Let's Try Something New.....We'll Call It #Index4Index
---
For the best experience view this post on Liketu
---
---