NIGERIA AT THE BRINK OF NATIONAL SHUT DOWN: ECONOMIC IMPLICATIONS
There is a possible National Shutdown as a result of Fuel & Naira scarcity!!!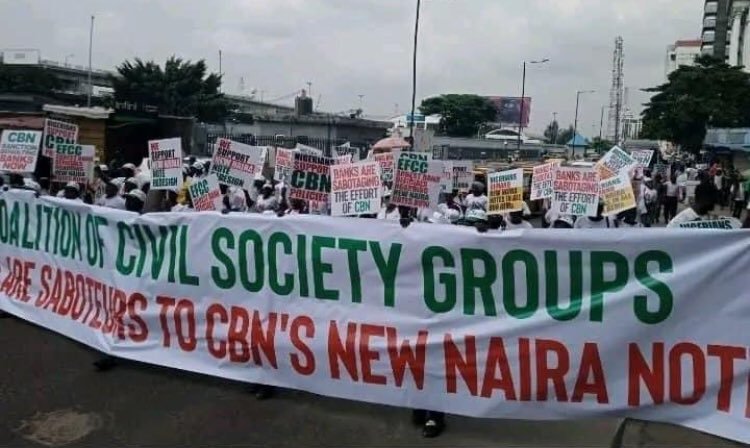 With a persistent and prolonged hardship in access and consequent difficulty in use of the New Naira Notes which has been worsened by the seemingly retracted fuel scarcity, Nigeria is at a risk of Industrial Strike Action.
This is deduced from rising pockets of protests as a result of frustrations experienced by Nigerians.
Recently there have been peaceful protests in Lagos, Edo and in Enugu states.
There are incidents of roadblocks by protesters on account of fuel pump price of N450 ($0.6) from the approved pump price of N190 ($0.25).
This by implication means shops and means of living will be put to a hold. The rising protests will also put at risk lives and properties as the frustrations of protesters could be meted out indiscriminately.
While I agree that the nation may need to shut down perhaps to trigger a quicker response by the Government to ailing issues of fuel and Naira scarcity, there is a tendency that the effect of such protest could further plunger us into a worsening economic crises. This is buttressed by the lingering national and international inflation experienced. We are in the era where money is hard to come by to buy food, buy items and even purchase the already scarce fuel. The alternative mode of transaction via online transfers are either slow, hanging, not delivered or reversed. All these factors also tell on the status of the nation's economy.
This burden thus lies on the Government of the people and by its people to alleviate these threatening factors and ensure citizens receive succour to the scarce fuel and Naira notes.
There have been viral videos of individuals going the extra mile to express their frustrations by physical and verbal aggressions. It is rather unfortunate that these occurrences are avoidable since these measures to instill the cashless policies are not acute in its real sense.
Once again, we pray for peace of the nation and yes, we implore our Government to ameliorate the pains of the masses.
Thank you for reading through
---
---