Proposal for a fiat on/off ramp for Comdex.
A new proposal has been opened for discussion in the Comdex forums. In it, a service called Kado has offered to build its service out for Comdex. Kado seems to be another Victim of the LUNA/UST collapse. From an initial look at their website it appears they had initially built on Terra as a use case and on/off ramp for UST.
You can find the complete proposal in the Comdex forum.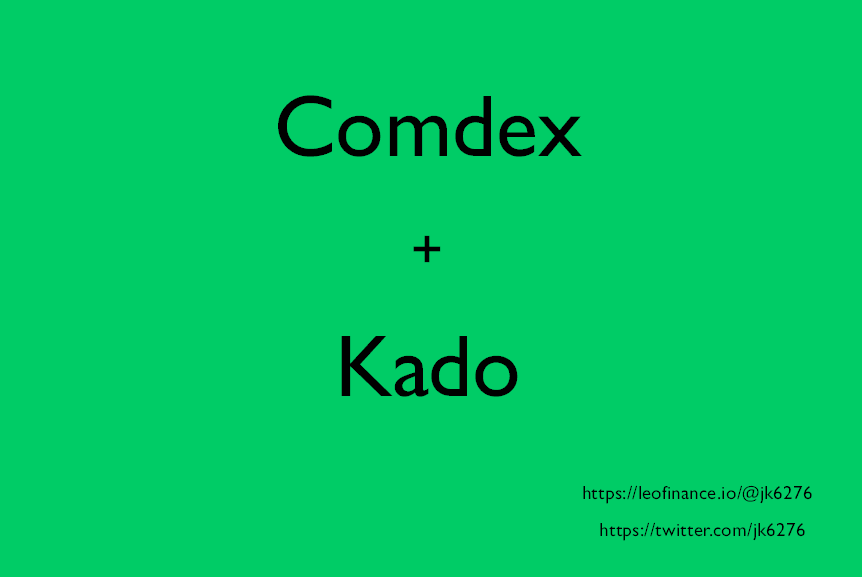 So, what is Kado?
Kado is a fiat on and off ramp, to simplify fiat to stablecoin transactions, and allow crypto natives to stay in crypto for payments that would otherwise require fiat. It was obviously built for the Terra eco-system, as UST is the only stablecoin implemented on it so far. I didn't try, but I presume these features are disabled since the crash.
Kado strives to be an integral money lego of infrastructure for the future of stablecoin utility, whether an on or off-ramp, the acquisition of a payment solution, or how you easily benefit from high-yield savings with your stablecoins.
Quote from the proposal forum post
Basically, Kado look to make the fiat - stablecoin process as easy as possible, and link with projects to build out there service to complement other projects. Obviously, having been a stablecoin focused project, built on Terra, the team have pivoted to explore other Cosmos chains. With the coming launch of Composite (CMST) on Comdex, it seems a natural fit for these two projects to partner.
How will this benefit Comdex?
Comdex is building a range of platforms on its chain. The native stablecoin they are launching soon (CMST) will be an overcollateralized coin with a similar design to DAI on Ethereum. Integrating the Kado service will give investors an easy path to move fiat into crypto, and vice versa. In addition, partnering with a service like this means that Comdex can gain the benefit of direct fiat onboarding, without any need for them to worry about all the regulatory issues - that will be Kado's task to look after.
A drawback of decentralized stablecoins, as opposed to the highly regulated and controlled ones like USDC, is a more difficult path to onboard users. Kado integration would appear to be a great way to solve that problem.
The Kado team are moving their primary operation from Terra to Juno, but obviously scaling to offer support to a number of chains over time. Being early with this solution on Comdex will be a benefit to Comdex users.
The big benefit overall is in making the new stablecoin more attractive and easy to onboard. The use case for this stable, aside from sending it out as a viable replacement for UST in the Cosmos DeFi scene, is for payments on the Comdex chain. The chain becomes more attractive if these payments are frictionless for the end users.
The other feature is Kado brings its own use case through its payment service.
Picture this...
Deposit your long term holdings of blue chip Cosmos assets (ATOM, CRO, OSMO etc) on to Comdex.

Deposit in a vault, and collateralize a CMST loan.

Use Kado to pay your fiat bills with CMST.

Pay off the loan from rewards earned elsewhere. (if you wish)

Many crypto native investors are looking to borrow against their assets to fund their everyday expenses, in order to save capital gains tax from selling some assets. This will give another way to do that.
My thoughts.
I think this will be a great benefit for Comdex. Having a simplified on/off ramp to the new CMST stable will aid in its adoption and growth. Kado looks like they were in the building phase, and focused initially on UST. Adopting Comdex's offering of CMST will be a good pivot for them and allow them to continue their development with what will hopefully become a safer, more stable option. Time will tell on that.
Kado are asking for 250,000 CMDX grant from Comdex's Ecosystem Development Fund to role this out. At current prices that is roughly just over $100K in value. I'm interested to hear if they plan to stake this, or sell it in the short term. If that size of CMDX hits the markets quickly it will further pressure CMDX price, which has been on a steady downtrend for months.
Overall, this seems like a move worth making for Comdex. A way to onboard fiat money, without having to take on the regulatory challenges would be beneficial.
I will support this proposal.
---
Thanks for reading,
JK.
---
If you enjoyed this post, here are some more you may like:
Posted Using LeoFinance Beta
---
---