Some Improvements for Cub Finance

CUB Finance is a DeFi platform that allows investors to compound their assets. Since the platform came to the public a few months ago, I've seen how it evolved constantly. For example, with kingdom feature and next to the Polygon Network support.
I wanted to write this article because I think there is always room for improvement. These are some ideas I had, so it doesn't mean to be the absolute truth.
CUB Token Supply and Burning Rate
For me, this is improvement number one to address. It's hard to give value to a token with infinite supply. If we want to see $CUB mooning, we should be burning more tokens than producing.
Pancake it's the only one I've seen doing it almost right. It's true that they are the DeFi #1 and is easier for them, but that shouldn't be an excuse because there are alternatives.
Fees and Treasury
The first step should be to reduce the token production progressively to 0 and create a treasury. In the short term, the fees would be used to buy CUB tokens. Half of these tokens will be deposited in the treasury and the other half burned.
Taking advance of the current price, CUB from treasury would be stored for rewarding vaults in the future, once CUB per block hits 0.
In the long term, rather than burning CUB at first, the earned fees could be deposited in special vaults like the kingdom, but with the difference that all vault earnings would be used to burn CUB.
Also, all token holders would have a participation in those fees. For example, if there are 100 CUB in circulation and 100 ETH from fees deposited on a vault, each CUB would be backed by 1 ETH at least.
The user, as an individual, cannot claim that ETH but could be claimed after a successfully voting proposal —if the CUB token had governance rights—. Or in the worst-case scenario, it could be used for compensation. Well, I hope you got the point.
Marketing
First, there is zero presence at Medium. We know we have our own social network here but that doesn't mean we shouldn't use other channels to attract attention. I've seen a lot of other projects using Medium for spreading the word and I must say they get the attention.
Second, is hard to find Cub Finance in places like RugDoc or ranked list like DappRadar (we are here at least). What I mean, the presence of Cub Finance is not the best. Even most scammer projects have more presence.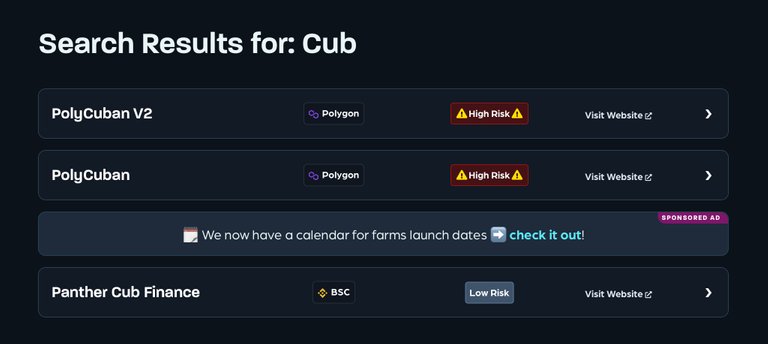 Also, I want to mention traditional marketing like paid ads or articles on news sites. I don't know if this could be possible, but old good marketing could still work.
I'm not a marketing expert, but the lack of marketing is noticeable as a simple user. I noticed a bunch of echo chambers, for example, hundreds of posts about Cub Finance over here or in Publish0x. We need to aim for users out there, we already know what Cub is.
In resume, tokenomics needs some changes to increase the value of $CUB in the long term and marketing needs some love.
Let me know what you think!
Posted Using LeoFinance Beta
---
---