GRABTC: Scam or Not?
There are so many different BTC faucets on the internet today. And many of them are scam. And today we will check is GRABTC scam or not.
GRABTC: Scam or Not?
I joined the platform about a year ago. The platform offers different ways to earn bits (satoshi) such as faucet, shortlinks, PTC ads, offers, surveys, etc.
However, there are some important points that you have to keep in mind. And some tips from my personal experience.
First of all, if all your earnings come from the offers then you will need to wait for a long time to withdraw your earnings. My first withdrawal took around a month.
Usually, it takes around 3-5 days, at least it is written so on the Terms page. And there is a difference when you withdraw to the FaucetPay wallet or directly to the BTC wallet. The second one takes more time.
And in the terms or FAQ pages, there is no clear answer 'how long it can take'. A month? A year?
Withdrawal proof
Here is a proof of my withdrawal. And yesterday I applied for another one. Let's see how long it will take this time.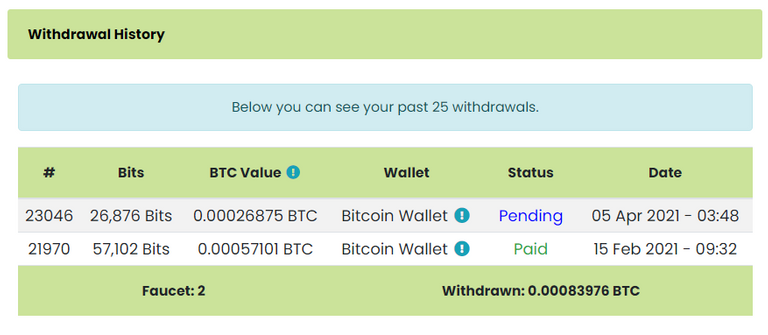 Be careful or you can be blocked
If you have any questions you can write to the customer service but if you write 3 times, your account can be blocked.
When my withdrawal wasn't proceeded for after a week after application, I contacted the support team, but the answer was really strange.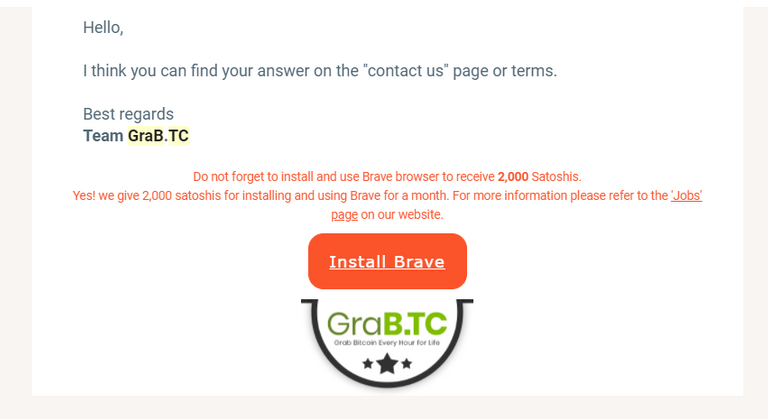 So I contacted them again, but I didn't get any answer for more than a week. I thought that they didn't get my message, so I contacted them again. And on the next day, I wasn't able to log in to my account. It was suspended.
But the good thing is that I contacted them again and explained the situation. I checked my inbox, spam folder and there were no emails from GraBTC team. So they reactivated my account.
New updates in GraBTC
A couple of months ago GRABTC added new features. And one of them is a bonus for completed tasks on the offerwall. The bonus adds 2.5 Bits per faucet roll and it works for 24 hours.
So, now I think you know the answer on the question 'Is GraBTC scam or not?"
Source: Job Online Club
---

---
---