It Turns Out Am In Demand For My Sweeps Test Knowledge In Africa
Perhaps I am being pompous with the title of this article, either way, I am going to stick with it and feel that way, you might be feeling the same if you were in my shoes, and the reason we shall get to shortly.
It has been one hell of a week, I knew as my travel plans gets closer, it is going to get busy for me but annoyingly my travel plans haven't gotten me that busy but having to build site files for other people's projects has been draining the hell out of me.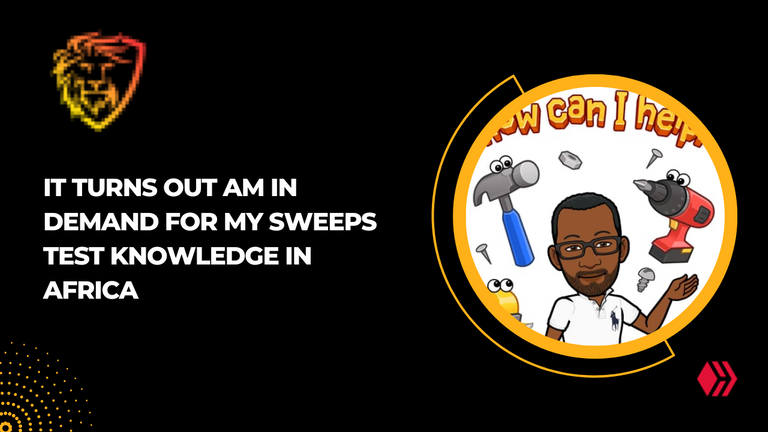 It is crazy how people accept projects for which they have no full competence in getting the job done and also fail to get the right person or company to do the job.
I am still owed $1510 for the Huawei telecom projects I did, and after telling the company which I sub from, the guy promises to try and make sure I get my money before leaving South Africa in February and from his efforts through the back and forth emails I can see he has been trying to ensure payment is released.
One Good Turn Deserves Another
Haven completed my site file and all that is required of me, the other subcontractors are struggling to get their site files (Asbuild documents) done. So I was asked to help and will be paid for it.
To be honest, it is not the kind of money I wish to earn, building those Asbuild documents is draining, it takes about three days to get one done and I have six of them thrown at me.
Under normal circumstances, I will turn down the job of doing those Asbuild documents but seeing I need my $1510 before I leave the country and him trying to make sure Huawei pays I felt obliged to help.
It is a pain to get the Asbuilds done and another pain to get all documents, and photos that I need to do the job from the subcontractors. Talk about incompetency at the highest level, I just can't wait for these days to be behind me.
Here's Why I Feel Pompous
I was contacted by someone from Nigeria, I'd rather share the screenshot of the conversation.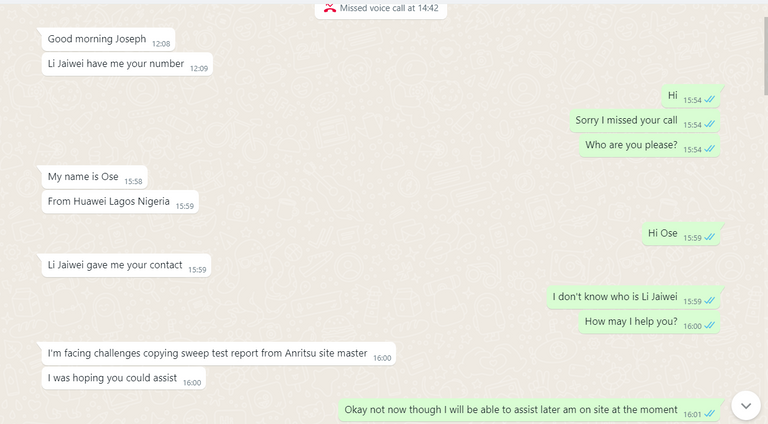 A further chat with Ose who is a Nigerian tells me Li Jaiwei is Chinese and flew from Nigeria to Kenya this week.
I inquired if anyone knows Li from the Huawei guys I was working with on-site on Wednesday and was told one of them gave Li my contact since I am the one helping out with the RF Sweeps test.
I ended up guiding Ose, yesterday hopefully he gets it right, I feel good helping out my fellow brother and I hope I can do that when I get back home to west Africa to empower the people with my knowledge where possible.

Earlier in the week, I was referred to Mao by Victor another Chinese working for Huawei, so next week is going to be a busy one for me as I travel to Durban and East London to get those Sweeps done.
What I notice from doing the site files of other subcontractors is they did not do a Sweeps test of the antenna and cable installation which is completely unacceptable, you can't build a network system without testing if everything is working fine, if there is a fault in the antenna, etc.
This has been my life the past weeks and it appears to be getting busier and impacting my presence on Hive with about four weeks left for me in South Africa.
I will enjoy my last work trip next week.

We owe it to ourselves to make Hive great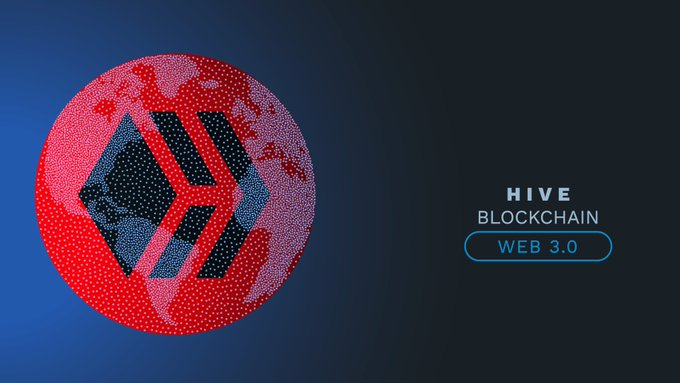 Image by @doze
Posted Using LeoFinance Beta
---
---