Not My Will But Your Will Be Done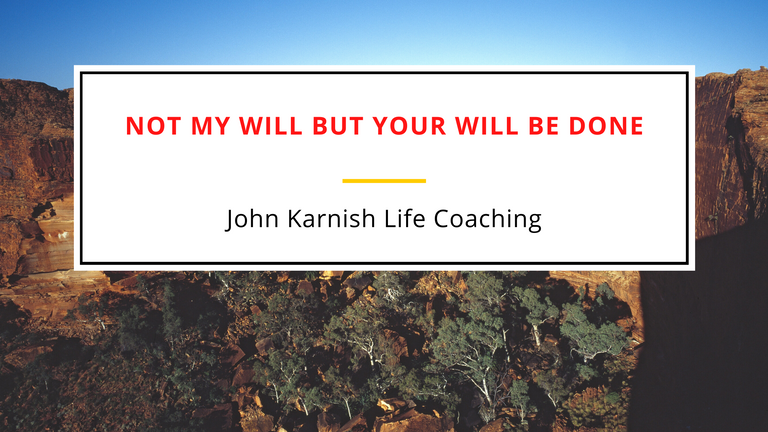 My job can be stressful. So I do sometimes look to see what else is out there. I also pray sometimes for a different job. However, I pray "if it is your will." I think if you pray enough, God will give you what you ask for, but it might not be his will for you.
I don't want to be out of God's perfect will for my life. I can get what I want but later find out it isn't what I wanted all along.
God is much more intelligent than I am. For now, this is where he wants me to be. I have to trust that there is a purpose in being at my job. I was talking to another therapist who was having a hard time at the job, and I said, "If you can handle this, you can handle anything." Maybe God is making me strong enough where I can handle anything.
Paul learned to be content in prison. So likewise, I can learn to be content in a job I don't always like. Don't get me wrong, if God calls me to move to a different position, I will follow. However, I feel this is where he wants me to be, and I will obey.
We are told not to worry about tomorrow, for tomorrow will have its own worries. I am trying to be as present as I can at this moment. I am trying to commune with God. I am trying to listen to see if God has something to say to me. It isn't always just asking God for assistance.
I am learning to rejoice in the Lord always. It isn't always easy, but the more I do it, the better I will become and the more joy I will have. Life situations can always change, but God's love for us never will. If I can focus on the blessings I have in the Lord, I can find a constant state of joy.
I am working on creating my own life coaching business. I have a Christian emphasis, but you do not have to be Christian to use my services. I just find that the Bible is a transformative tool and that faith can change and help us overcome impossible situations.
I offer a free 30-minute coaching session, and for a limited time, a pick your price coaching fee.
Click here to learn about getting your free 30-minute coaching session. YES, I accept Hive and other cryptocurrencies as payment.

---
Posted from my blog with Exxp : https://johnkarnish.com/not-my-will-but-your-will-be-done/
---
---
---