Weekly Wrap Up & Free Coaching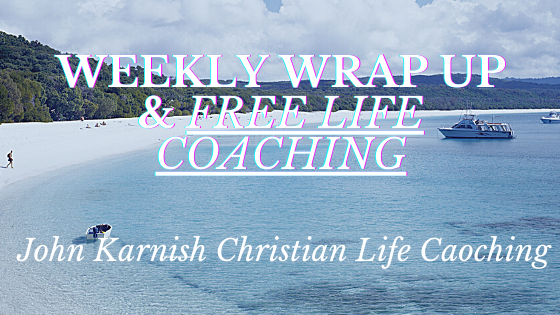 So it's been another week. It's time for a weekly wrap-up.
I still have been writing every day. Although, I admit, sometimes it is not my best writing. Sometimes I am just writing something to get some content out.
I've been having more and more trouble coming up with content ideas, but I am building consistency which is not my strong point. So that is what I've been doing well.
I also have been a little happier this week. Last week I noticed I was slipping into depression. So I decided to take some action and take less action. I decided to make sure taking care of myself became a priority.
I did set the goal of exercising, but I missed the mark this week. I also didn't do as well with my eating or Bible study. However, I needed the week off to just focus on writing content and not emotionally break down at work. My job can be very taxing.
This week I will be working on a new lead magnet to test out. After that, I will be trying actually to start coaching. I will be offering a free 30-minute coaching session, so people can get a feel for working with me.
I am nervous about starting to life coach. I feel like my life has to be perfect to help others, but I know that is not true. Also, it's not like I'm going to be charging thousands of dollars. I will be doing a complimentary 30-minute introductory coaching session and then a pick your price plan as I go along since I basically will be learning as I go. I also want to accept crypto payments, including Hive.
I don't have a form up yet, but if you are interested in starting getting a complimentary 30-minute coaching session, you can message me at CTP with the username "johnandgrace."
By the way, although I am a Christian Coach, you don't need to be a Christian to use my services. I just find the Bible transformative and think it can be a powerful tool for life growth.

---
Posted from my blog with Exxp : https://johnkarnish.com/weekly-wrap-up-free-coaching/
---
---
---