After All These Years On Splinterlands...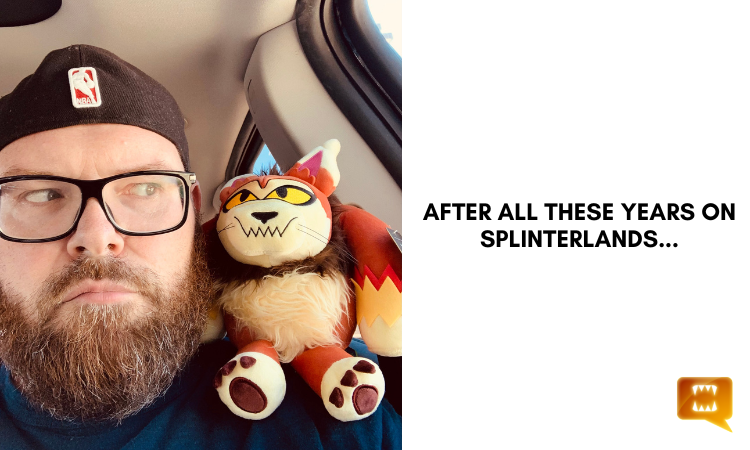 I've got to admit, I'm getting burnt out!
Over the past few years, I've invested a lot of time, energy and personal money into this game and have always thought, this was the true representation of what a Web3 game should be.
I have to admit though, the past few weeks I've been very concerned about how things have been progressing.
Not so much that I don't believe in Splinterlands long term, I do. I still do and think it's a fantastic game on a players level...If you are 'at' a certain level lol
I've just been getting burnt out....
In 2022, one of my goals was to hit 1 million SPT tokens, and I recently achieved that. But now I'm asking myself....Is there a future in SPT?
I haven't heard a peep about it for quite a while now, and think it's safe to say the team's focus is on a lot more 'important' things, rather than SPT and the Splintertalk front end.
Sad really, cause if it ever takes off, I'll look like a genius for accumulating it over 2022 LOL
But back to being burnt out....
This season, I've barely played any matches or daily focuses at all. This is rare for me, as I always get to a high Gold or low Diamond level each season. And it's not because of the rewards or lack of them, I'm just....Blah lol
Am I alone in thinking this way?
I was very excited for Runi but I don't see that getting into the game soon, unless they announced it recently?
The Riftwatchers release shadowed the fact that there is still so many packs of Chaos left...And with all the burning going on, it's almost like the team is trying to get through all these extra packs so they can release the next set.
Lux Vega has been fun, and I'm still holding my Waka summoner from earlier in the year....But what about Land?
Is that coming?
So many questions but here's the big one....
When is player staking coming?
One of the promises of SPS was the ability to stake on players which if you know anything about gaming would change...Everything about this game. It would open us up to huge markets and I think bring huge excitement to Splinterlands...
Has there been any news about it?
That's the game changer to me...Not new card sets, pack burns, Ethereum projects, none of that will help grow this game more than player staking in my opinion.
For now....
I'm on 'sit and wait' mode lol I'll keep stacking my SPS and growing my stake. But it'll be much more passive now, especially with all the projects we've got going on in CTP.
But back to the question at hand...
How do you feel about the future of Splinterlands?
---
---