[ENG/ESP]The breeding of my sows for production 4 pernil./La cria de mis marranas para la producción 4 pernil.
Spanish
Autor: josem22
Hola, muy buenos dias, tengan todos queridos amigos de Mentalidad agrícola, agradecido primeramente por DIOS.
Por permitirme compartir este contenido con ustedes, de unas de mis crías de marranas con la finalidad de vender sus cerditos lechones, para extender la producción de puercos en mi estado Guárico.
Que con la ayuda de mi DIOS 🙏, seguiré adelante en la producción de cerdos 4 pernil, por aká 👇 les mostrare unas fotografías de mi marrana llamada (Rosita), que dio a luz el día 25 de mayo de este año.
Esta marrana es muy buena madre criadora con sus cerditos lechones.
Se le llama lechón a la cría de cerdo durante su lactancia.
Está marrana tiene 3 partos con éste último.
✓En el primer parto, parió 10 cerditos.
✓En el segundo parto, parió 9 cerditos.
✓En esté tercer parto, parió 11 cerditos.
English
Author: josem22
Hello, very good morning, have all dear friends of Agricultural Mentality, grateful first of all for GOD.
For allowing me to share this content with you, one of my sow babies in order to sell their piglets, to extend the production of pigs in my Guarico state.
That with the help of my GOD 🙏, I will continue with the production of pigs 4 pernil, for aká 👇 I will show you some photographs of my sow named (Rosita), who gave birth on May 25 of this year.
This sow is a very good breeding mother with her little piglets.
A suckling pig is called a suckling pig during its lactation.
This sow has 3 deliveries with the latter.
✓In the first birth, she gave birth to 10 piglets.
✓In the second birth, she gave birth to 9 piglets.
✓In this third calving, she gave birth to 11 pigs.
---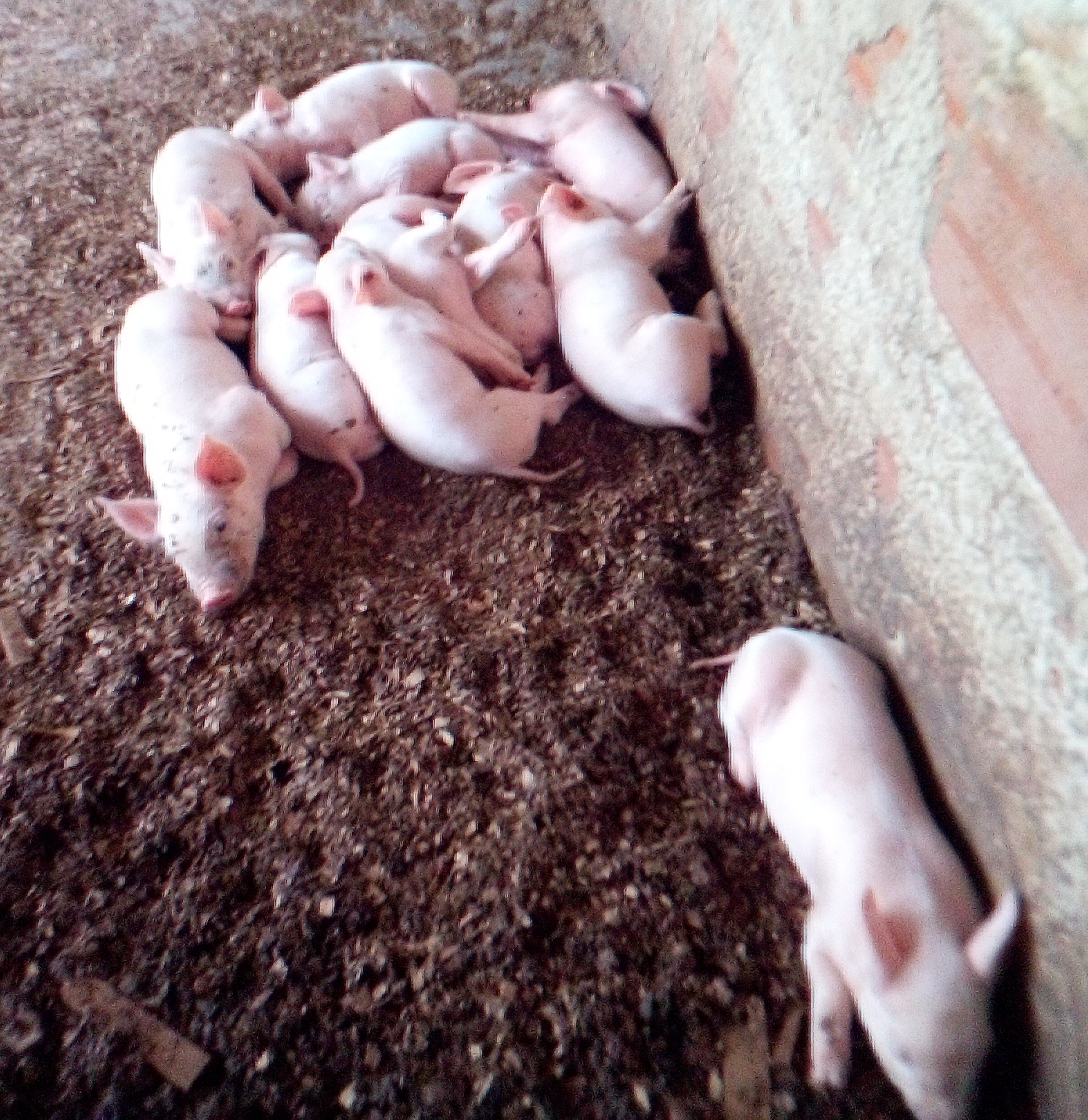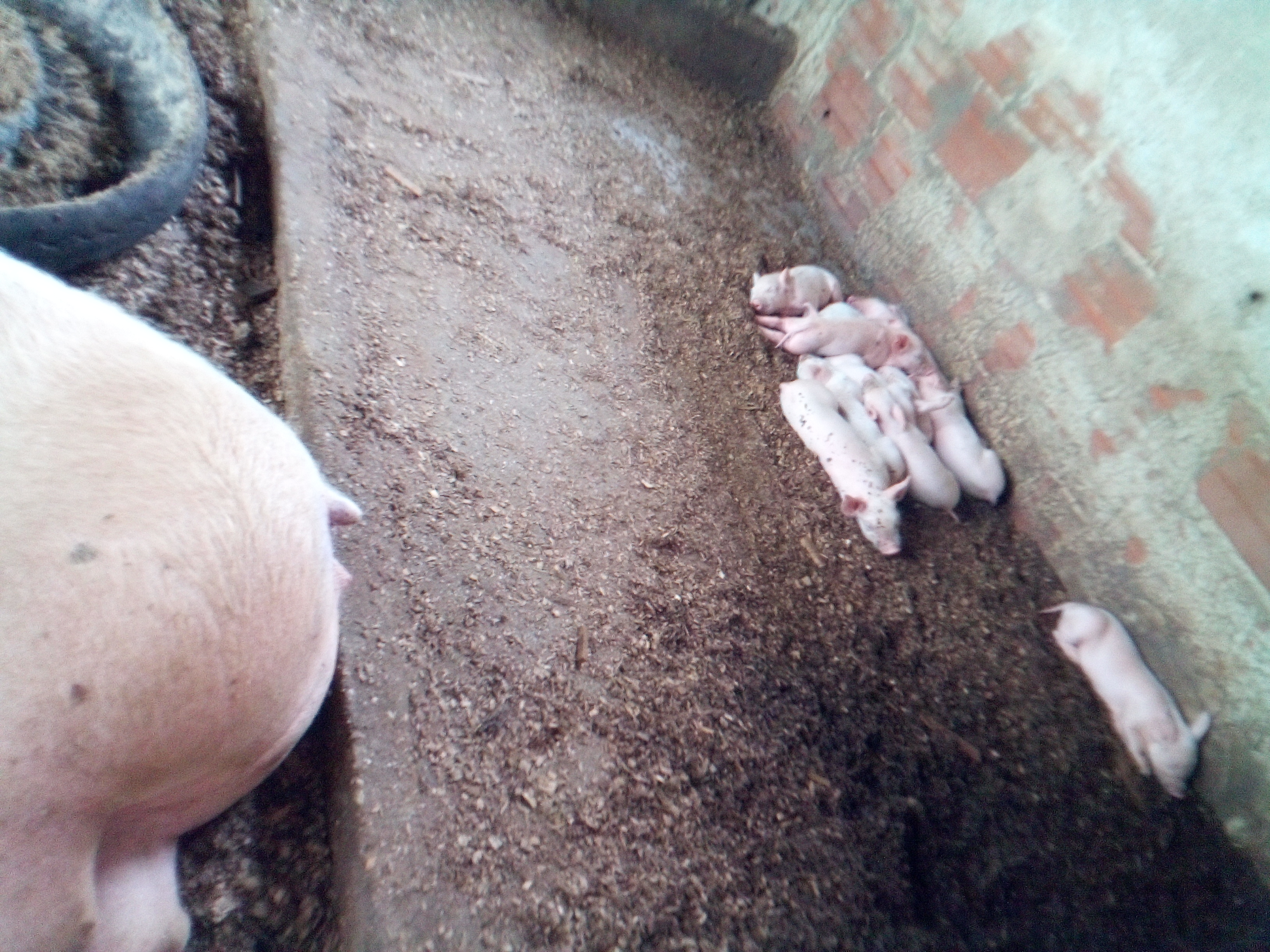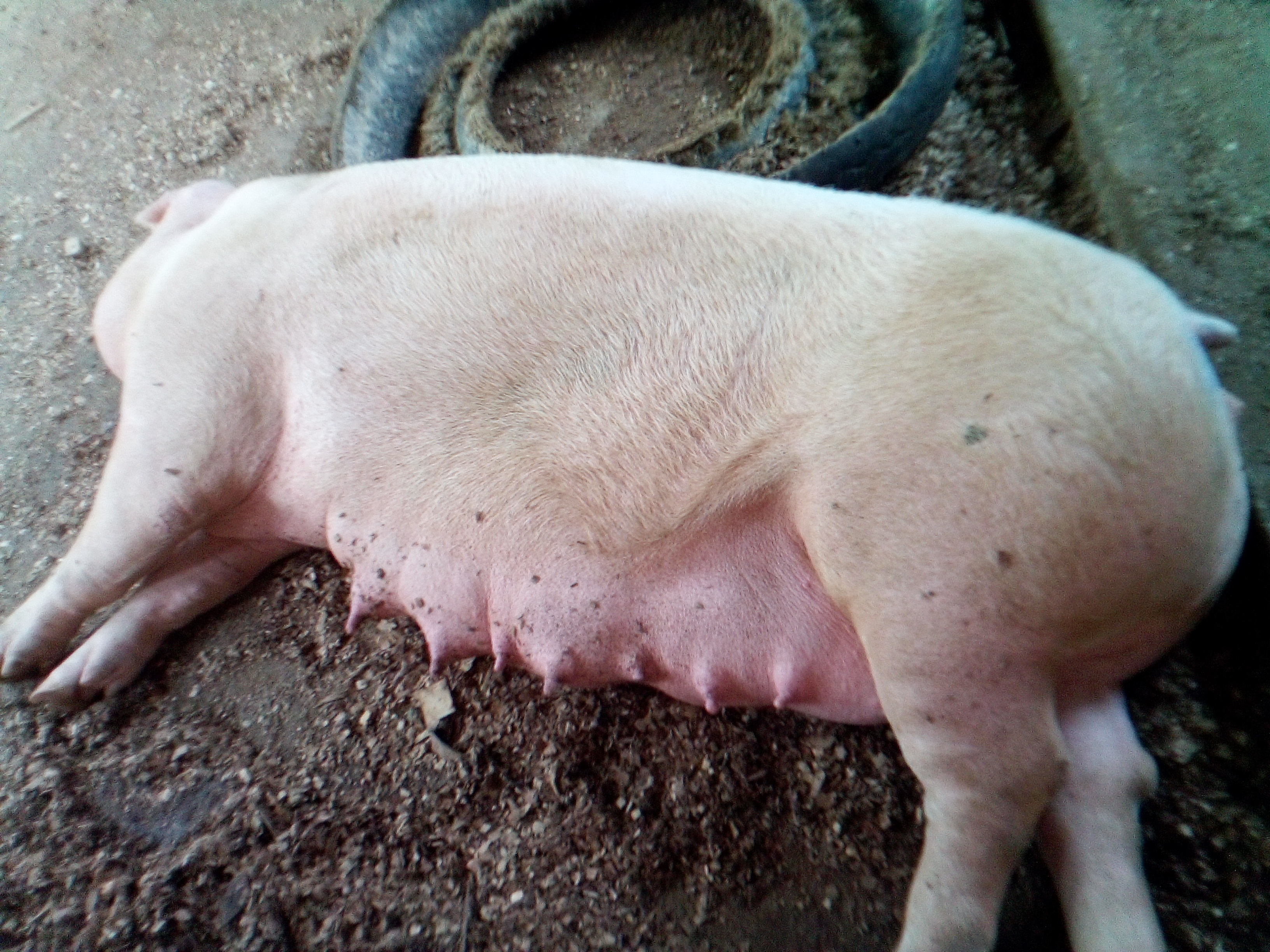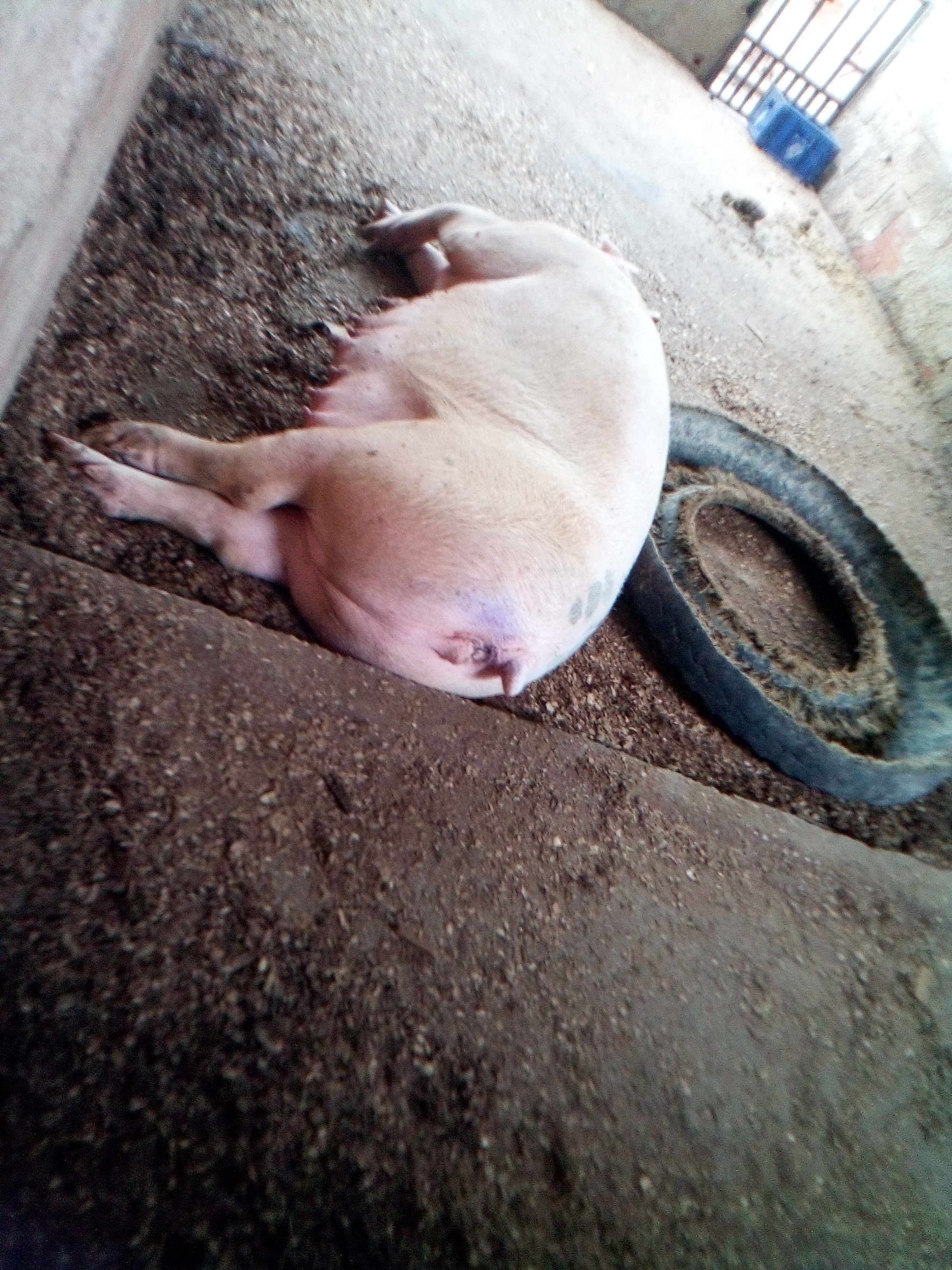 ---
Spanish
Por aká les mostrare, y les hablare, sobre otra marrana de raza criolla ligada con 4 pernil, que dio a luz por primera vez el día 15 de mayo de este año.
Esta marrana tuvo inconvenientes en su parto, yo diría que tuvo ese problema en su parto, porque uno de sus bebés estaba atravesado, y no tenía la fuerza suficiente para expulsarlo.
Esa noche antes de el parto, se salió del corral y se fue a la montaña (campo o monte).
La empezamos a buscar ese otro día, buscamos todo el día, hasta encontrarla en horas de la tarde, estaba acostada muy triste y quejándose, luego la amarre y la dejé allí, mientras iba a casa a buscar dos CC de expulsina para inyectarla.
Le coloque la inyección para que la ayudará a expulsar sus bebés.
Solo con la inyección podría expulsar los bebés ya sean muertos o vivos, pero gracias a DIOS tuvo la dicha de parir sus crías vivas, pensé que los perdería.
El día siguiente amaneció con 4 cerditos.
Hoy día tienen 16 días de nacidos.
English
Through aká I will show you, and I will talk to you, about another sow of the Creole breed linked with 4 legs, which gave birth for the first time on May 15 of this year.
This sow had problems during her delivery, I would say that she had this problem during her delivery, because one of her babies was crossed, and she did not have enough strength to expel it.
That night before giving birth, she left the corral and went to the mountain (field or mountain).
We started looking for her that other day, we searched all day, until we found her in the afternoon, she was lying down very sad and complaining, then I tied her up and left her there, while I went home to find two CCs of expellant to inject.
Give her the injection to help her pass her babies.
Only with the injection could she expel the babies, whether dead or alive, but thanks to GOD she had the happiness of giving birth to her live young, I thought that she would lose them.
The next day he woke up with 4 little pigs.
Today they are 16 days old.
---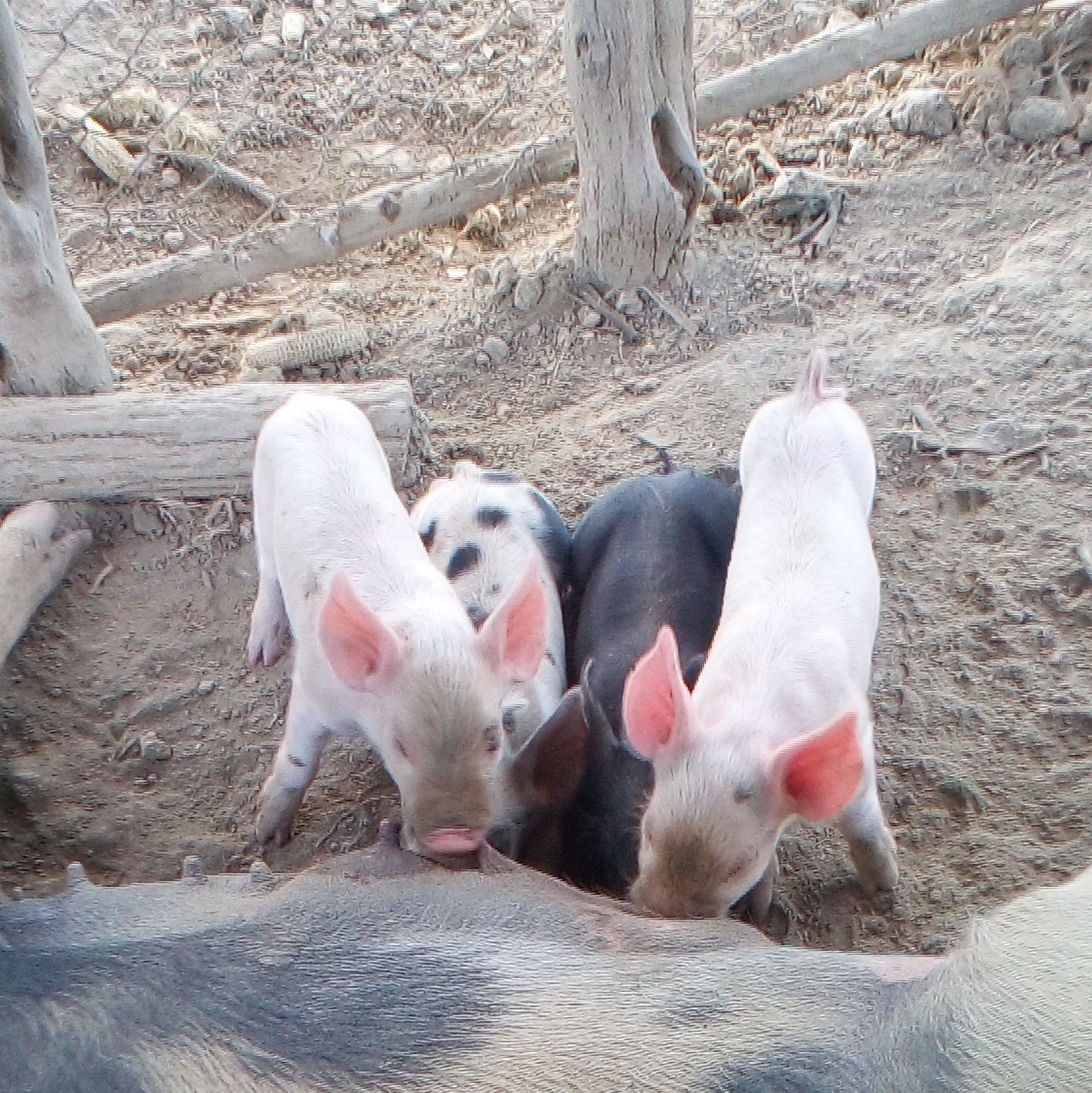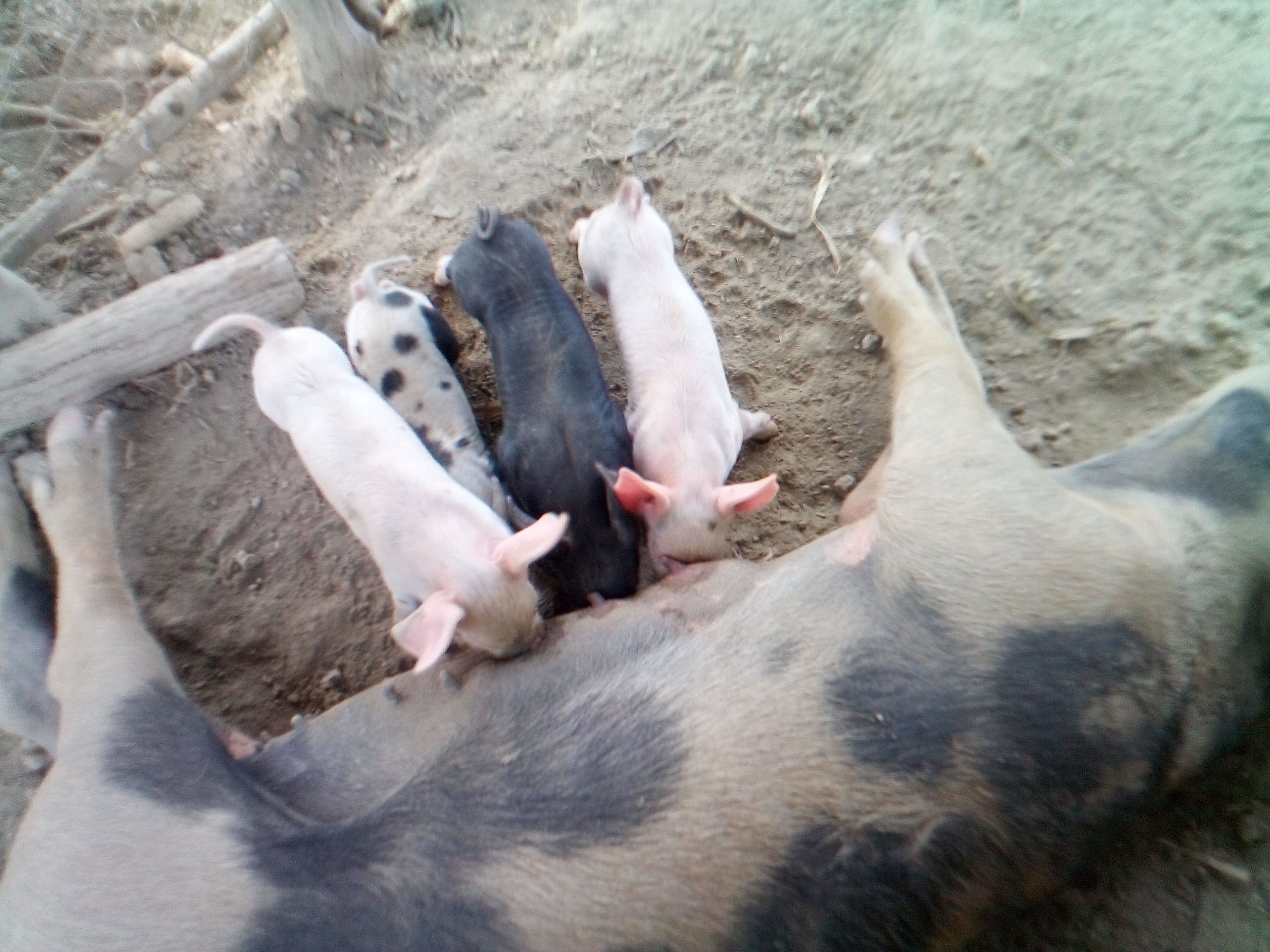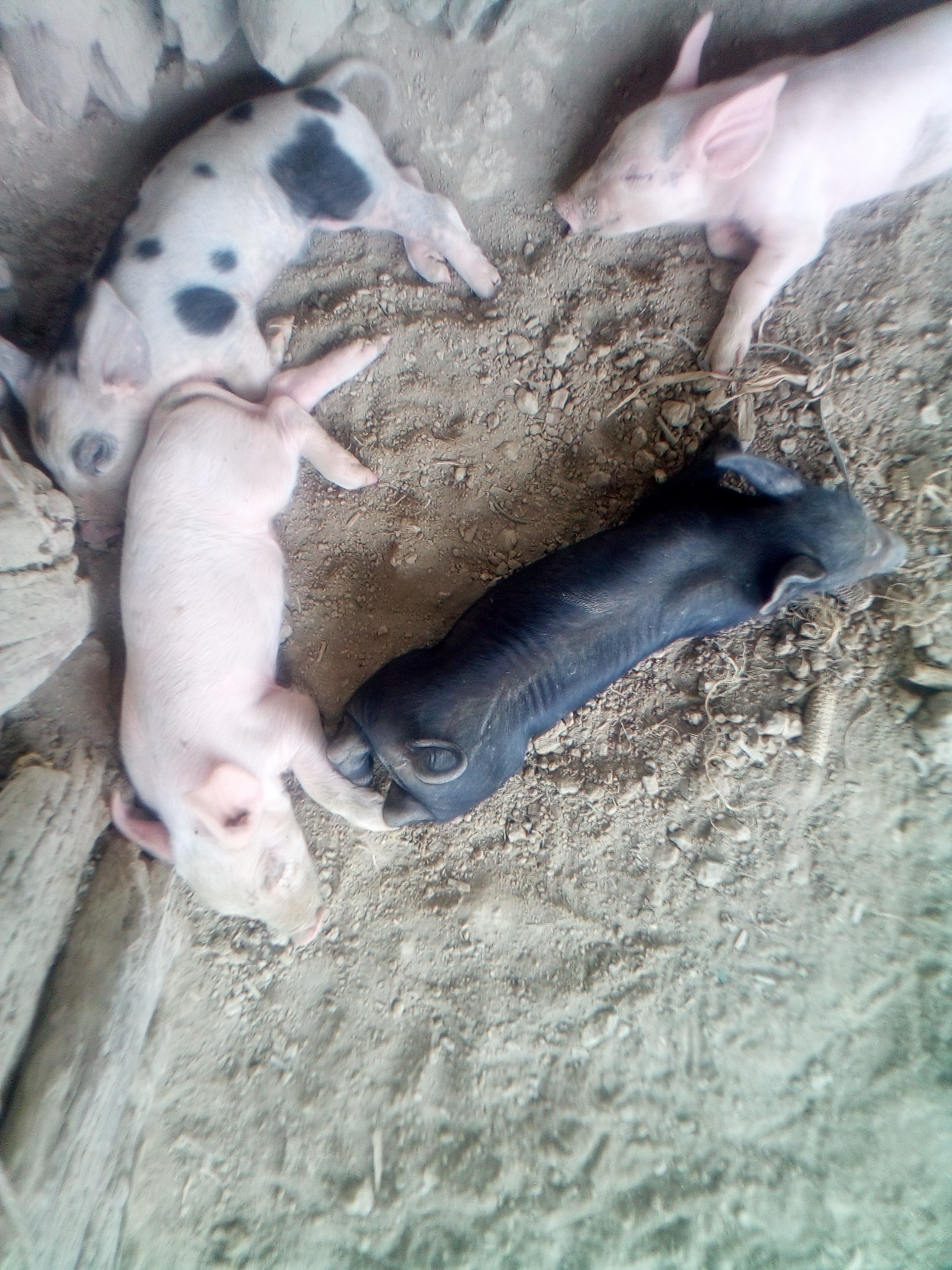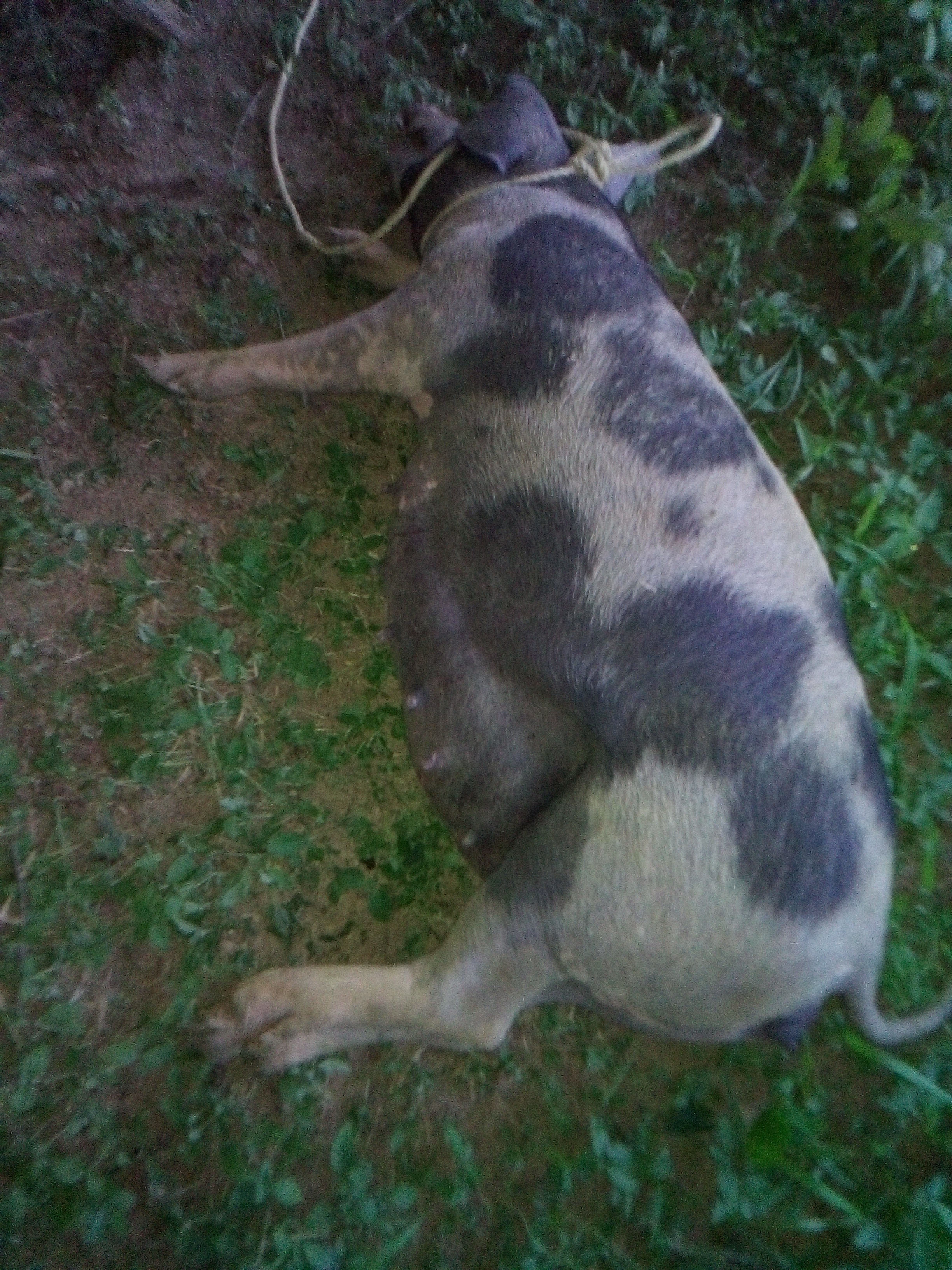 ---
Spanish
Por aká les mostrare otra marrana con 2 de 9 cerditos lechones que pario hace un mes, sus crías estan de un mes de nacidos , que por lo tanto solo quedan dos para la venta.
Queridos amigos, espero les guste mi contenido en la producción de cerdos 4 pernil, y también espero me colabores tu su apoyo.
Gracias por visitar mi blog, gracias DIOS les bendiga🙏.
English
Through aká I will show you another sow with 2 of 9 little piglets that gave birth a month ago, her young are one month old, therefore only two are left for sale.
Dear friends, I hope you like my content on the production of pigs 4 pernil, and I also hope you collaborate with your support.
Thank you for visiting my blog, thank you GOD bless you🙏.
---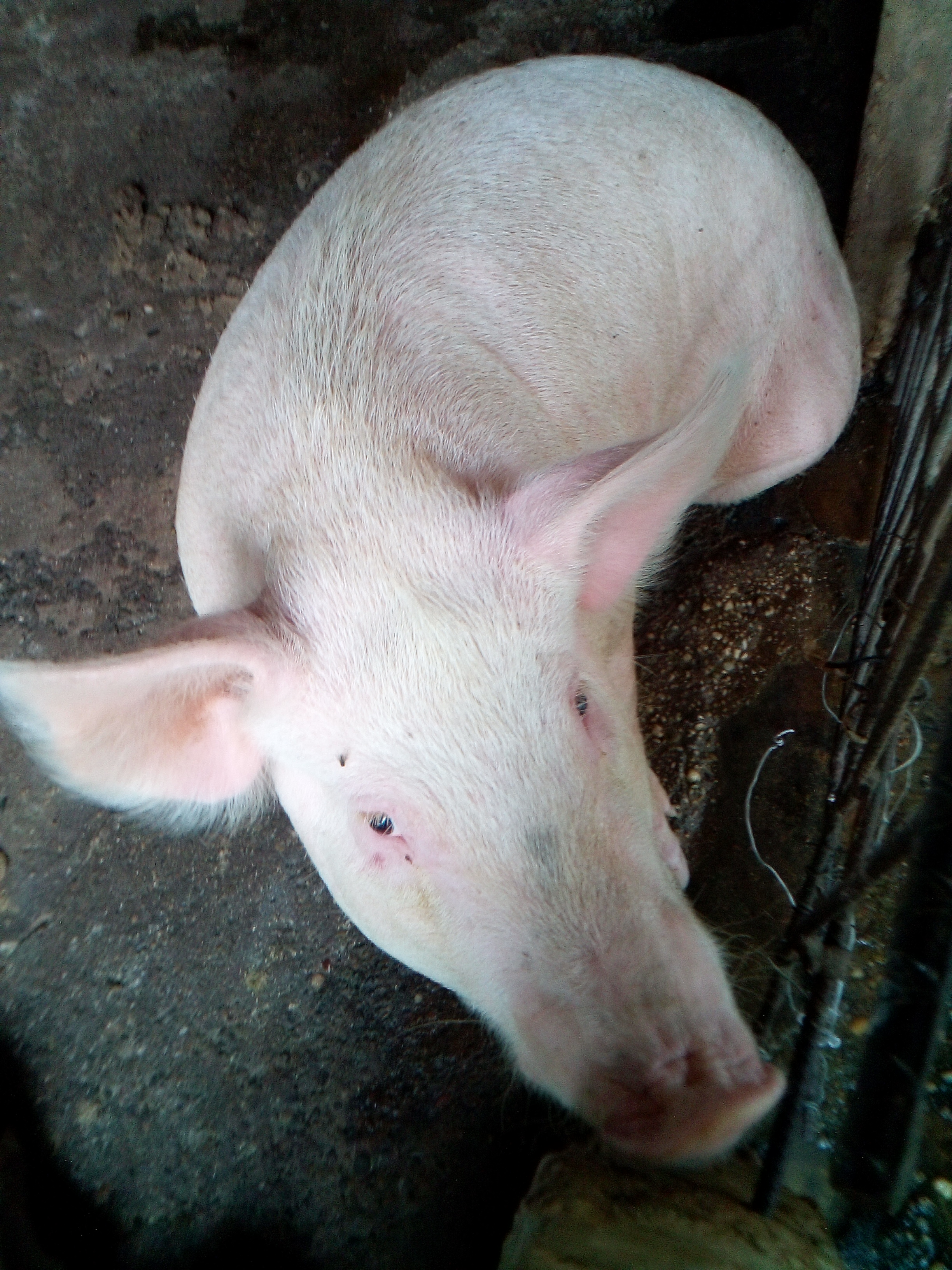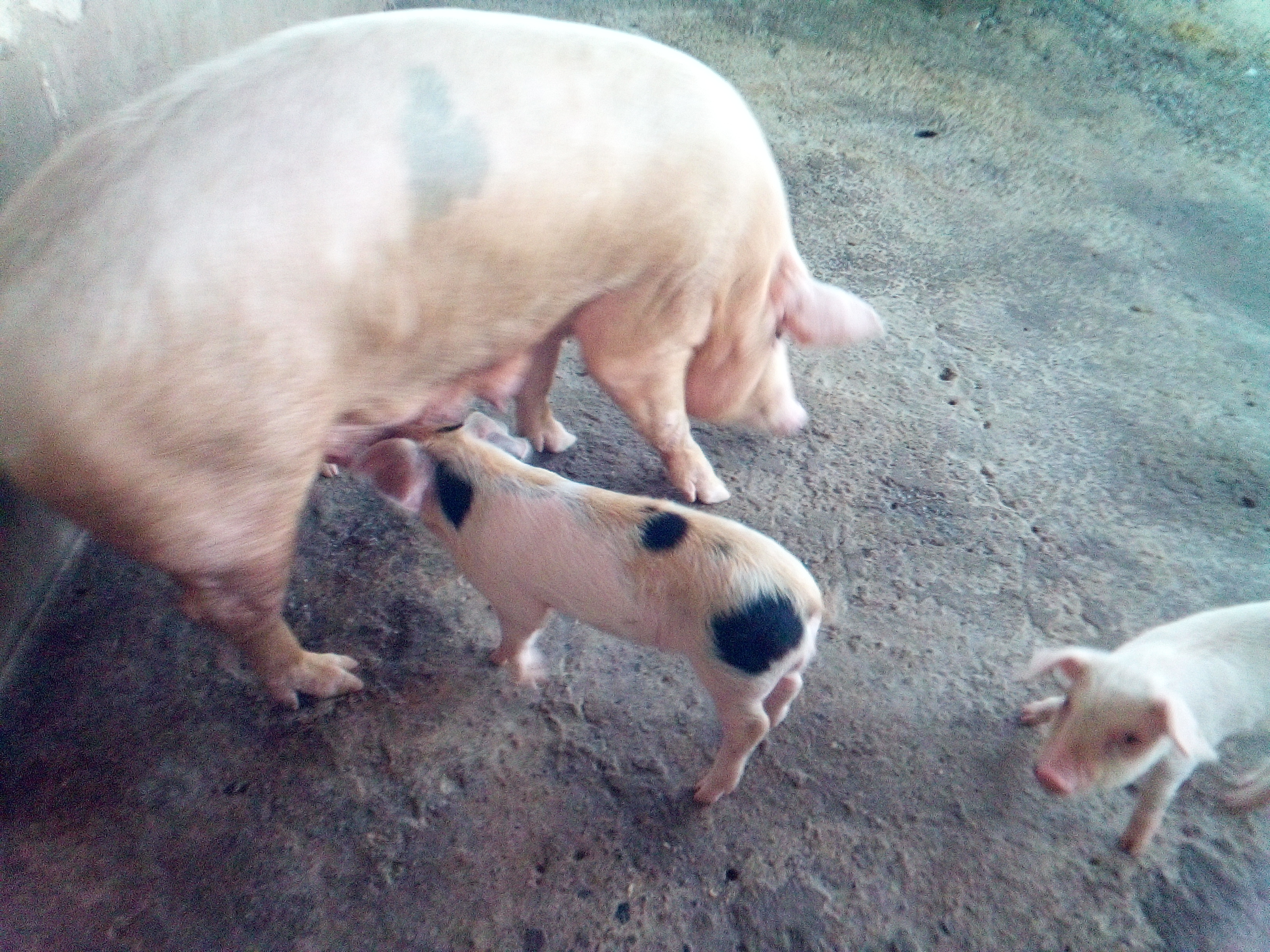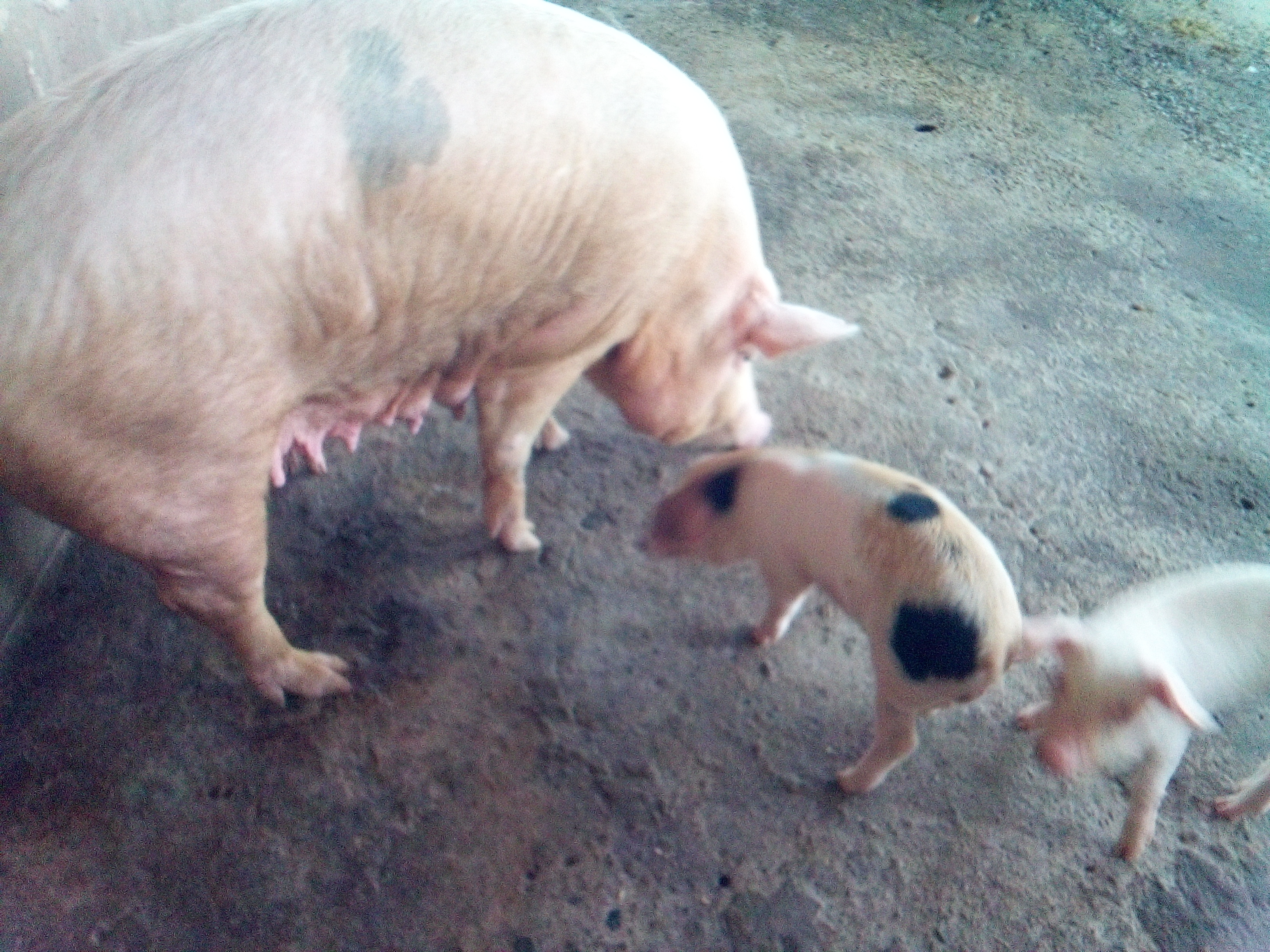 ---
---
---