Operation Brush Your Teeth 🪥 Day & Night : Pepsodent Ghana Week Launch Programme In Schools
---
Actually, I am the fun of Pepsodent, one of the leading toothpaste 🦷 for dental care on market and the best Unilever product produced the American. I have used the Pepsodent toothpaste for the past twenty years. This is due to the fact that the product has some quality ingredients like fluoride and calcium that fight cavity, protect our teeth and gum for all time refreshing.
---
Pepsodent is still popular and still gaining ground in Ghana having the most larger population due to how the have maintained their status quo of being the best provider of quality toothpaste. I had never been comfortable using any other toothpaste than Pepsodent.
---
This week happens to be awareness creation in Basic schools about the need to brush 🪥🖌️ our teeth day and night, what we have chosen the name : "operation brush your teeth Day & Night." Various schools have been visited in this Nation wide campaign, so we were lucky to receive Some of the workers from Pepsodent Ghana to have a talk with our Students about how best they can keep their teeth healthy for long lasting life.
---
The meeting commenced at 10:30 am after the students first break. We assembled all of them under our shaded trees in the compound.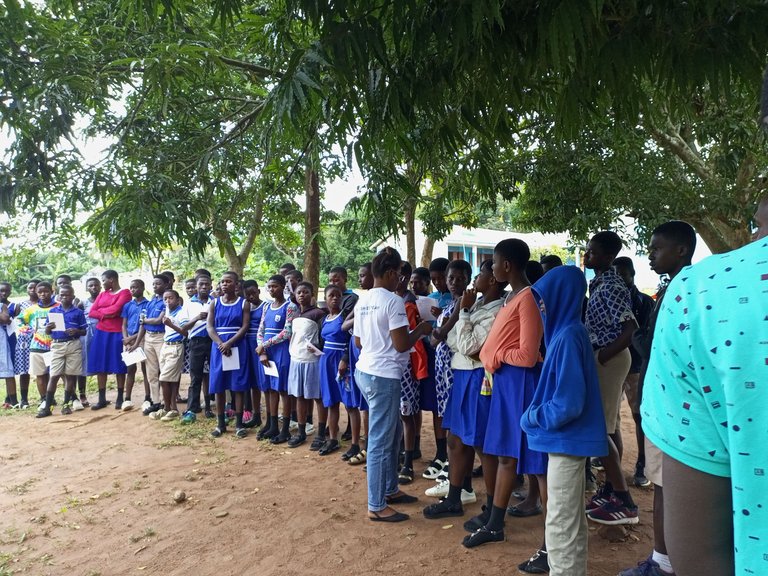 ---
We had a talk on how best we can keep our teeth very strong for healthy living,fresh breath 🫁 and feel confident in public gatherings. Some of the ways are through:
1. Brush our teeth twice in the morning and night
This supports the removal of any food particles from the mouth, gum and in between our teeth which might be stack or accumulated to create plaque. It also aid the prevention of microorganisms which the accumulated food particles would serve as their habitats. Their only place is dirty places where they are active and function properly. The infection of germs as a result of failure to clean our teeth would lead to sickness with so many social problems like spending a lot of money to cure and not able to attend school do to ill-health.
---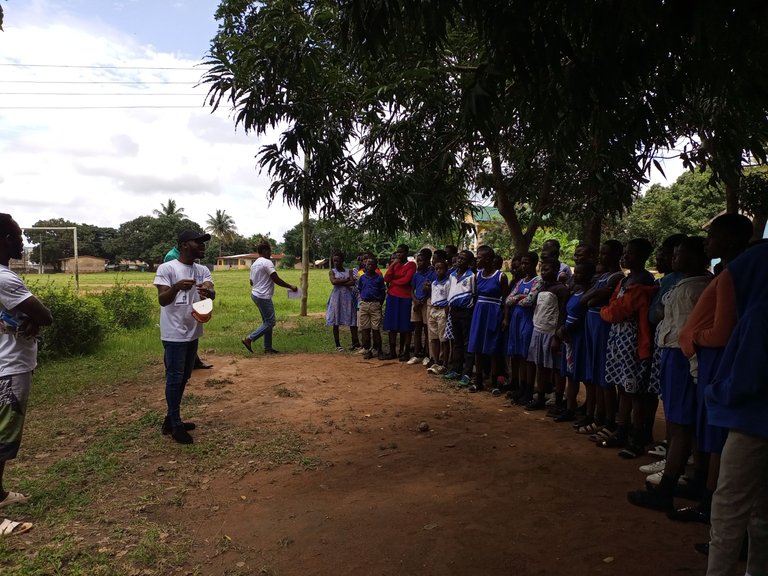 ---
2.Calendar to ensure continuous brushing day & night
Calendar of 21 days of continuous brushing day and night were distribution to every member of the students present at this meeting. The calendar 📆🗓️ is designed in such a way that in the morning after brushing, you tick indicating that you have brushed your teeth. In the night before sleeping when you brush, you tick as well. It's assumed that after the 21 days of continuous brushing day and night, you become used to. Since studies shows that everything you do routinely, you are likely to become addicted. The calendar was accompanied with one sachet of small sized Pepsodent toothpaste and brush given free to students. This was given as motivation attending this august meeting and it's also going to supplement what they have in their homes.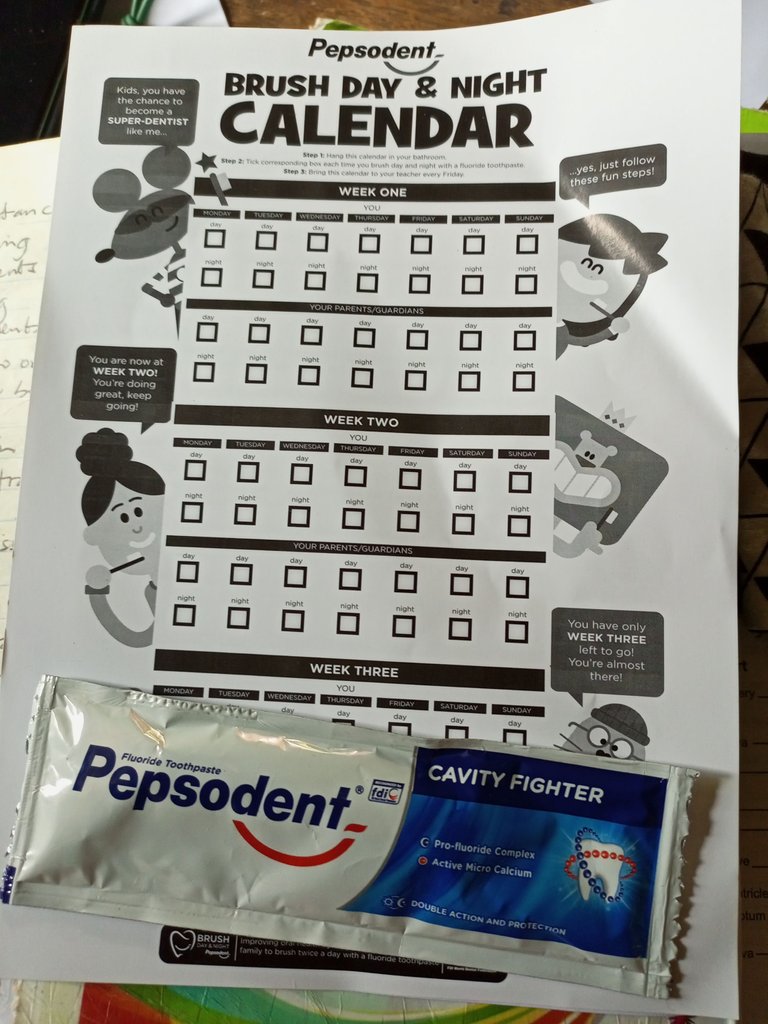 ---
3. Demonstration of how to brush properly
Many students brush their teeth daily,but as to whether they brush properly as known by dentist 🦷 advice is the question ⁉️ we all have to answer. The workers of Pepsodent Ghana brought a large artificial teeth and brush 🪥 to demonstrate to students about how they can clean their teeth to avoid any clinical disorders. They illustrated how to brush the upper jaw teeth: incisors, canine and the molars. The same as the lower jaw. We learnt 2 ways of brush, either in circular motion or straight forward motion. The outer teeth were cleaned, as well as the inner teeth. The tongue 😛 was also cleaned and finally rinsed off with cleaned water.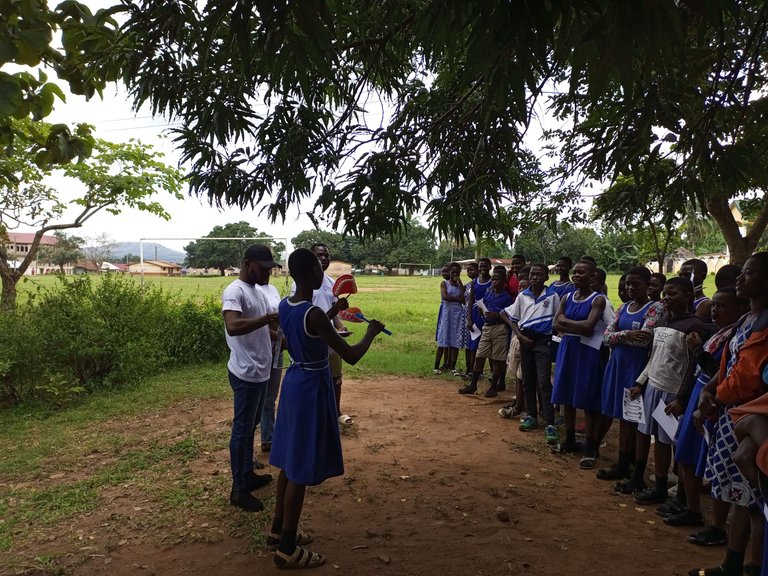 ---
4.Clinical Dentist 🦷 Advice
It's prudent to change your tooth brush at least every three (3) months. The changing brush at this duration help personal hygiene. Studies shows that the brush becomes weak after three months of using it. Again, the brush can be contaminated with some bacteria 🦠🧫 if you don't keep it well. To be on safer side, it is always good to change your tooth brush every 3 months of using it. Secondly, one need to get the required tooth brush that fit brushing his or her teeth in order not to cause injury or damage to the gum. So, it's advisable not to use brushes which are too hard which can cause wounds.
Again, one needs to visit the Dentist 🦷 every six months to ensure healthy teeth.
---
Summary
Students were allowed to ask few questions on the talks we had with them. Few students asked questions which were vividly answered by Pepsodent Ghana. They were given extra sachet of Pepsodents to be used free. Pieces of advice were given by teachers to students to cultivate a habit of brushing their teeth daily as they have received tuition today. If one part of the body is affected, it leads to clinical disorder and malfunctioning of the body system. Studying the general dentition, how to care is very vital to all and sundry.
Surprisingly, about 80% of teachers were using Pepsodent toothpaste and that sells the name that indeed, Pepsodent products are good.
---
---