Ancient City Ruins - AI Art and Experiment
We create art to express ourselves, our ingenious creativity, and our craziness. Art is also about a means to express the inexpressible, to communicate without using words. We tap into moments that catch emotions, seek to make a difference, and influence or encourage others to look at life from a different perspective.
Tinkering with AI is both a pleasure and disappointment. Some runs were excellent, but some were patches or a collage of images. Although it has both, I continued to creating art with it. It is similar to how we train ourselves to develop our sketching and painting skills. Aside from learning more about it, it was a fun activity to do.
I continued working with varied styles, color profiles, and even artists in my prompt. I also did perspectives and the previous action I did as shared in my recent blog. My intention in the new sets of the experiment is to replicate and continue to explore the tool. I also wanted to understand how AI behaves. I change my prompts from general to more details as I go.
AI Art: Ancient City Ruins I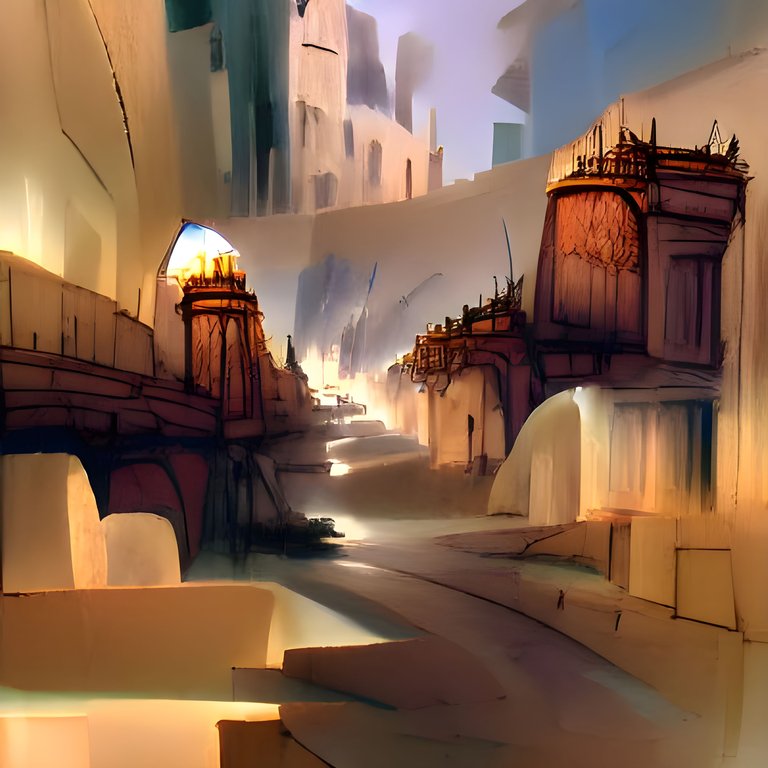 What I did with this set of arts was to provide a prompt that evolves from the first. I set the AI seed to a positive value and the initial image from the previous result, which comes from the general prompt. For this experiment, I started with a prompt about ancient city ruins and added details. I tried putting modifiers and a bit of adjective of how to ruin the ruins were. For example, I added low, substantially, highly, and others that can give temporal changes.
I was astonished by the result. I find it weirdly beautiful. As I added descriptions and adjectives, I did get results that seemingly transpired from the initial prompt. Although I expect it, I still find it particularly interesting since my other outputs with initial images had poor resemblance or no temporal evolution. Take a look at the illustrations below. Both have different descriptions of how to ruin the ruins, but it still gives me a decent resemblance with the first illustration earlier.
AI Art: Ancient City Ruins II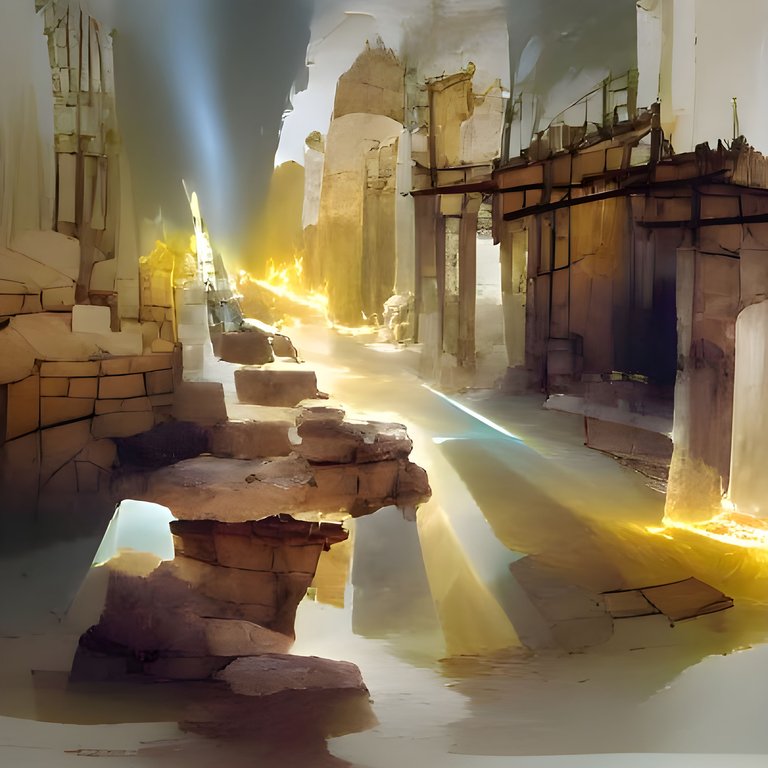 AI Art: Ancient City Ruins III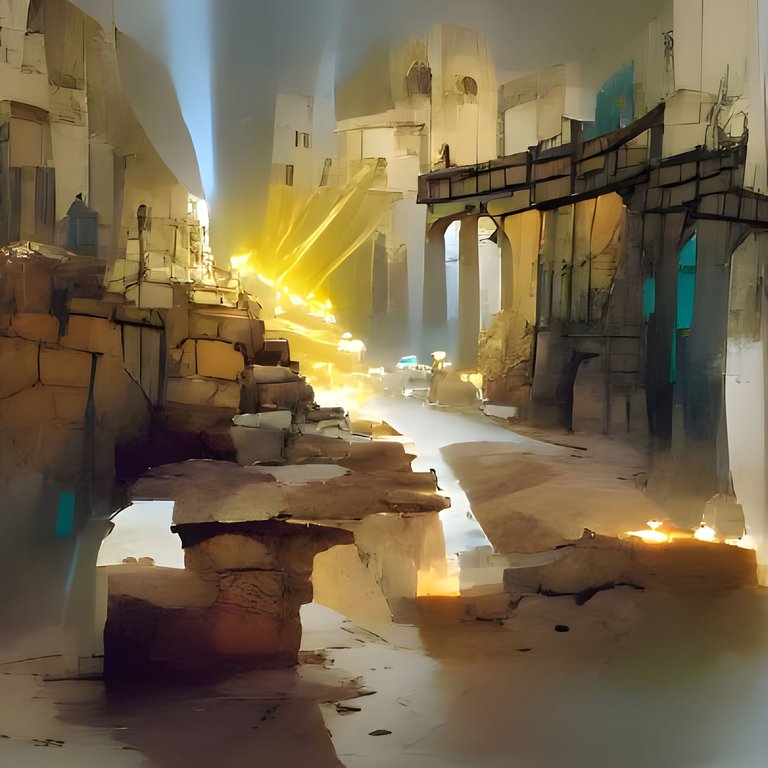 To make things conclusive, I did it for other prompts. Some generate while others don't. For example, I did add camps in the ancient ruins as a prompt for the illustrations featured below. I did a mirror experiment to validate what transpired. I let the first illustration evolve to have camps. At first, the output was not cohesive and displeased to watch. What I did was tone down the first illustration. I did some success and continue progressing the image as if it goes over a decent amount of time and changes. I added like trees growing and waters diver to the campsite.
AI Art: Ancient City Ruins VI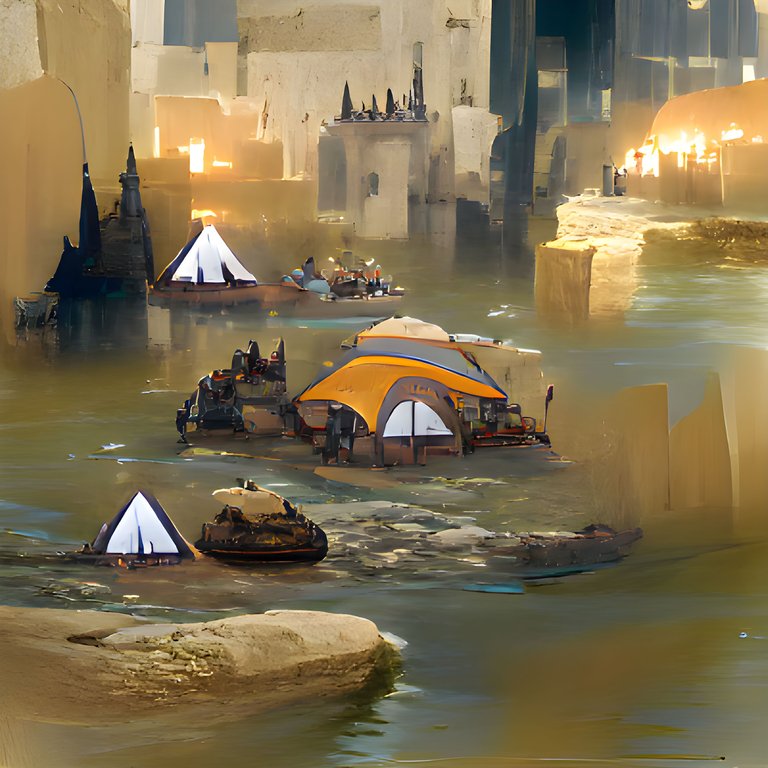 AI Art: Ancient City Ruins VII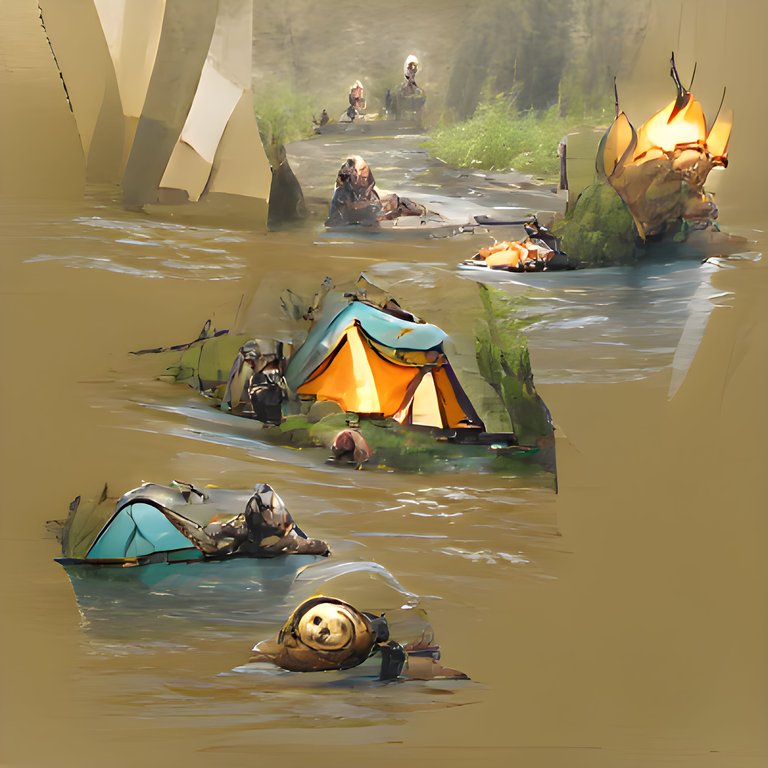 AI Art: Ancient City Ruins VIII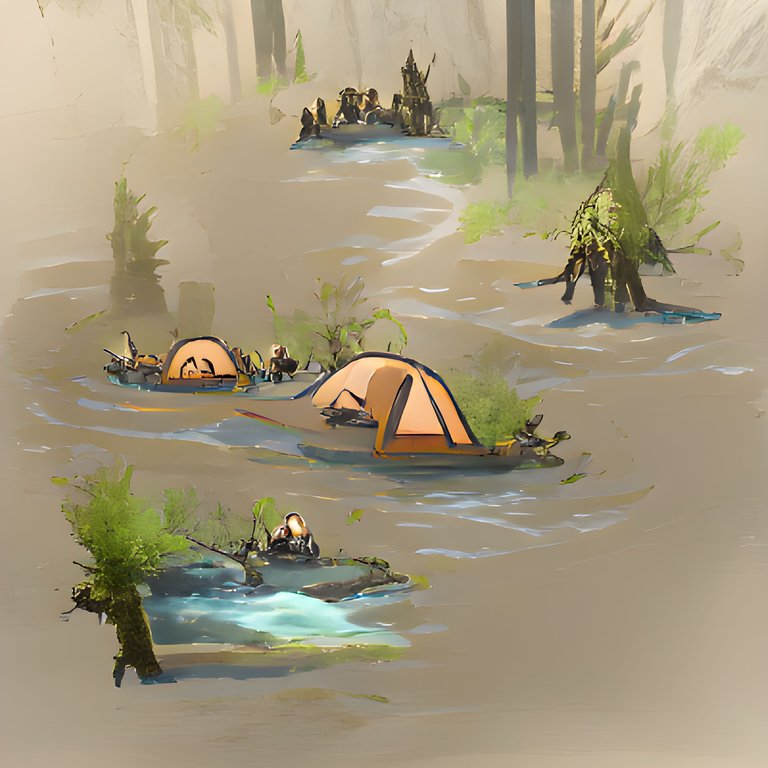 We can see the illustration. The first one has dominant ruins in the background. The latter seems the ruins are long gone, and the earth takes over. Does AI work with temporal evolution? I asked myself. Right now, it seemingly can produce a future state, but I think it is too early to tell. It takes me hours and even days to at least achieve what I desire. Some runs are just as chaotic as a knotted phone charger that you need time to understand what the images are and how we can transform them to make them look better using Photoshop and Illustrator.
Regardless I can replicate the result or not. I still find AI a great help. I can imagine the world transit from better to worst or in reverse, especially viewing the views from the iterations. I was indeed mesmerized by that. As mentioned, I did have some result that doesn't follow what I observe like two illustrations with a prompt involving wildlife.
One seems to have a gun, which I did not include in the prompt or hunting. I run a prompt about wildlife chasing inside the ruins. AI did a peculiar translation. Chase is a synonym to hunt, so the AI put a gun. I did experience it countless times that some illustrations either use an old synonym for the word or even the roots of the word. It seems crazy, right? When I first encountered this peculiarity, I thought these failed results, but, looking closely and digging deeper, AI doesn't seem to throw random illustrations or elements that don't link to the prompt. Maybe, throwing us with the synonym is a way to create with plagiarizing every time.
AI Art: Ancient City Ruins IV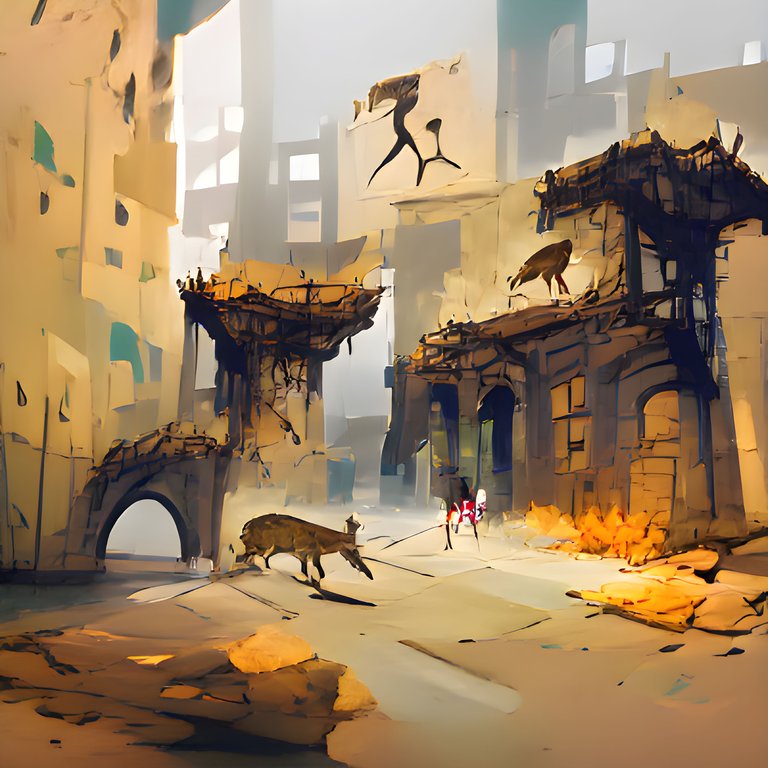 AI Art: Ancient City Ruins V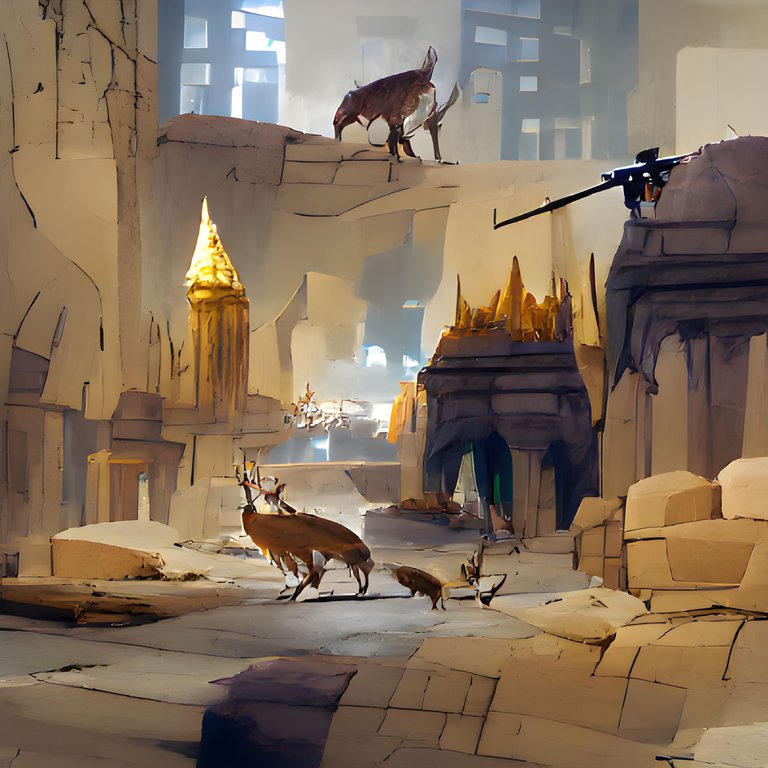 AI can be our collaborator for our creative pursuits. Some traditional and old artists may not favor this, but it does make art. Traditionally, we make art as self-expression, and some can be for their advocates. Some people value the creative process as more essential than the final work. An artist will live and grow to hone their creativity, but some artists will set AI to automate their creative process by learning the rules of AI to be at their disposal.
Our fundamental question with AI and Arts is, can we teach a machine to paint? After series of experiments and trials, I can say that AI can paint with the help of the artist. We can't argue anymore that AI doesn't know art. We see that it is disrupting the art scene, an emerging genre of AI arts and NFTs. Right now, it needs us to produce the arts, but one day, it may one day decide to paint its art without us.
Author's Note:
---
---