👨‍🏫 Cooking 101 With Monkey-B 👩‍🍳 Coconut-Potato Soup For Srey-Yuu 🥥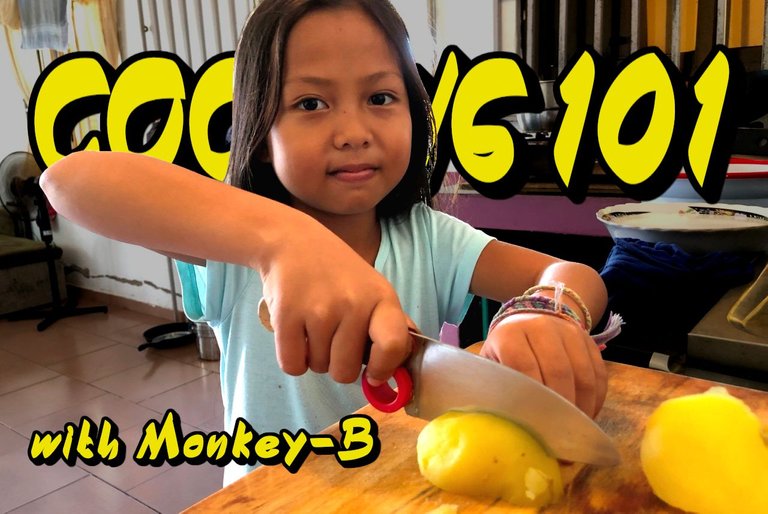 I had actually intended to teach Srey-Yuu how to make make my coconut potato soup because it's one of her favorite dishes, but today's stand-in sous chef is Monkey-B.
First, A Visit From Harry 🐑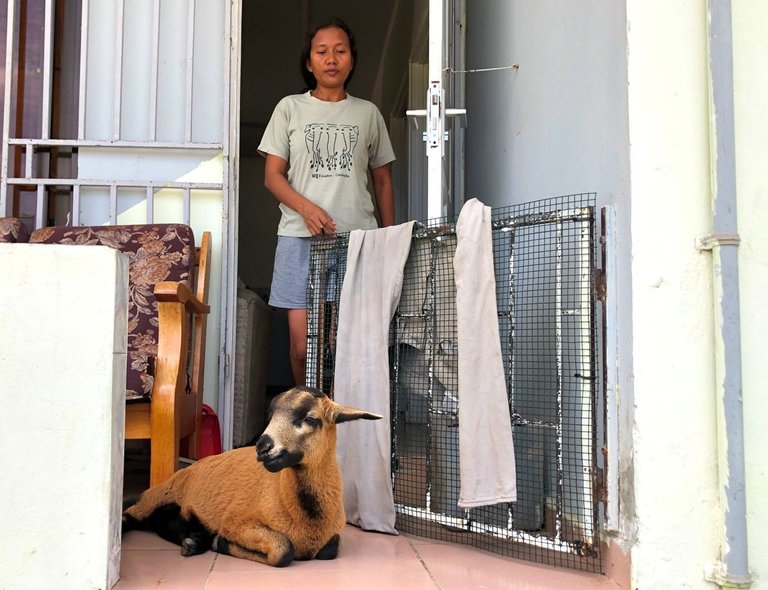 Harry has become so popular that I now feel I must include him in each day's post. Today I managed to capture him resting on our porch trying his best to be a golden retriever. We live under a lot of stress and hardship here in Suriname, and this little guy seems to want to vibe with us and lift our spirits.
     When he comes and bites my speaker wire, causing my speaker to fall off the table, I know it's time to go sit outside on the porch and watch life go by with Harry the dog trapped in a sheep destiny. Inner ear rubs is Harry's new favorite thing, only second to half a cashew.
Chef, Are You Awake? 💤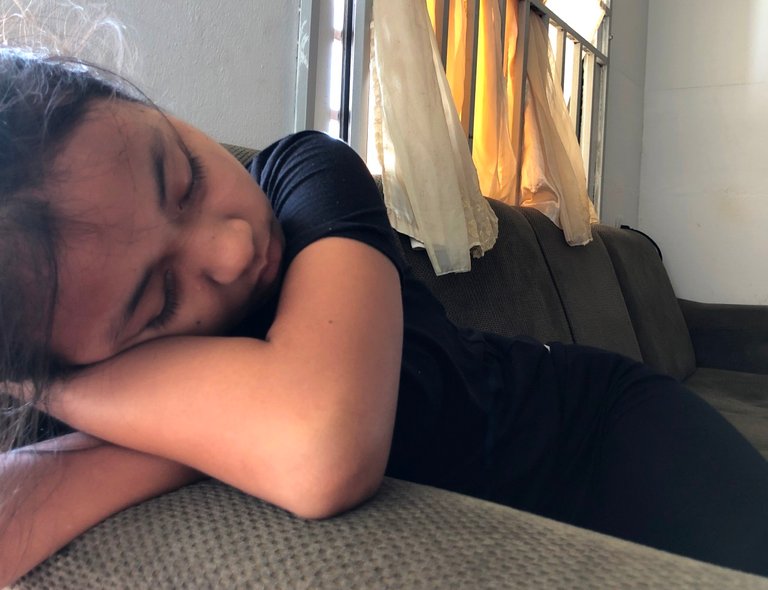 When I told Srey-Yuu I was making her favorite soup today, she immediately perked up. However, when I mentioned I wanted to teach her how to make it, she suddenly stricken by a sickness that put her into a deep sleep and prevented any cooking.
Substitute Sous Chef 👩‍🍳
     With my sous chef on the fritz, I needed a replacement, and Monkey-B was the obvious choice. She quickly got to work by scorching her hand on a hot potato and then choosing to be a spectator for the rest of the peeling process.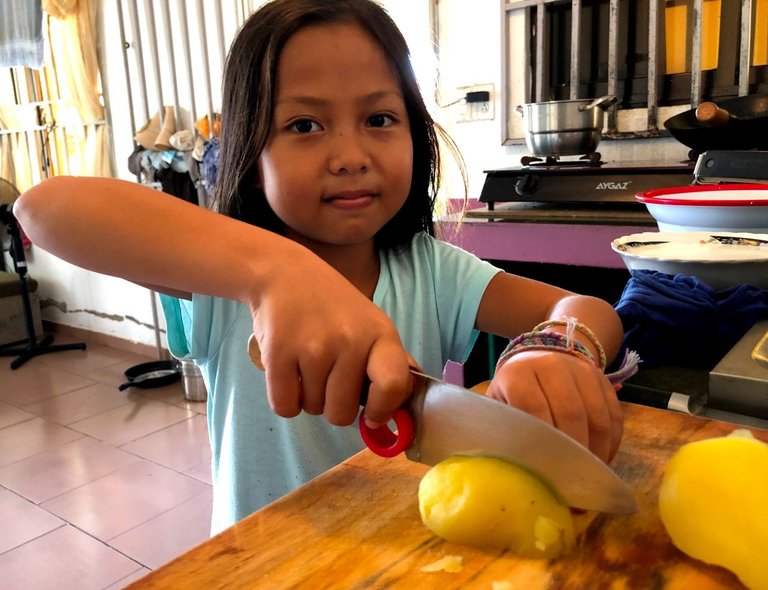 I told her we were going to fake like she was cooking for a cute Hive post, so I told her to hold the knife for a quick shot. She then sliced the potato, and another, and another, and by the time she realized she was working, the job was nearly done.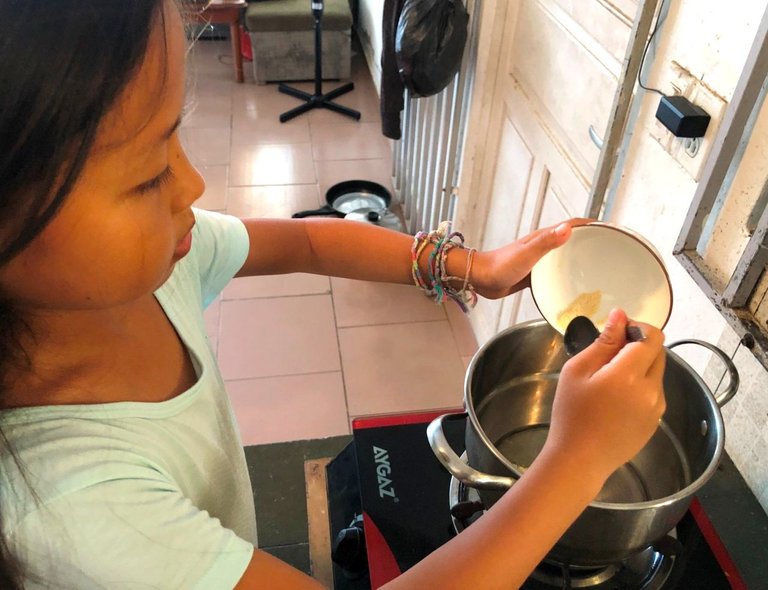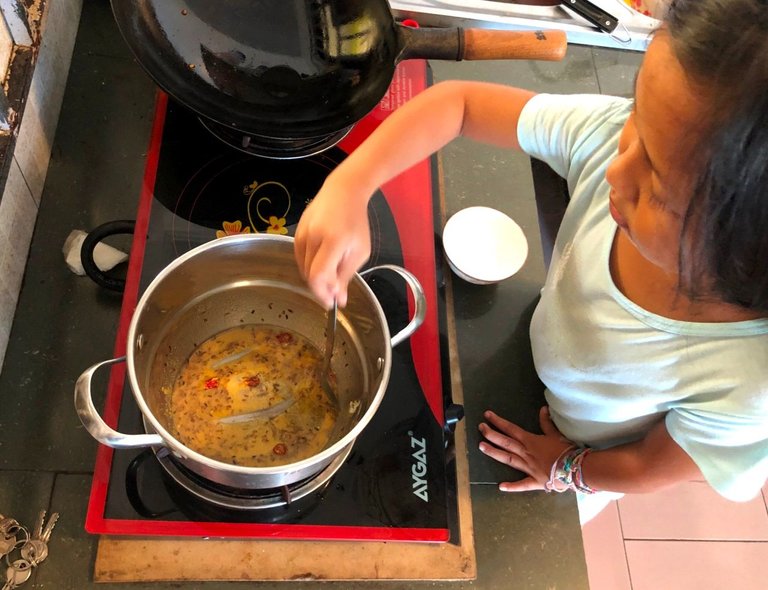 When Monkey-B stepped away for a moment, I quickly arranged the spices in a few dishes and pureed the potato-coconut milk-ginger mix for her. I turned on the stove, added some oil, then called her to take a shot of her frying the besan, chilies, cumin, and other spices.
     When she was holding the dry spice mix over the pan, I told her to dump it in the oil. She did it without hesitation, then I said "Oh no Monkey! The spices are going to burn! Grab the spoon and stir them while I grab the coconut-potato-ginger puree!"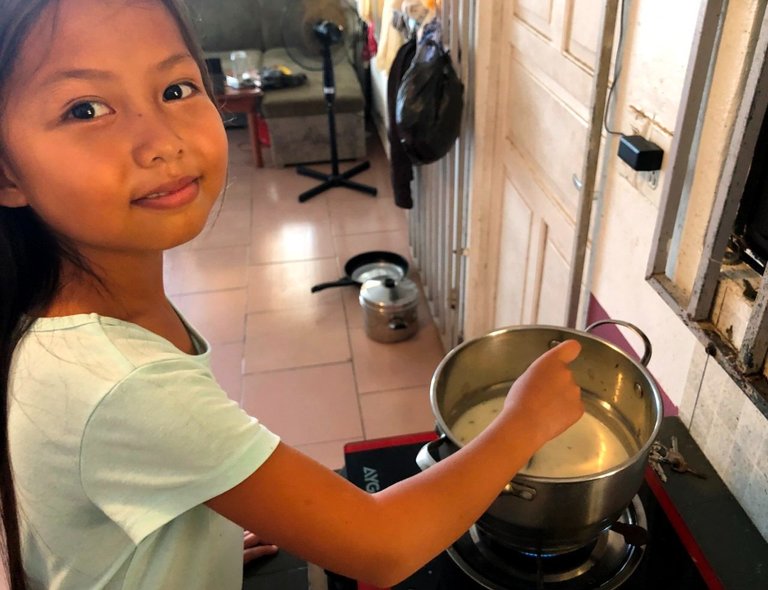 Well what do you know, the girl who didn't want to cook and thought she couldn't, found herself frying the spices to perfection until I added the puree, then nursed it to a simmer. At this point the gig was up and she realized I had tricked her into preparing a significant portion of this meal.
Taste Your Creation 🥣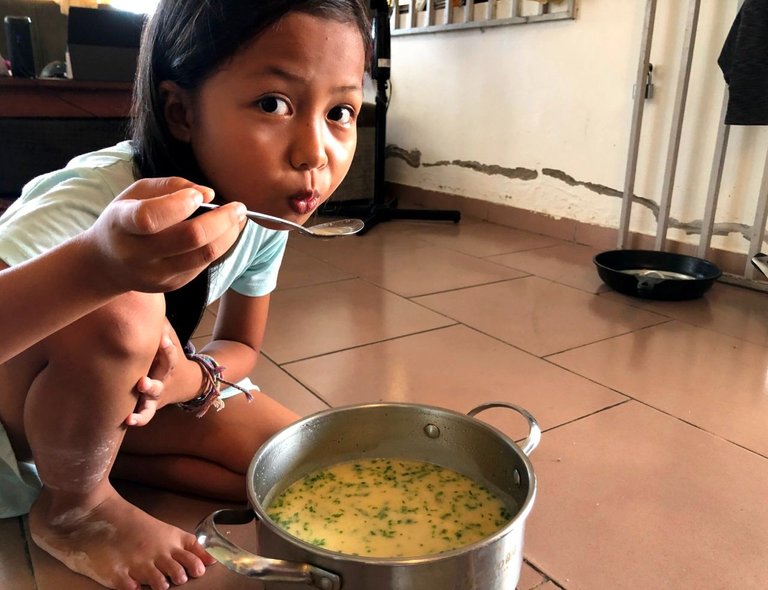 I'm lucky she has a good sense of humor. Anyhow, she was actually grateful for the lesson, and I wanted to make sure her first cooking experience was a pleasant and casual one. I certainly don't want to overwhelm her, and cooking should be a joy anyway.
     No sense getting caught up with all the not-so-fun bits in the beginning, just chop some fresh coriander and let the chef taste her creation for saltiness and spiciness, then make any necessary adjustments.
Want To Make This Soup?
     I didn't feel the need to make this post a recipe, just wanted to have some fun with my daughter. I have previously shared this recipe with Hive though, so feel free to visit the link below for detailed instructions.

CLICK HERE TO JOIN HIVE AND START EARNING CRYPTO LIKE US
---
---