🐱‍👤 Khmer-Fu 🥋 Fake Martial Arts ⚔️ High-Kicking "Code Purple" Lockdown Into Submission 🦠

▶️
Watch on 3Speak
---
This "Code Purple Lockdown" in Suriname has been brutal, and I know lately I haven't been sharing the must upbeat content, so I decided this family needed some laughs via some good ole' fake martial arts.

🦶 High-Kicking "Code Purple" Lockdown Into Submission 🥋
     The slo-mo feature on my iPhone is something I need to take advantage of more often because it is always good for some laughs. This extreme "Code Purple" Lockdown is set to last until June 18th, so the family and I have been reaching deep to stay entertained and sane.
     Watching English-language movies is one of the free things the @KidSisters and I enjoy most since we became stranded in Suriname. It's not as fun as swimming at waterfalls like we used to do in Cambodia, but I do enjoy the opportunity to let them watch movies from my past.
     Recently we've watched "Beverly Hills Ninja" "The Matrix" trilogy, and the "Karate Kid" trilogy. This massive amount of martial arts we've been viewing lately has definitely affected our mentality, so with ancient Asian martial arts on my mind, the @KidSisters set out to make a quick introduction to "Khmer-Fu," a system of fighting around 15 minutes old by the time we filmed it.
     As Khmer-Fu is a completely new martial art, we had full freedom to develop our own techniques and training methods, most of which revolve around extreme ridiculousness and shenanigans. Khmer-Fu seeks to repel potential attackers by demonstrating possible mental illness and unpredictability, both of which give practitioners of this (fake) martial art an upper hand in any physical struggle.
     If you follow the training routine exemplified in this video 5 days a week for four weeks, nearly a month will have passed. Some would argue this is a form of time-travel, but I'll leave that for physicists to quarrel over.
---
Warning - This post is purely satire and simply a form of Hive therapy for my family and I. These techniques will not help you fend off any attacker.
CLICK HERE TO JOIN HIVE AND START EARNING CRYPTO LIKE US

---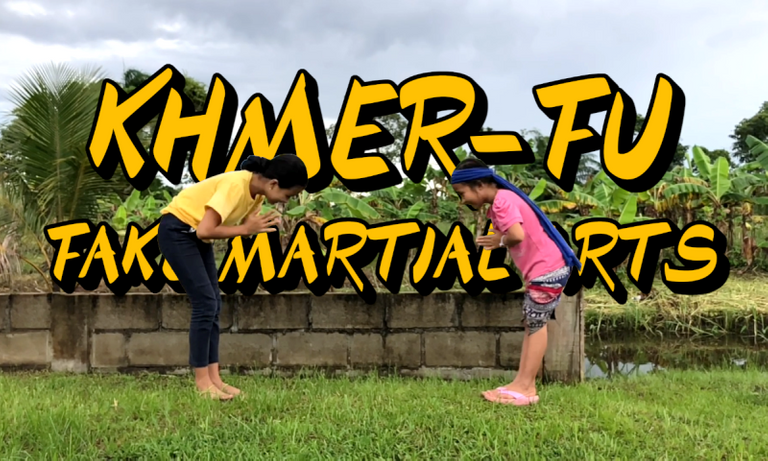 ▶️ 3Speak
---
---