Sreypov's Got A Moto Waiting For Her In The USA 🛵💨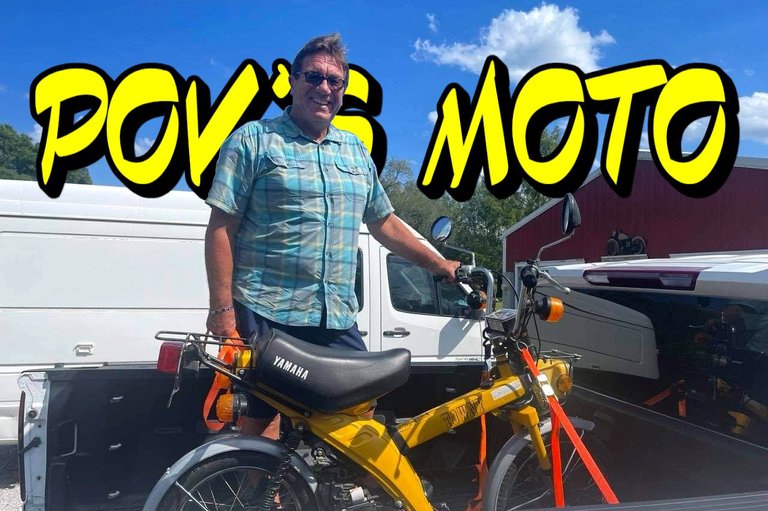 I guess it is very optimistic thinking, but in anticipation of our arrival in the USA, I purchased a very cute vintage motorbike for @sreypov.
Wheels Are Waiting In The USA 🦸🏽‍♀️
     Some of you know from my recent post titled 🤷‍♂️ Sidecar Or Not? 🛵 Brainstorming Future Family Transport For The USA 👨‍👩‍👧‍👧, that I have been contemplating how we're gonna get from point A to point B in my little farmtown in southern Indiana.
     I'm definitely getting a sidecar for my Vespa, and there's no doubt that will be much fun. It will also help us to maintain some remnants of our way of life in Cambodia. We actually had a Bajaj RE autorickshaw in Cambodia, and before that a motorbike that we rode 4-up on. Tuk-tuks aren't really available in the USA, so the next best thing is a sidecar, but that only moves 3 of 4 family members.
Problem Solved 👨‍🔧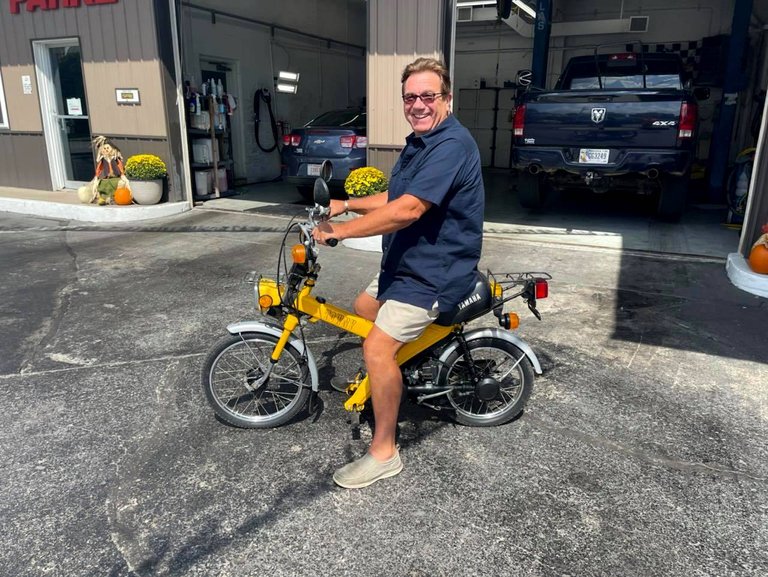 That handsome guy in the above photo is my Dad, who drove 2 hours to get this exquisite 1982 Yamaha Towny 2-Speed. I found the bike on Facebook Marketplace, and my Dad was nice enough to pick it up for me and surprise Sreypov. My Dad sent me a few photos, but I've also uploaded all the images from the Facebook Marketplace listing. SOLD!!!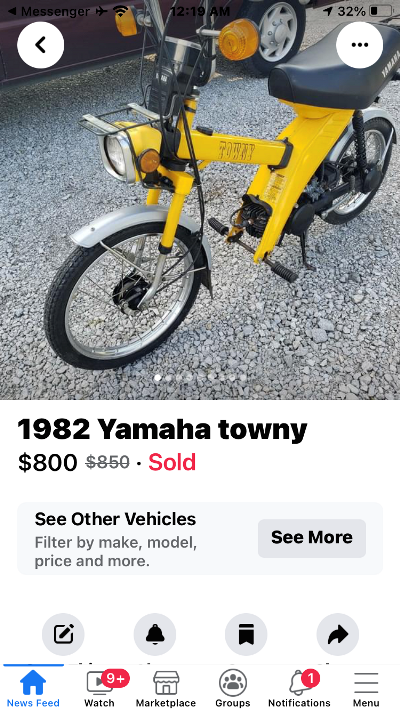 A Cambodian Life In The USA? 🤷‍♂️
     I guess it's a bit optimistic because we don't even have an interview date for US Immigration, but we're grasping for straws when it comes to positive news in Suriname. This moto cost me $800, a little more than I was hoping to spend, but it only had 2,000+ miles on it, and basically still looks brand new.
     I really wished to get Sreypov a classic Vespa, but 50cc classic Vespas are nearly impossible to find in the USA, plus they command a high price. It's a perfect learner bike for my wife, and even though she already knows how to ride, she's by no means super confident on two wheels yet.
     I hope with this little beauty Sreypov and I will get to make some fun memories. Even without a sidecar for my Vespa, Monkey-B could ride on the back of this lightweight with Mom, and we can have lots of fun countryside adventures, and try to create some Cambodian fun in the Indiana countryside.
     We will likely be the talk of town with this bright moped and my Vespa cruising the streets, a far cry from being part of the moto swarm on the roads of Cambodia. I forgot to mention that USA law dictates in order to drive a motorbike over 50cc, one must first pass obtain an automotive license before getting a motorcycle learner's permit.
     My wife doesn't want anything to do with a car, and I can't blame her, but it's a stupid law that you have to know how to drive a car before you can ride a motorcycle in the USA. Well, thanks to good ole' American bureaucracy Pov is gonna be restricted to 50cc, but certainly not style.
     Enjoy this GIF of my Dad giving it his approval. After his thumbs-up, I think he gave it full-throttle, notice how he had to lean forward to prevent a wheelie from all that horsepower.
Help me give this bike a name in the comments below. The best one I have so far is BumbleBee, but that's way too easy, surely you Hivers have something better...
CLICK HERE TO JOIN HIVE AND START EARNING CRYPTO LIKE US

---
---