Testing Out Our New Family Games 👨‍🔬 "Qwixx🎲" & "Taco🌮Cat🐱Goat🐐Cheese🧀Pizza🍕"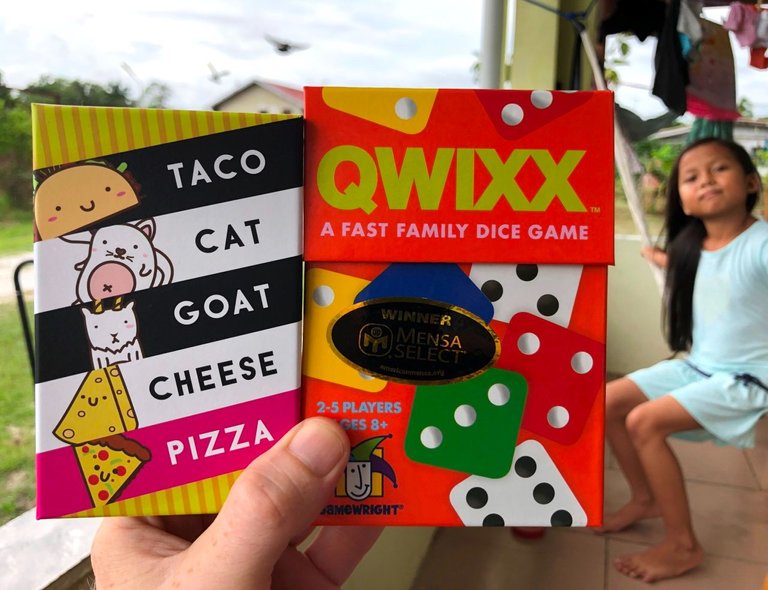 Before I could finish this post, we were hit with a 20-hour power outage which brought an abrupt end to gameplay before a winner was declared.
First Let's Check In With Harry 🐑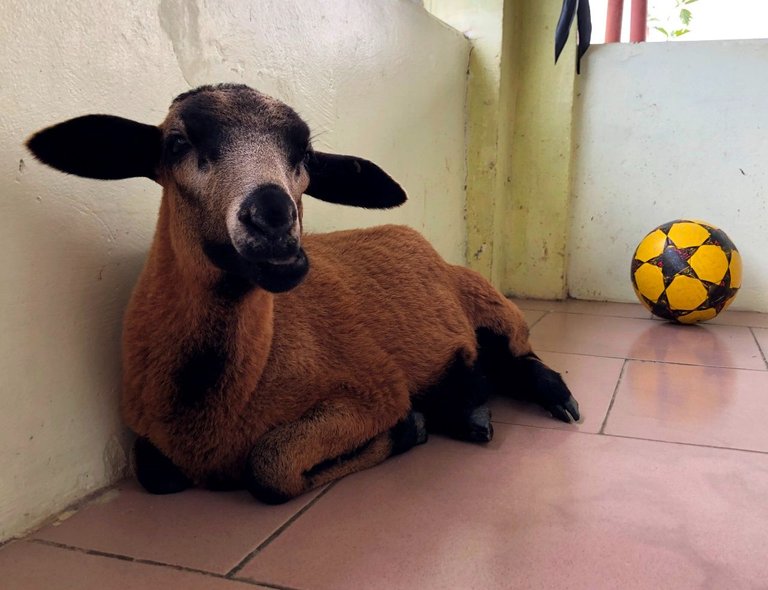 Apparently Harry has learned how to open the gate by himself, because I found him pushing the ball around our porch this morning. By the time I got dressed and went outside to greet him, the football spirit had already left him and he was in chill and hide from the parents mode.
Taco🌮Cat🐱Goat🐐Cheese🧀Pizza🍕


     I made it a point on this day to tear into of the games sent to us from the USA, so I explored both to see which one was going to the simplest and fastest to learn. After reading the rules of this, I decided I wasn't exactly in the mood for fast reaction, shouting out words, and slapping cards. This game does seem like it will be fun when we are well-rested and in better spirits.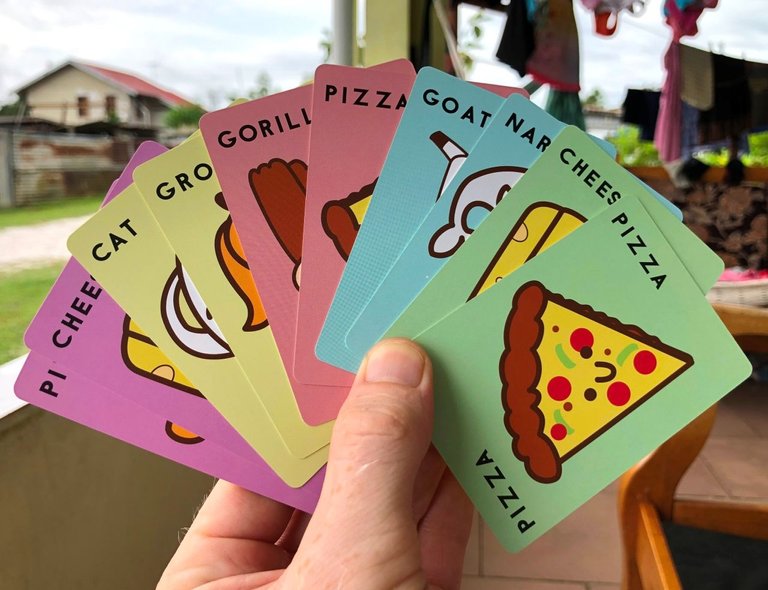 Before I put this game away, I pulled out the cards to take a look. They are quite colorful, and the illustrations are cute, so I'm sure when the time comes this will be a blast for the @kidsisters.
Qwixx 🎲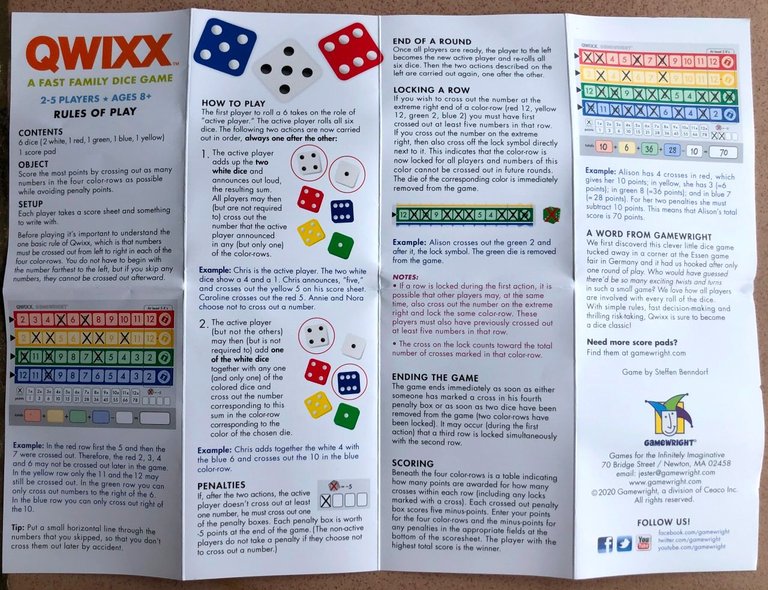 As soon as I noticed Qwixx was a dice game, I immediately thought it was going to be faster and easier to learn. I determined one trial game would be enough to remember the rules and get used to gameplay.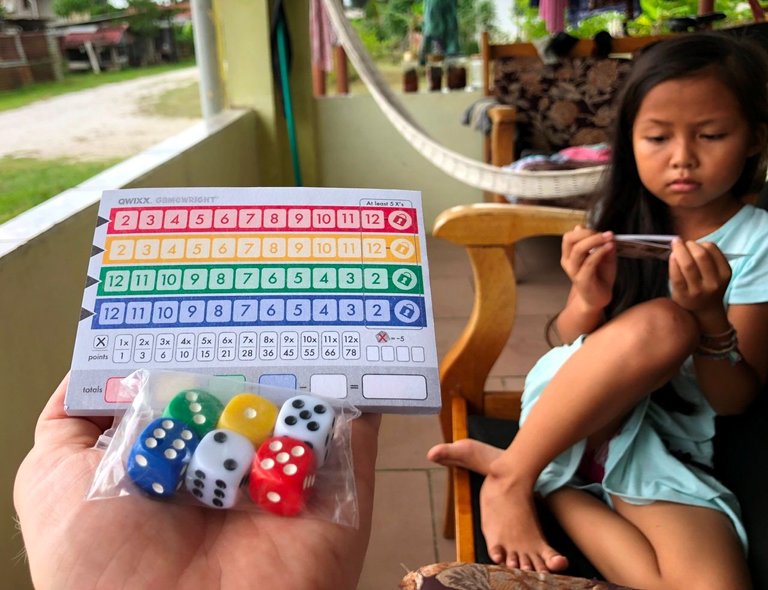 Ultimately each player rolls the dice, and gets a chance to add together two numbers and ❌ off numbers from their list left to right. There many more nuanced rules that determine how and when to do this, but it was simple enough that after we each rolled the dice 5 times, everybody but Monkey-B had a clear understanding.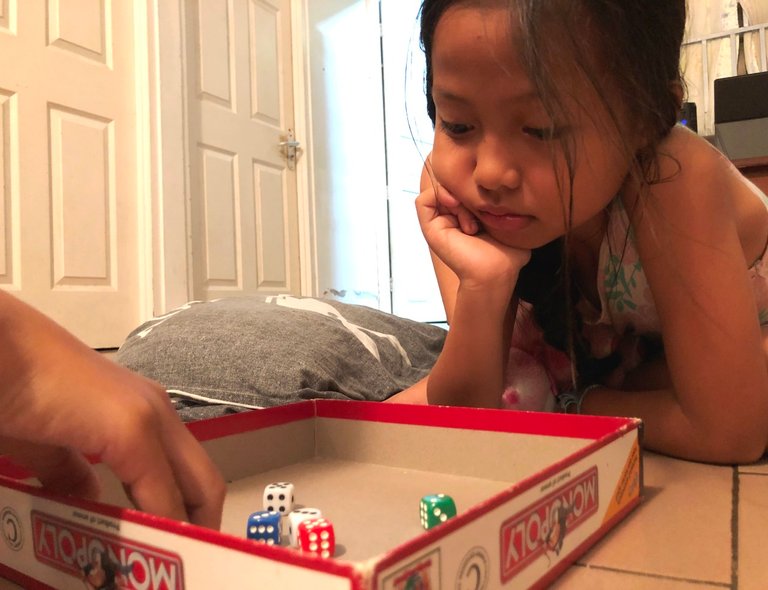 Dice don't mix well with tile floors, and the first roll sent the dice on a never-ending tumble, scattering throughout the house. With a Monopoly box lid, rolling the dice became more manageable.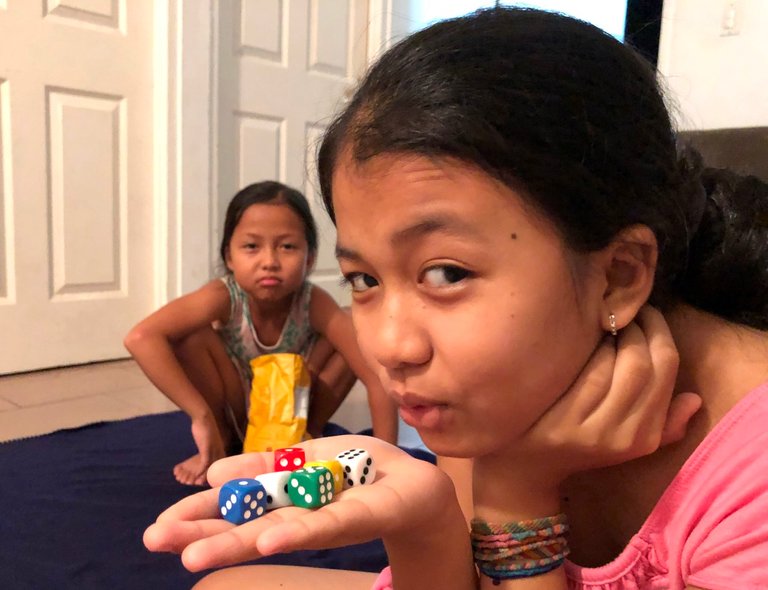 Srey-Yuu took an early lead, and her face shows the satisfaction she was feeling as she gave the dice some lucky wind, coating the dice in what was surely a massive dose of COVID-19 particles. Meanwhile, Monkey-B photobombs from behind with great disgust.
No Water, No Electricity, Let's Have Old-School Fun 📻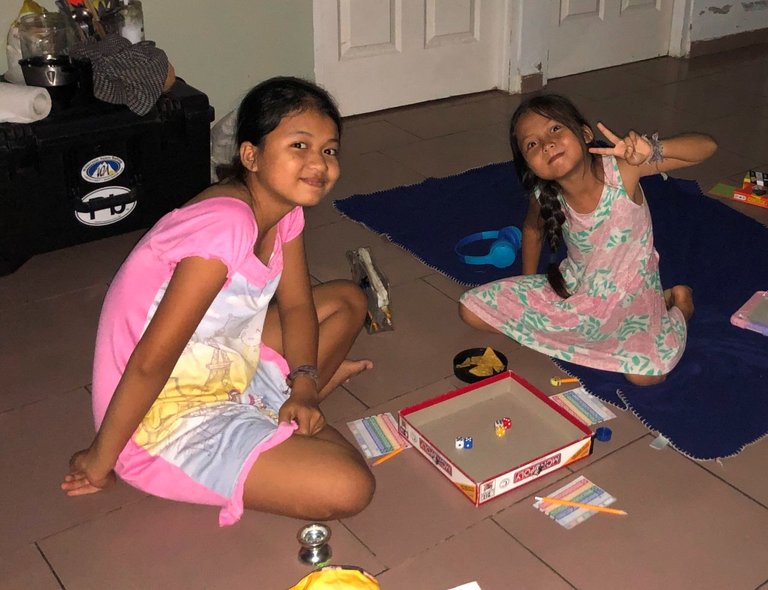 It would appear Srey-Yuu's luck wasn't destined to last long, because a few minutes after I took that picture, our water ran dry and the electricity went out. Not knowing how long we would be without power, we chose to conserve our phone batteries by not using the lights to continue gameplay.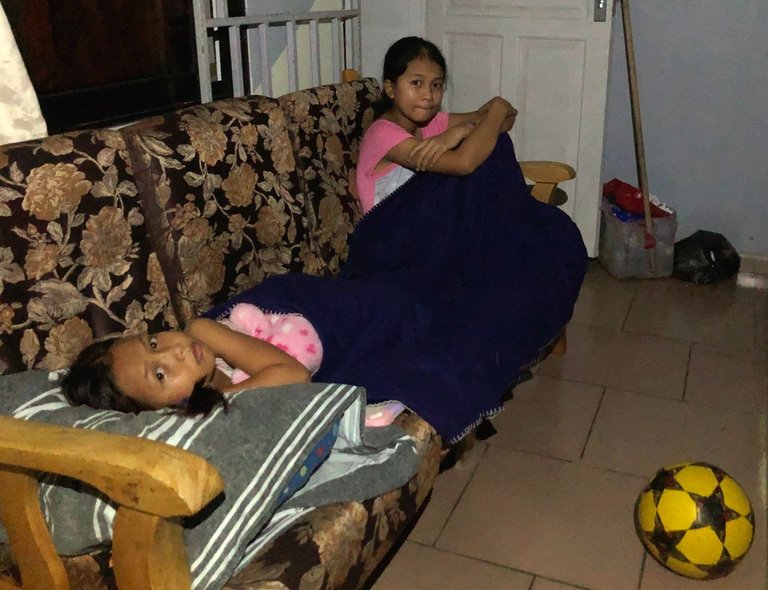 We went out to the porch with the bluetooth speaker and listened to two podcast episodes of "Grimm, Grimmer, Grimmest," the girls' favorite audio program. Just as we were enjoying the peace and quiet that comes with a power outage, it began to feel like Cambodia for just a moment, then the generators begin kicking on all over the neighborhood, and listening to the podcast became almost impossible.
     We sat in total darkness and deafening generator sounds for a few hours while the neighborhood went to sleep. We sent the kids to bed when their room was cool enough to attempt sleeping, and I spent the rest of the night laying on my bed sweating, thirsty, and dreaming of our return to Cambodia.
     At 5:00am, without a minute of sleep, I got out of bed to find we still had no water and electricity . After almost a full day, the power is back on, but we are still without water, and the markets still have partially rotten vegetables, and we are nearly out of propane. More hardship is still to come before we are out of here, but when you have no choice, it's pretty easy to roll with punches.

CLICK HERE TO JOIN HIVE AND START EARNING CRYPTO LIKE US
---
---