Another year of adventures and learning at Hive! #HivePowerBday 🎉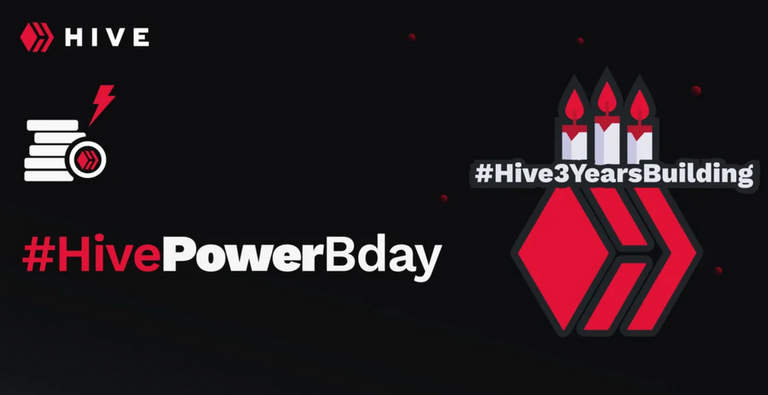 Cover Image by @hivecreators
HivePowerBday 🎉
May this new year of Hive be full of innovation, collaboration and growth. Happy birthday to the technology that is transforming the future!
You can't miss a toast for the 3 years of Hive and a good powerUp as usual...
3 years have passed in hive and I have been in this wonderful network for 1 year and a few months, I remember when I started, it seemed like yesterday! ...
Since I started on the network, I always tried to power up with the profits that I generated with the posts and games on the network, although it is not much, there is always a bit of hive left over for a power up...
I met a lot of people on this network, I made a lot of friends, I learned a lot from them and I also learned a lot about cryptocurrencies since I knew little or nothing... Hive was one of the first networks that caught me from the beginning, the truth is, every day of my life. life I enter hive, at least to vote on some posts and leave some comments! It is already a routine to enter social networks and hive! ...
I hope this network continues like this and never stops, I thank everyone who makes it possible for hive to be what it is today and that it progresses more and more. To all the developers, technical support, designers, to the different areas only the IT area, THANK YOU ALL! ..
I hope that next year we continue like this and celebrate another HivepowerDay, that this growth never stops, thanks hive for everything!
thank you thank you thank you thank you from the heart!

I recently posted my stats on hive and goals for this year...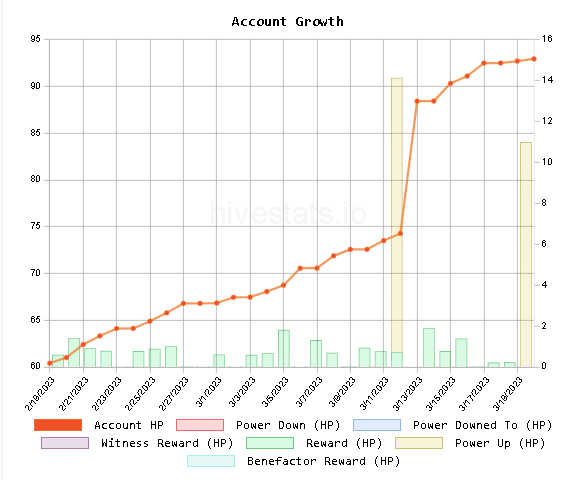 My HP progress in the last 30 days
My power up today:
11 Hive power up today
103 Hiver power in total

little by little we are going up, with each post, with each like, with each comment, with each reblog!
Why Power Up?
1.- Your upvotes become more valuable.
2.- Earn more curation rewards.
3.- Earn interest for your Hive Power.
4.- You can delegate your Hive Power to curation projects and earn passive rewards.
5.- The more Hive Power you have, the more Resource Credits. This will let you do more transactions in the blockchain.
6.- You strengthen your influence on the blockchain.

Here I leave the link of the HivepowerBday contest in case you want to participate, greetings hivers!
THE PRIZES! 100,000 HP in Delegations!
**Two delegations of 25K HP each for one month.
Three delegations of 10K HP each for one month.
Four delegations of 5K HP each for one month.**

Happy Anniversary Hive!

Thanks to everyone who makes this possible!
---
---