Online Workshop on NFTs and Financial Fraud Prevention - Save the Date
Here are some upcoming Blockchain & NFT workshops that you may wish to attend to.
Both of them are online and free to attend - the second one is in Greek so keep that in mind ;)
NFTs and finanical fraud prevention

This workshop is organized by the University of Nicosia and the University of London.
You can register online and attend it via zoom.
Check out more here: https://www.decentralized.com/nfts-and-financial-fraud-prevention/
Speakers:

Date: 30th of May
Time: 16.30-18.00 (London Time)
You can convert the time to your local time here: http://www.timebie.com/std/london.php
---
Blockchain & NFTs: shaping a new economy of value
This webinar is in Greek and it will take place coming Monday.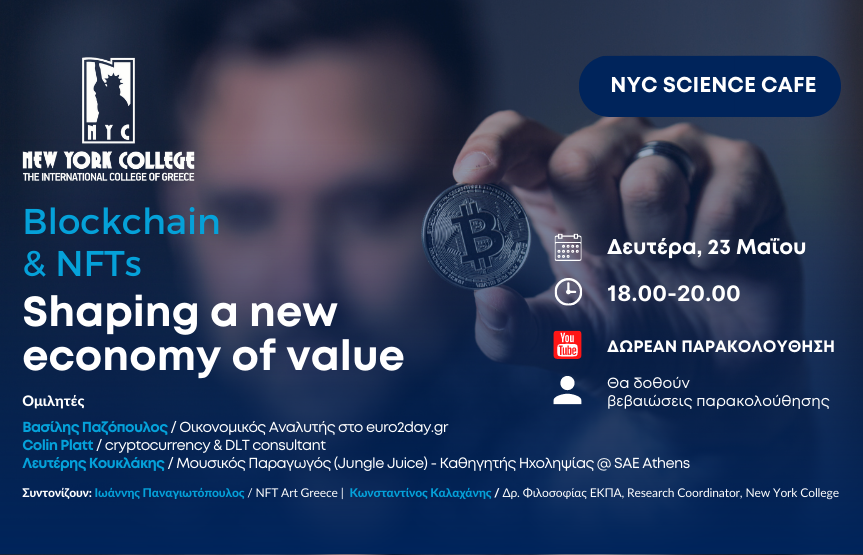 I am writing the rest of the info for my Greek friends:
Register here: https://www.nyc.gr/about-nyc/events/blockchain
Δευτέρα, 23 Μαΐου 2022 και ώρα 18.00-20.00.
Τι είναι τα κρυπτονομίσματα; Ποια είναι η καινοτομία της τεχνολογίας blockchain; Τι είναι τα NFTs και πως μπορούν να 'ξεκλειδώσουν' ένα καινούργιο οικονομικό μοντέλο; Τι εφαρμογές έχουν στην βιομηχανία της μουσικής, του gaming και των τεχνών; Το webinar προσφέρεται ως μια καλή εισαγωγή στον ευρύτερο χώρο των crypto για αρχάριους, και παρουσίαση πρακτικών εφαρμογών των τεχνολογιών αυτών στην οικονομία αλλά και στις τέχνες & gaming.
Θεματικές:
Εισαγωγή στα cryptocurrencies
Τι είναι τα smart contracts;
Εισαγωγή στα NFT
Πρακτικές εφαρμογές τους στην αγορά 

Ομιλητές:
Βασίλης Παζόπουλος, Οικονομικός Αναλυτής στο euro2day.gr
Colin Platt, cryptocurrency & DLT consultant
Λευτέρης Κουκλάκης, Μουσικός Παραγωγός (Jungle Juice) - Καθηγητής Ηχοληψίας @ SAE Athens
Θα δοθούν βεβαιώσεις παρακολούθησης
Τη Συζήτηση μπορείτε να την παρακολουθήσετε ζωντανά μέσω
Youtube: www.youtube.com/user/nycath
Let me know if you will take part, I hope to be in both of them!
Posted Using LeoFinance Beta
---
---