Presenting the Ladies of Hive Community
Be ready because .. today...
I will be presenting
Hive Ladies Community
Let's learn more about them! Who are they?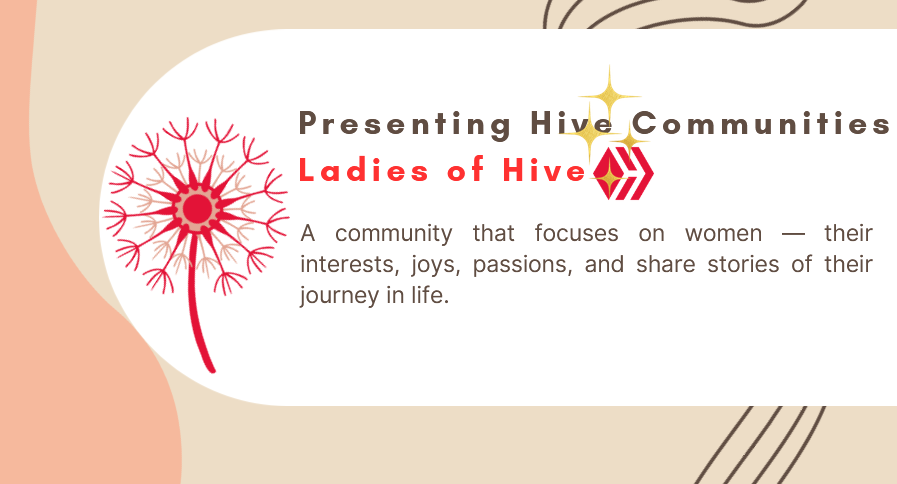 About .. ladies of hive!
A community that focuses on women — their interests, joys, passions, and share stories of their journey in life.
Description
Our mission is to empower and encourage female/feminine/femme-identifying voices on Hive. We are here to support, uplift, and learn from one another. We believe female voices and ideas should find equal representation in all corners of the blockchain. This is an inclusive space and we welcome all who also support this vision.
If you wish to join us on Discord:
https://discord.gg/P4nqcj6
Link:
https://peakd.com/c/hive-124452/about
Rules & Guidelines: n/a
Community Name: Ladies of Hive
Subscribers and Posters:
At the time this post is published (24th of Feb. 2023) there are already more than 5K subscribers (5220), 426 active users and 2717 interactions. It definitely seems like an active community!

The users are rewarded in
Hive - https://coinmarketcap.com/currencies/hive-blockchain/
HBD - https://coinmarketcap.com/currencies/hive-dollar/
LEO - When ladies of hive posts are shared on threads
LOH - https://hive-engine.com/trade/LOH
Team
@hive-124452 owner
@thekittygirl admin
@silversaver888 admin FOUNDER
@ifarmgirl mod
@ladiesofhive mod
@trangbaby mod
@tibaire mod
@justclickindiva mod
@irenenavarroart mod
@elizabethbit mod
@brittandjosie mod
@kaerpediem mod
@kerrislravenhill mod
@saffisara mod
@ninahaskin mod
@joanstewart mod
---
I hope you enjoyed this post and I hope that you have learned something new today!
You may be interested in these ...🔹 If you are new in hive 🔹 If you want to earn an easy $15 by the new coinmarketcap campaign 🔹 presenting the foodies bee hive community 🔹 presenting the blocckhain poet community
---
And here is a bonus!
I asked ChatGPT to write me a poem about ladies of hive and gave very specific prompts, so this is what I am about to present you! I hope you enjoy it!
For our Ladies of Hive - Please Continue to Inspire ❤️
In the world of blockchain and tech,
There's a community that's gaining respect,
A group of ladies, bold and bright,
Who share their stories day and night.
They write on Hive with passion and flair,
Sharing their hopes, dreams, and all they dare,
Empowering others with each word they type,
As they inspire with all their might.
From all around the globe they come,
Different backgrounds, but one outcome,
To support and uplift, to make a change,
No, trust me, this ain't at all strange.
They share their triumphs and fears,
Their joys and sorrows, their laughs and tears,
As they connect and learn and grow,
Their strength and spirit continue to glow.
So here's to the ladies of Hive,
May your community continue to thrive,
As you inspire and lift each other high,
And spread your wings to touch the sky.
Posted Using LeoFinance Beta
---
---