What's for dinner - Garden edition
Cooking with garden fresh items is easily one of my favorite things. Currently we have a plethora of spaghetti squash so I have been on the hunt to find some delicious, new recipes!
I came across a Whole30 recipe; Tuscan Spaghetti Squash Casserole.
And this DID NOT disappoint!
It was very easy to make (which is a HUGE plus for our family), and the ingredients were simple and CLEAN!
I used spaghetti squash and kale from our garden and it was PERFECTO!
Personally, I try to prep some items ahead of time, so that when its time to make dinner, it is smooth sailing!
During my son's nap, I roasted the squash with some olive oil and a little salt and pepper @425 for 35mins (this time can vary depending on how ripe the squash is)
Once it was done- I let it cool until I could scoop out the insides!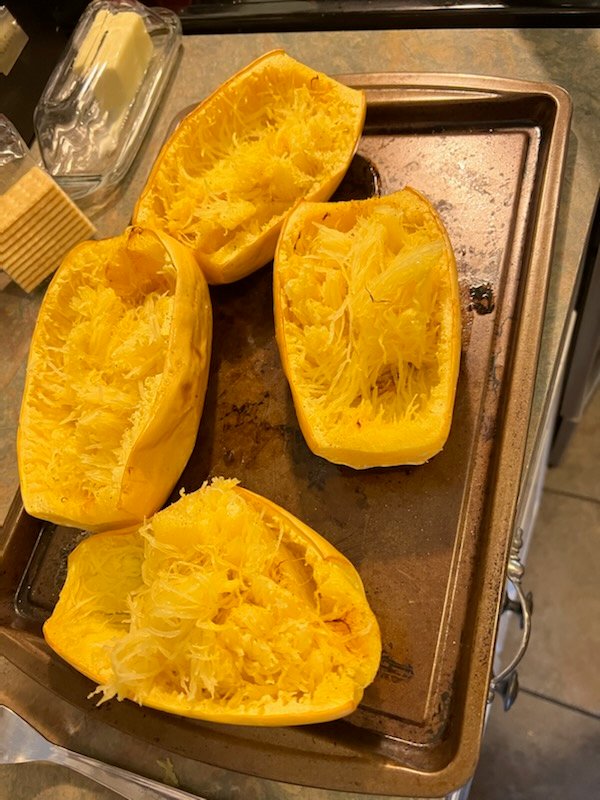 When it was time to actually make dinner, I pre-heat the oven to 400 and got to work on the rest while I let the oven get hot.
I browned up the Italian sausage - (we use mild so my son can enjoy too)
While that was cooking- I made up the sauce. This part was surprisingly SIMPLE!
I threw all the ingredients into a blender and blended on high for 30 secoonds- 1min.
Added the kale to the sausage- let that wilt- added in the sauce and squash. Mixed it all together.
Threw that whole mixture into a glass casserole dish- popped it in the oven for 15 mins!
EASY PEASY!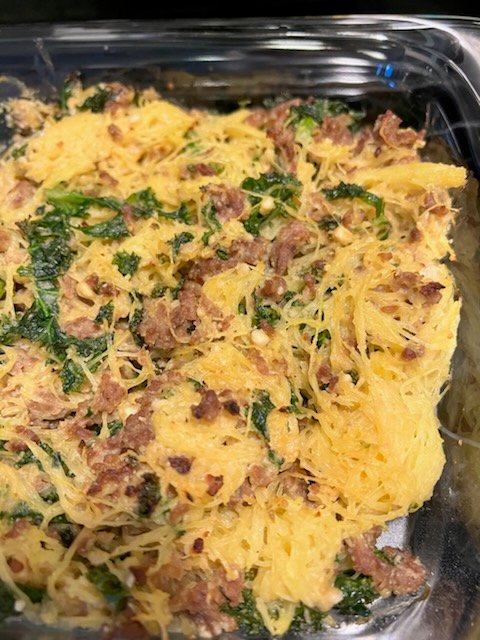 This dish is for sure going into my rotation of meals! It was a HIT! (see full recipe below)
--Katie
1Lb Italian sausage
1 large spaghetti squash or 2 small
4 cups kale- chopped
Creamy Garlic Sauce
2 cloves garlic
1 cup raw cashews
3/4 C water
1/2 C full-fat coconut milk
1/2 lemon, juiced
1 tsp salt
1/2 tsp red pepper flakes
1/4 tsp pepper
Instructions
pre-heat oven to 425 degrees F.
Cut spaghetti squash lengthwise, add olive oil, salt and pepper.
Roast for 35-45 mins.
Let cool
Cook sausage until browned in a large pan over medium heat. Drain fat and add kale. cook until wilted- about 1-2 mins.

While that is cooking- make sauce.
Add all ingredients to the blender- blend on high for 30 seconds to 1 min.

Once squash cooled- scrape out insides. Add squash and sauce to pan with sausage and kale. Mix together!

Add to casserole dish. Bake at 400 for 15 mins.
Top with some cheese and ENJOY!
All photos taken on my iPhone
---
---