SPS! Big Discount. Investors Fiesta today.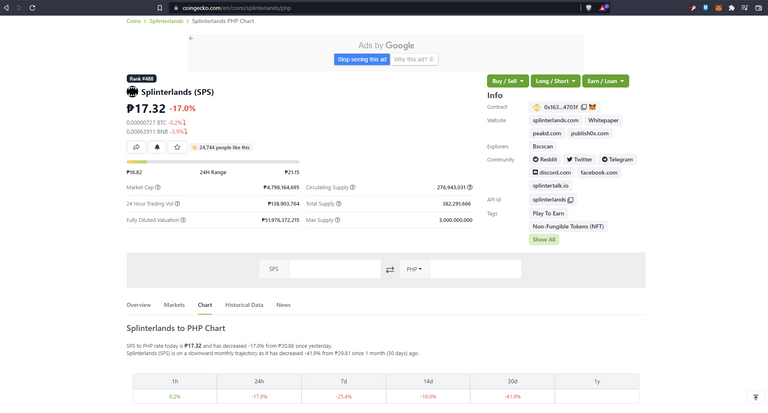 Don't panic. It's organic. SPS is currently down to PHP 17.32, that's the rate when I started again, now I can invest more, Since now the price is low. There will be a lot of people will sell SPS, specially the daily grinders.
Yow! Its a promo sale #sps token!!
To those #hodler dont panic its a just big discount.
#btc just slide a little to accomodate all investors who missed the discount before!
Remember guys Sell Deep, and buy High. Don't be greedy guys. Invest at your own risk.
This is a great chance for me to buy SPS where I was a newbie way back in September.
#nft #crytocurrency #gaming @jbtc19warrior @arcange @darkflame @oneup #splintertalk #leofinance @leofinance #cubdefi #oneup #hiveblogshare @hiveblogshare #Genesis #ICO #GovernanceToken #play2earn @poshtoken #poshtoken @BesFriend @synist3r #playtoearn @cryptohustler101 @ultm8x #HiveEngine #socialtokens @cubdefi
@thgaming
@jim-crypto @splinterlands @bestfriend @doomz
@gcollects @jbtc19yggwarrior
#splinterlands @steemmonsters #thresholdguardians #hivegaming #proofofbrain #leofinance #1upvote #steemmonster
Please follow my friends #nosleepgang
https://nosleepgang.netlify.app/
---
---