Building CONNECTIONS And Attaining GOALS Via Listnerds
Hello everyone! I have been on Hive for a year and five months now and one way I have been able to enjoy my journey is through ENGAGEMENTS….building the bridge and connecting with people.
I thought I had discovered all the ways to connect with writers until the charming @thisismylife brought me on-board Listnerds!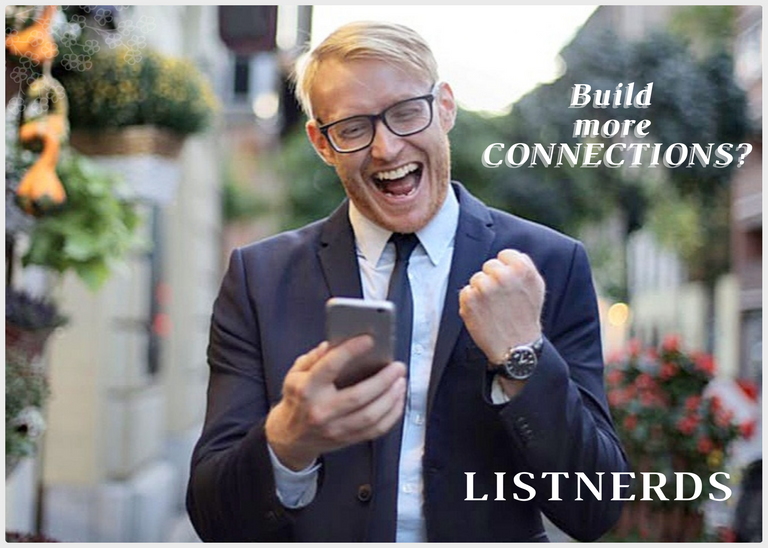 Image by: Andrea Piacquadio via Pexels, edited with Canva
What is Listnerds?
Simply put, it's an email marketing system on the blockchain that rewards users for sending, receiving and reading emails.
Basically, you promote or market your contents via an email which will be sent out to other users on the blockchain. They see your mail(s), read them and engage with you on your content. You do the same and earn.
I heard CONNECTION and was excited to be a part of it. ListNerds is all about building new connections and getting more exposure to your content.
It's that simple…and a triple win!
My Introduction…
My introduction was smooth and my journey has been interesting and enlightening so far because the users are super friendly. I was not expecting the friendly part. As soon as I sent out my first email, I was bombarded with nice comments, votes and CTP tips on my post. Nothing makes a 'newbie' more excited about an environment than a warm welcome.
I immediately got on the train and engaged with other users. That same day I moved from reputation 25 to 100!
Thanks to Listnerds, I'm back to my active, engaging self again. Also, I have been exposed to the contents of other hive users that I would not have seen otherwise. That's major for me.
How To Earn
Earning on Listnerd is easy in my opinion and a user can gain more by staking rewards. It's a means of passive income. Note there are 3 tokens used on Listnerds:
Mail Tokens which you earn for reading mails and when accumulated, you can use to send an email that gets paid the following day.

CTP Tokens are those you buy via hive engine, stake them and use to verify mails.

Listnerds Token is the main token you earn for sending mails tradable on the hive engine.
Registration Packages
There are four packages to become active on Listnerds: free, premium, business and enterprise. Each has its benefits as you can see in the image below.
I registered using the Enterprise package and it's been very beneficial to me. Though costly, I was given a one-time discount offer at registration and I took it without blinking, haha.
Goals
Presently, I'm just a week old today and I'm working on familiarising myself with how the system works. My goal in the interim is to buy some CTP Tokens so I can tip users and stake my rewards.
I hope to earn more, keep staking and hopefully bring others on board as well!
Want to be a part of Listnerds and build new connections, here's my referral link. Any questions, let me know in the comment section.
Thank you for visiting my blog.
---
---