Creative Blogger Tag | Let's Make Hive A Fun And Better Place!

I was tagged and invited by @mistural to participate in this Creative Blogger Tag challenge by answering two obligatory questions by @jongcl and her own five questions. To know more about this challenge, click 👉 HERE.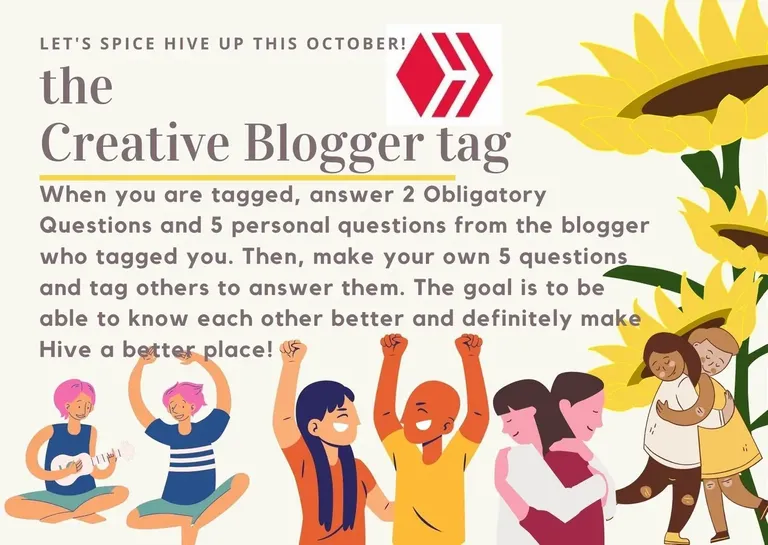 Obligatory Questions
How Would You Add Value to Hive?
How Would You Make Hive A Better Place?
---
I believe these two obligatory questions are intertwined and I can answer both in one go. One thing I appreciate about the Hive blockchain is the strong sense of community. This is what keeps us going and growing. If there was none, this place would fall apart.
I am already doing my bit in making Hive a better place and I hope to keep doing more by supporting new users in my own little way, engaging with and encouraging them. This is because I got considerable support when I started for which I am thankful and will keep paying it forward.
Also, I hope to keep improving in the quality of contents I post, advertise Hive on Twitter and other platforms that I am on so more people can come in.
Apart From Hive, What Other Things Do You Do That Are Related To Crypto?
Well, I am a 'newbie' sort of in the cryptosphere and learning more day by day. My introduction to Hive really speeds up my crypto knowledge. Apart from Hive, I trade a little on exchange sites.
What Or Who Inspired You To Join Hive?
---
Ah, this question is pretty simple. Thanks to @dreemsteem and @shadowspub, these amazing women not only inspired and encouraged me to join Hive, they also supported and cheered me on!
What Would You Have Done If You Could Turn Back The Hands Of Time And Why?
This question presupposes that I would have the power to set time backwards and do anything I want. So to answer this question, the one thing I would do is erase the Covid-19 virus from off this planet. This way the loss of lives would not happen and people would be able to travel freely like it was before. I miss traveling.
If You Are Given 1 Million Dollars To Invest In One Coin, What Coin Would You Choose And Why?
---
Super simple! Hive is the one coin I would invest in. This is because from the little time that I have spent here, and from my research, Hive is a stable structure, a place to earn in many ways. A blockchain community that is going on two years and has evolved this much is one I would encourage people to invest in. The existent projects and upcoming ones prove that it is a sustainable and durable system.
Are You Happy With Your Current Financial Situation?
---
This is a tricky one because if I answer yes, does it mean I am content and have truly arrived? Is anyone ever 'happy' about their financial situation? Well, maybe the whales and people on Forbes rich list are. Lol!
What I will say is that I am not where I wish to be and working towards getting there. Presently, I am thankful.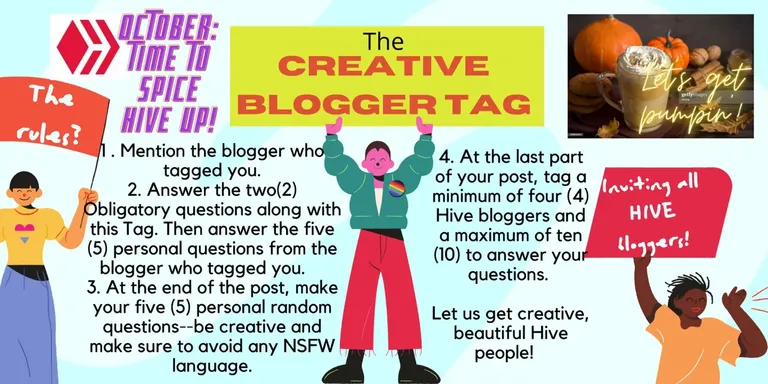 Invitation And My Questions
---
To participate in this fun and creative challenge, I invite @kenechukwu97, @preets, @b0s, @chincoculbert and @esther-emmanuel.
Here are my questions:
Mention one Wonder of the world you would love to visit and why?

If you had the power to recreate the world, name two things you would change and why.

What are the two notable things that endeared you to your celebrity crush?

If you could change your name, what new name would you adopt and why?
Thank you for visiting my blog.
Images from @jongcl's challenge post
---
---