Stranger things have happened | Prepare for the worst.

Buy the dip! That's what I hear whenever we are experiencing a bearish trend in this cryptoverse. It has been proven on several occasion that times like this is usually the best moment to buy any Crypto asset of your choice.
What we don't know for a fact is the exact time to buy the dip. For example, we are currently experiencing a massive bearish moment in Crypto. It didn't start today and we don't know how long it will last.
Hypothetically, some bought the dip when there was a 20% decrease in the value of their favourite Crypto, but the same Crypto dipped more and is currently facing an 80% decrease. To such people, they will be counting their losses already. Some others are waiting for it to hit a 90% decrease but y'all know how volatile these Crypto assets can be. You can sleep and wake up to see a sudden increase in value. Anyone that didn't buy before it moves up will also be seeing it as a bad trading decision.
You see, each dip can either lead to a huge success or a complete disaster.
This week, #Luna and #Ust took a huge blow below the belt. Investors are wailing. Those that have these in their wallet find it hard to believe what is happening. The damage is outrageous. It happened in less than a week. That's how long it took for Luna to lose 90% of its market value.
As if that's not enough, people who do not have any of these in their portfolio are rushing to dump whatever they have because they don't want to be caught up in the red side of this dip. That's the ripple effect of a bearish trend.
To be fair, it can happen to any Crypto out there so, we won't blame anyone for dumping it. This reminds me so much of how it felt the first time I experienced a massive dip in the value of a Crypto asset I was holding. The token is still in my wallet and it's worth NOTHING tangible at the moment so, I'm stuck with it.
---
About this Current bearish trend...
---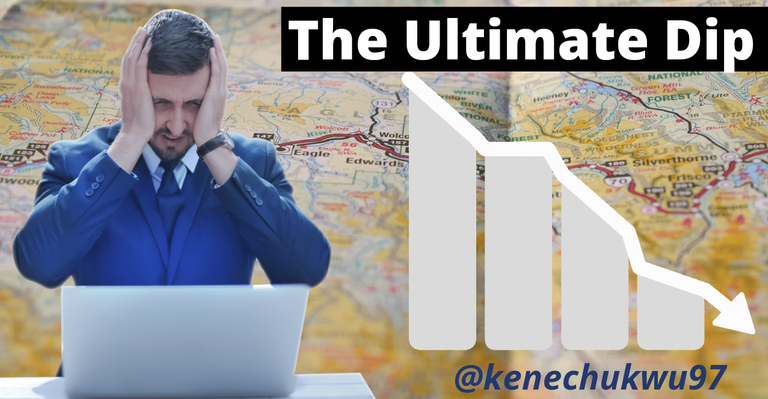 What will happen tomorrow?
That has to be the question most Crypto enthusiasts will be asking at the moment. Everyone would like to know if their favourite Crypto will rise in value or sink dipper.
Honestly, I do not know. I don't know what we will wake up to after today. I'd assume, and I want to believe, that this dip will be over as soon as possible. But, I genuinely have to inform you that stranger things have happened. Trace back the history of bearish trends and the ripple effect it had. It will help in your decision to buy, hodl or sell.
Whatever the case may be, always hope for the best and prepare for the worst.
Thanks For Not Missing Any Full-stop Or Comma
Image designed using Canva App.
Also published here
Posted Using LeoFinance Beta
---
---