Advances of my game in rising star / Avances de mi juego en rising star [EN/ES]
Hello friends, today after so much time I am showing my account again after 2 years in rising star, I have more than 700000 fans, more than 7000 accumulated cards, the curious thing is that the value of starbits dropped from 0.00030000 starbits/hive, but It seems that it is stabilizing at 0.00010000 starbits/hive, it means that it is 3 times cheaper to enter the game and they have 3 times more advantages than the person who entered at 0.00030000 starbits/hive because they can buy 3 times more with the same hives.
Hola amigos, hoy despues de tanto tiempo estoy mostrando, nuevamente mi cuenta luego de 2 años en rising star, tengo mas de 700000 fans, mas de 7000 tarjetas acumuladas, lo curioso es que el valor del starbits bajo de 0.00030000 starbits/hive, pero parece que se esta estabilizando en 0.00010000 starbits/hive, significa que es 3 veces mas barato entrar en el juego y tienen 3 veces mas ventajas que la persona que entro en 0.00030000 starbits/hive porque puede comprar 3 veces mas con los mismos hive.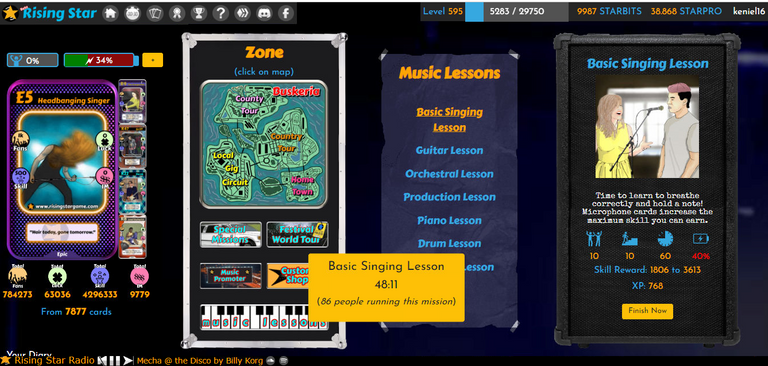 First I noticed that I was in 34th position in the ranking so I started again with the focus of moving up in the ranking, this time I will not give up until I get into the top 20, I have always been in the top 30 but it is time to be more competitive.
Primero observe que estaba en la posicion 34 del ranking asi que comence otra vez con el enfoque de subir en el ranking en esta ocasion no me rendire hasta subir a los 20 primeros, siempre he estado entre los 30 primeros pero ya es momento de ser mas competitivo.

Now, I am sure I mentioned in previous posts, that I would like to accumulate starpro, but the competition is strong, I have seen all week that the minimum to participate you need 189 starbits per mission and it does not go below 185 starbits because wagginston is making a wall so that the price does not go down and there are many participants who help in this process daily are burning approximately 5000000 starbits in this pool to get starpro, it is good news that more and more starbits are being burned but really, the price of starbits is not going to go up because many more starbits are created daily than are burned.
Ahora, estoy seguro que mencione en publicaciones anteriores, que me gustaria acumular starpro, pero la compentencia esta fuerte he visto toda la semana que minimo para paraticipar necesitas 189 starbits por mision y no baja de 185 starbits porque wagginston esta haciendo de muro para que el precio no baje y hay muchos participantes que ayudan en este proceso diariamente se estan quemando aproximadamente 5000000 starbits en este pool para obtener starpro, es bueno sin duda alguna es buena noticia que cada vez se quemen mas starbits pero realmente, el precio de starbits no va a subir xq al dia se crean muchos mas starbits de los que se queman.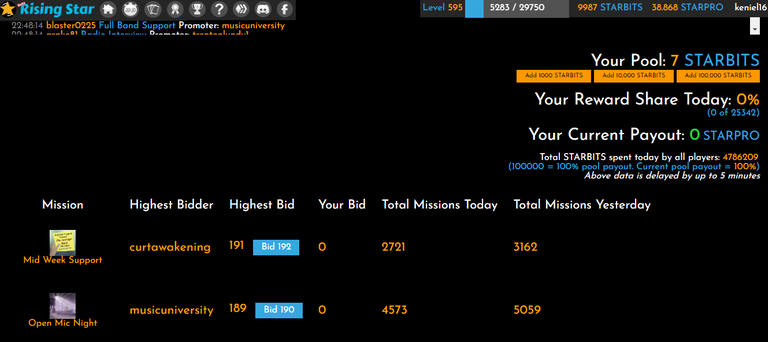 The same we have the cards at a stable price, I am taking advantage of buying many cards at approximately 60/fans, I have never understood why its price is maintained I suppose that as I am a player that I like to buy in the market the cards that more fans offer me, there will be players who buy many packs, to obtain legendary cards and sell the common ones that I buy either of the 2 strategies are good and finally everything I am winning is being reinvested to infinity in order to fight in the starpro pool and keep me in the top 20 of the ranking.
Igual tenemos las tarjetas a un precio estable, estoy aprovechando de comprar muchas tarjetas aproximadamente en 60/fans, nunca he entendido porque su precio se mantiene supongo que asi como yo soy un jugador que me gusta comprar en el mercado las tarjetas que mas fans me ofrezcan, existiran jugadores que compren muchos paquetes, para obtener tarjetas legendarias y venden las comunes que yo compro cualquier de las 2 estrategias son buenas y por ultimo todo lo estoy ganando se esta reinvirtiendo hasta el infinito con el fin de poder luchar en la pool de starpro y mantenerme en los primeros 20 del ranking.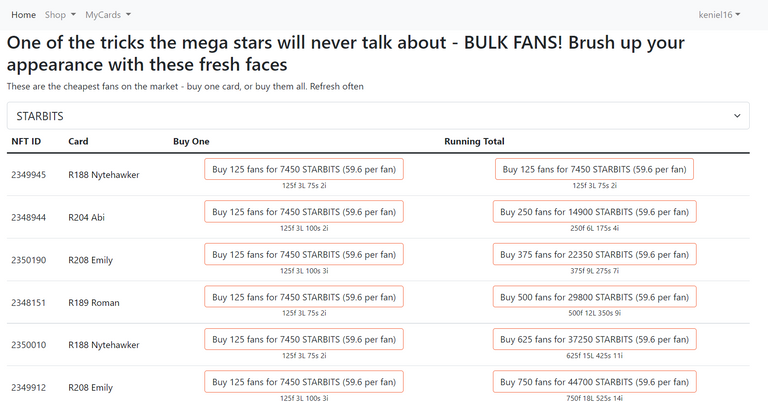 Translated with www.DeepL.com/Translator.


Link: RISING STAR
---
---