I obtained FC6 Rosie and FC7 Stickers in Rising Star [EN/ES]
Hi friends, today I got FC6 Rosie beautiful NFTs with 500 fans see how currently 135 players have this NFTs, compared to FC7 Stickers there are only 89 created, it means that the more missions you need to win the NFTs, the less there are because the players are giving up or currently do not have the starpro needed to continue getting the NFts, it may also be that they go slowly, entering the same cycle in which I am, first I go play to get starbits, then I go to music promoter to place starbits and generate starpro, then with the starpro I do missions of promote fan club, while I'm doing this mission I don't earn starbits so when I run out of starbits I start earning starbits again, it's a long cycle, but in my opinion it's worth it and it's another way of not selling starbits making the starpro go down, by the way as these NFTs are obtained with starpro, the most logical thing would be to sell for starpro but in this game you can sell different coins.
Hola amigos, hoy consgui FC6 Rosie hermoso NFTs con 500 fans vean como actualmente 135 jugadores poseen este NFTs, en comparación con el FC7 Stickers que solo existen 89 creadas, significa que entre mas misiones necesitas para ganar el NFTs, menos existen porque los jugadores se van rindiendo o actualmente no poseen los starpro necesarios para seguir consiguiendo los NFts, también puede ser que vayan poco a poco, entrando en el mismo ciclo en el que estoy, primero voy juego para conseguir starbits, luego voy a music promoter para colocar starbits y que me generen starpro, luego con los starpro hago misiones de promote fan club, mientras estoy haciendo esta mision no gano starbits asi que cuando se me acaban los starbits vuelvo a empezar a ganar starbits es un ciclo extenso, pero a mi parecer vale la pena y es otra manera de no vender starbits haciendo que baje el starpro, por cierto como estos NFTs se consiguen con starpro, lo mas logico seria vender por starpro pero en este juego se puede vender diversas monedas.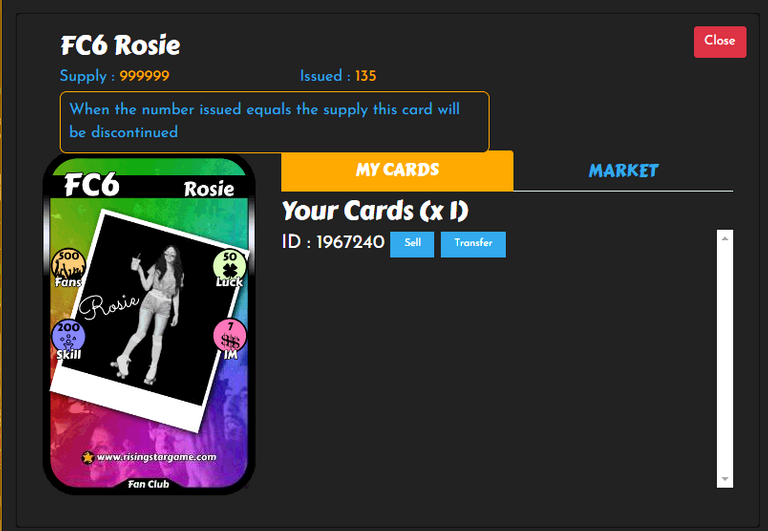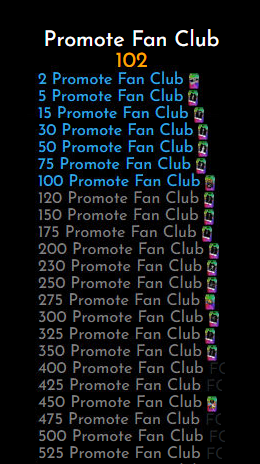 I am on mission 102 Fan Club my next goal will be 150 missions and then start accumulating starbits again, and then we will see I believe a lot in this project the starbits are destined to be worth little because of the excess of currency, the starpro are destined to maintain a good value or even be worth more over time and the NFTs can always be sold for any currency leaving its value in stability thanks to new NFTs are generated every month means constant supply and we all like to have more fans and some like to collect, as usual buy a unique card 90 Hugh on the market very cheap by the way and buy 7040 fans and then another day I bought 4135 fans all this left me with 0 starbits.
Estoy en la misión 102 Fan Club mi proxima meta sera 150 misiones para luego empezar a acumular starbits nuevamente, y luego veremos creo mucho en este proyecto los starbits estan destinados a valer poco por el exceso de moneda, los starpro estan destinado a mantener un buen valor o incluso a valer mas con el tiempo y los NFTs siempre se pueden vender por cualquier moneda dejando su valor en estabilidad gracias a que se generan nuevos NFTs cada mes significa oferta constante y todos nos gusta tener mas fans y a algunos les gusta coleecionar, com es de costumbre compre una tarjeta unica 90 Hugh en el mercado muy barata por cierto y compre 7040 fans y luego otro dia compre 4135 fans todo esto me dejo con 0 starbits.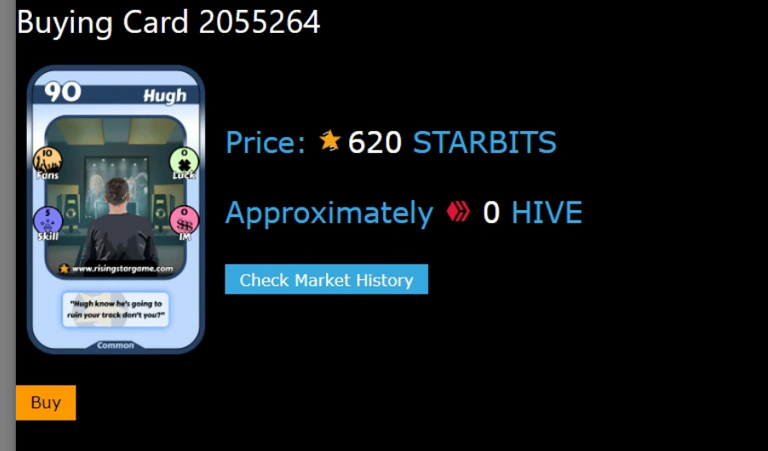 Translated with www.DeepL.com/Translator.


Link: RISING STAR
---
---