Winner of drawing 52 🌟 and notice 🙄 / ganador del sorteo 52 🌟 y aviso 🙄 [EN/ES]

I am spending my Starbtis 😎 on buying Starpro this is for another publication.
I'm going to rest the giveaway, I didn't want to do it, because I feel committed to the followers and because risingstar gave us publicity in their publication every day, but it's exhausting trying to run the daily giveaway and it's not fun, because it's daily, I've seen that there are 14 other giveaways, in risingstar so I'll relax.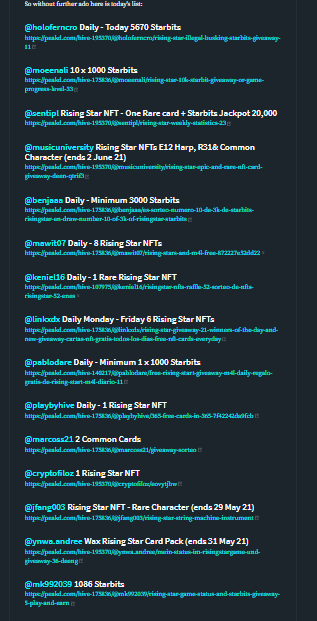 I will write something different and do tests that I like, and maybe I will do a giveaway from time to time, but it won't be fixed, plus I have to think well a way for the giveaway to help the risingstar and musicforlife community that's why I will take a break from the giveaway, I feel it's time to help the musicforlife community a little more, maybe with challenges on the platform... but first I will take care of voting original posts, I am already buying Vibes but this is for another post 😁.
Well friends it was a pleasure to make 51 daily draw .... Remember this is not the end, it's just a see you soon if you want to add something tell me in the comments I will always read them.
If you know of any page that reads the comments of the publication draw and select a winner leave it in the comments I appreciate it.
If someone also tells me the link to the publication to be an official curator and its rules I would appreciate it.
Now the winner of this drawing is: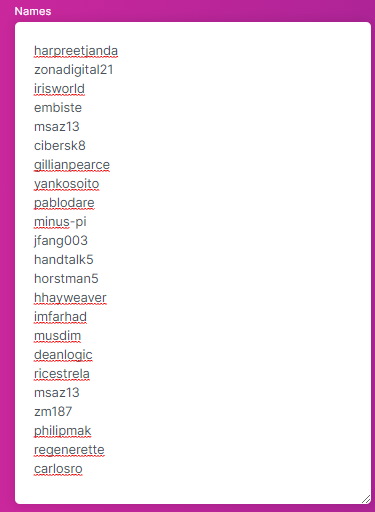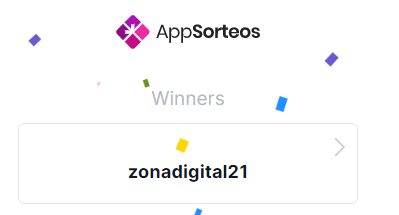 Estoy gastando mis Starbtis 😎 en comprar Starpro esto es tema para otra publicación.
Tenia pensado dejar descansar los sorteos, hace un tiempo pero me sentia comprometido por los seguidores y por que risingstar nos daba publicidad en su publicación todos los dias, pero es agotador tratar de llevar los sorteos diarios ya no es divertido, porque es diario, he visto que existen otros 14 sorteos, así que me relajare.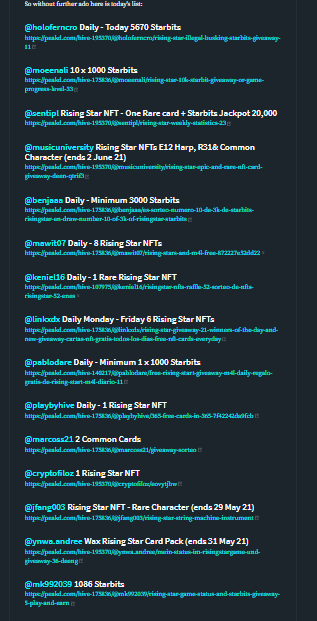 Escribire algo diferente y hare pruebas que es lo que me gusta, y dejare de hacer sorteos seguidos, tal vez realice un sorteo de vez en cuando pero no será fijo, ademas tengo que pensar bien una forma de que los sorteos ayuden a la comunidad de risingstar y a musicforlife es por eso que me tomare un descanso con el tema de los sorteos, siento que es momento de ayudar un poco mas a la comunidad de musicforlife, tal vez con retos en la plataforma aun no lo se, pero primero me encargare de votar publicaciones originales ya estoy comprando Vibes pero esto es tema para otra publicación 😁.
Bueno amigos fue un gusto hacer 51 Sorteos diarios... Recuerden no es el final, es solo un hasta pronto si quieren agregar algo me lo dicen en los comentarios siempre los leo.
Ha por cierto si saben de alguna pagina que lea los comentarios de los sorteos y seleccione un ganador dejenla en los comentarios se los agradezco.
Si alguien me indica también el link de la publicación para ser curador oficial y sus reglas se los agradezco.
Ahora el ganador de este sorteo es: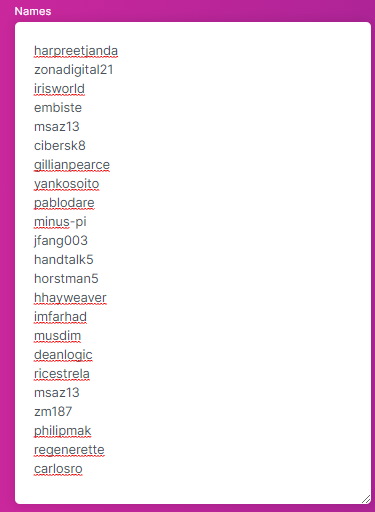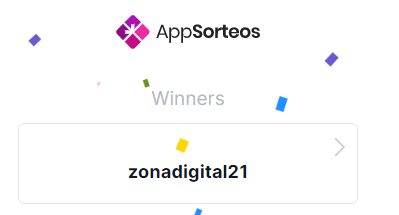 ---
---