[ESP | ENG] ~ Mágico Atardecer en San Cristóbal | Magical Sunset in San Cristóbal
¡Hola Hivers del Mundo! Bienvenido a mi Blog. Feliz Inicio de semana, les deseo buenas vibras y éxitos para estos días. Luego de haber descansado este fin de semana, para finalizar el día domingo, salí a caminar con mi hermano luego de varias semanas que no lo hacíamos. Llegando a nuestra meta el cielo se pinto de colores hermosos y no pude evitar hacer una sesión de fotografía de este hermoso paisaje. Así que aquí se los muestro...
Hello Hivers of the World! Welcome to my Blog. Happy beginning of the week, I wish you good vibes and success for these days. After resting this weekend, to end the day on Sunday, I went for a walk with my brother after several weeks that we did not do it. Arriving at our goal the sky was painted in beautiful colors and I could not help but take a photo session of this beautiful landscape. So here I show them to you....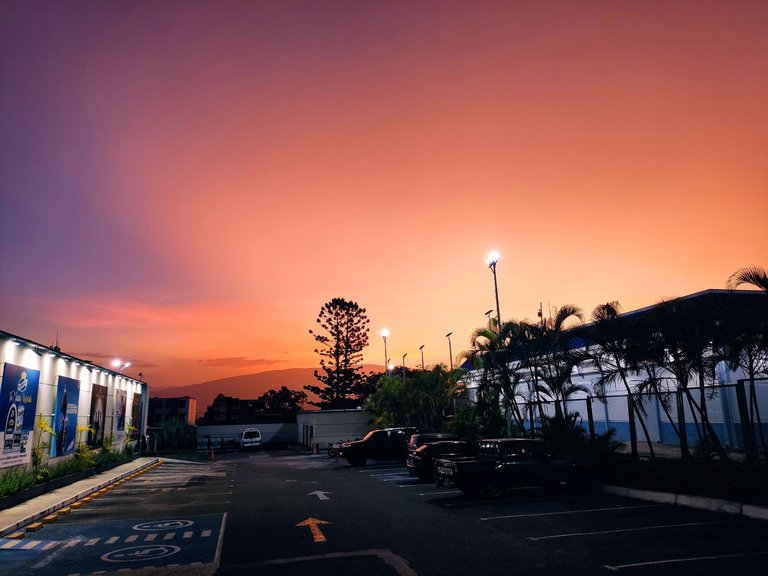 Los que me conocen saben que disfruto caminar, tomar fotos y ver atardeceres. Entonces cuando salgo al final del día, es posible que sucedan las dos ultimas acciones que mencione anteriormente. Así que me gusta mucho hacer esto. Tenía rato sin salir a caminar con mi hermano, porque recién inicio sus pasantías como ingeniero industrial y esta trabajando en una importante empresa de San Cristóbal, esta en planta y su trabajo lo agota, así que cuando llega a la casa, solo quiere descansar. Pero ya se esta adaptando y luego de 3 semanas por fin me acepto la salida a caminar.
Those who know me know that I enjoy walking, taking pictures and watching sunsets. So when I go out at the end of the day, the last two actions I mentioned above are likely to happen. So I really like to do this. I haven't gone for a walk with my brother for a while, because he just started his internship as an industrial engineer and he is working in an important company in San Cristobal, he is in the plant and his work exhausts him, so when he gets home, he just wants to rest. But he is already adapting and after 3 weeks he finally accepted to go for a walk.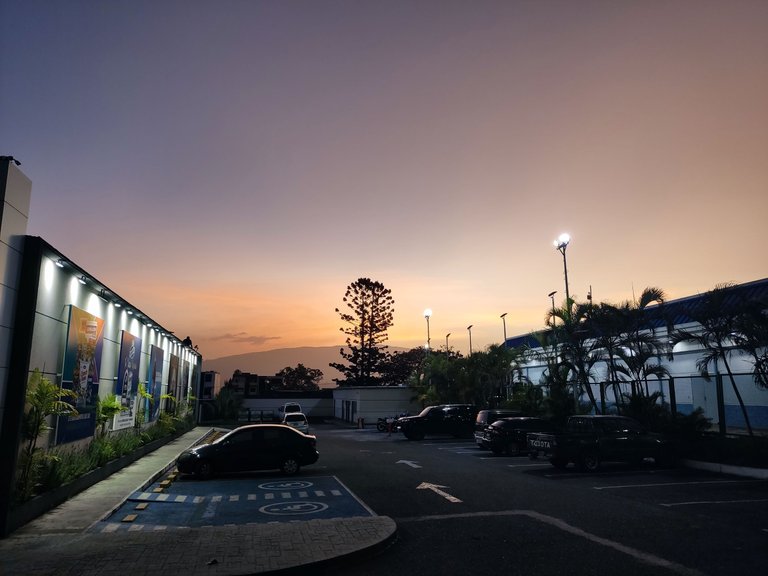 San Cristóbal, siempre me sorprende con sus atardeceres y siento que este es uno de los mejores que he capturado. En la foto anterior apenas estaba iniciando. Así que allí me quede, a la altura del Farmatodo de Barrio Obrero, una zona popular de mi ciudad, esperando que el cielo me mostrara sus mejores colores. Y así fue, el cielo empezó cambiado sus tonalidades, comenzando con un amarillo, luego naranja y por ultimo un tono azul casi morado.
San Cristobal, always surprises me with its sunsets and I feel that this is one of the best I have captured. In the previous photo I was just starting. So there I stayed, at the Farmatodo of Barrio Obrero, a popular area of my city, waiting for the sky to show me its best colors. And so it was, the sky began to change its tonalities, starting with a yellow, then orange and finally a blue tone almost purple.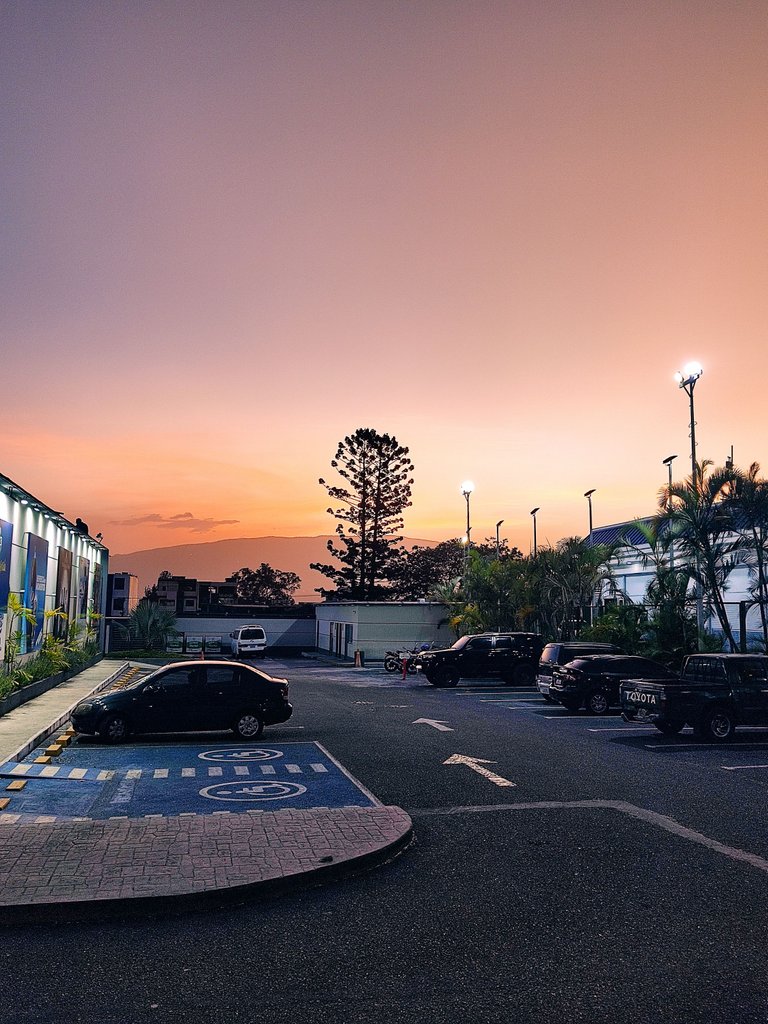 Además, el clima estaba fresco, así que nada podía estar mejor que en este momento. Nos quedamos allí un buen tiempo observando los colores y luego empezamos a descender. Ya que para llegar hasta este lugar hay que subir bastante desde mi casa, aproximadamente 4 kilómetros según mi pulsera Mi Band 5.
Besides, the weather was cool, so nothing could be better than right now. We stayed there for quite a while observing the colors and then we started to descend. Since to get to this place you have to climb quite a bit from my house, approximately 4 kilometers according to my Mi Band 5 bracelet.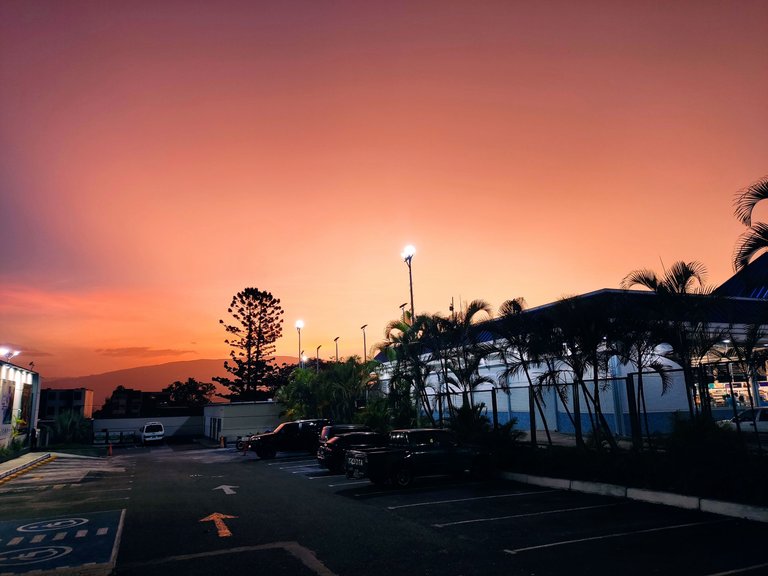 A pesar de que era domingo, la ciudad estaba concurrida y muchos sitios de comida rápida en Barrio Obrero estaban llenos. Incluso descubrimos dos nuevos lugares para ir a comer, uno llamado Mozzarella una pizzería y otro de cachapas, llamada Cachapas los Capachos. Ultimamente en la ciudad están aperturando nuevos negocios y esto me parece chevere, para variar un poco.
Even though it was Sunday, the city was busy and many fast food places in Barrio Obrero were full. We even discovered two new places to go eat, one called Mozzarella a pizzeria and another one of cachapas, called Cachapas los Capachos. Lately in the city they are opening new businesses and I think this is great for a change.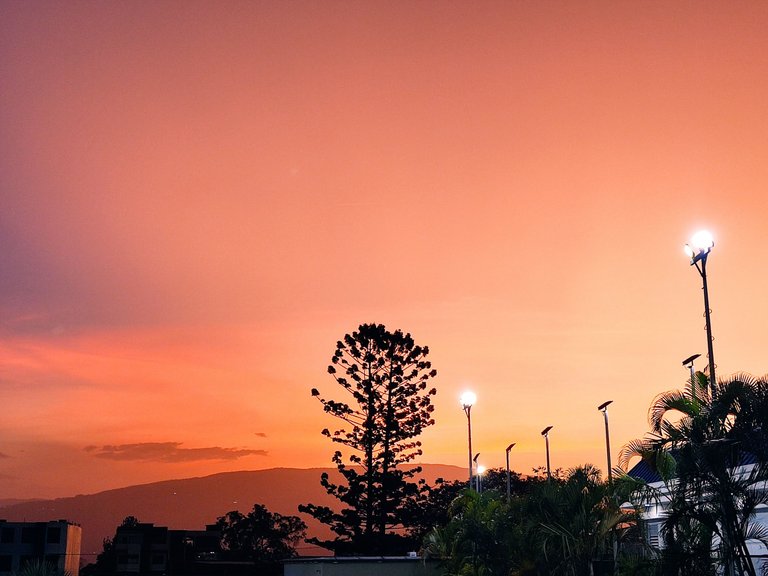 Tenemos que seguir con estas caminatas, primero porque contribuyen a relajarnos y a sentirnos mejor y además como modo de ejercicio, ya que la verdad las rutinas de ejercicio en casa cuando las hago por meses llegan a aburrirme, así que nada como salir de casa, respirar aire fresco y además disfrutar de paisajes increíbles.
We have to continue with these walks, first because they help us relax and feel better and also as a form of exercise, because the truth is that the exercise routines at home when I do them for months get boring, so nothing like getting out of the house, breathe fresh air and also enjoy incredible landscapes.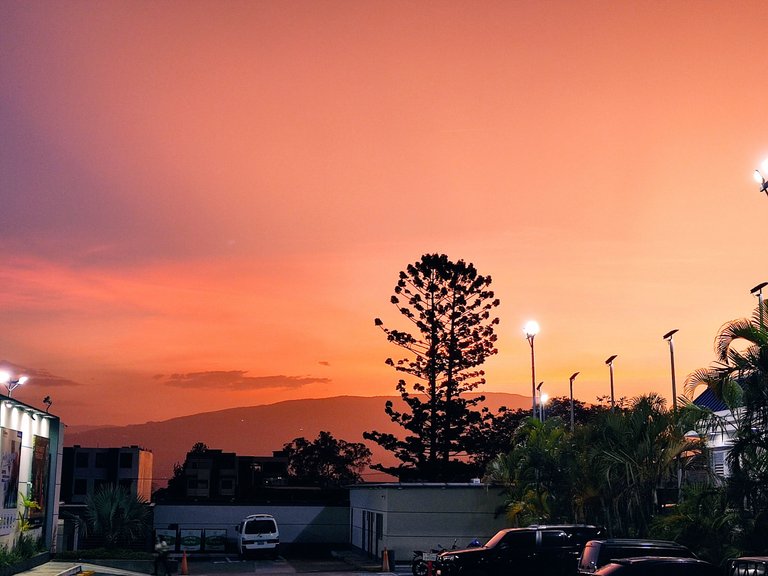 Espero poder salir a caminar más seguido. Y poder mostrarle los atardeceres de mi ciudad pero desde distintos lugares. Bueno chicos, esto fue todo por hoy, espero que tengan un excelente día y que lo pasen bien. ¡Nos leemos!
I hope to be able to go for a walk more often. And to be able to show you the sunsets of my city but from different places. Well guys, that's all for today, I hope you have a great day and have a good time, see you soon!

¡Gracias por llegar hasta aquí! | Thanks for making it this far!
¡Buenas Vibras para todos! | Good Vives for All!

Separador de texto | Text separator: separadores-de-texto-para-blog | cryptocharon
Texto traducido en | Text translated in: DeepL
Fotos tomadas por mí | Photos taken by me @keritroberts ; Dispositivo | Device: POCO X3 PRO


---
---