A Neat and Novel Metaverse Technology Project: Metahero (HERO) - A Deep Dive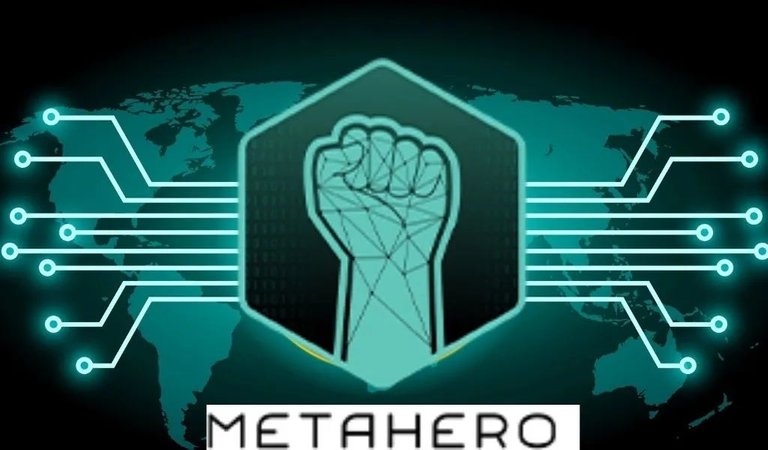 Photo Source
First Thoughts
The COVID-19 pandemic has profoundly ushered in a new paradigm as to the way we live our lives. Lock-downs and mandates have forced us into a new era of remote working, on-line concerts and sporting events, virtual shopping, and yes - even virtual happy hours. The proverbial 'line in the sand' distinguishing reality from the virtual world is growing more and more obscure with each passing day.
The stay-at-home phenomenon and the resulting increased time on-line has caused the metaverse to become more of a tangible item. And within the growing metaverse culture there exists an unquenchable hunger to possess unique and originative assets - digital art, land, avatars, and the like.
And at this juncture Metahero joins the scene with a solution to fill the metaverse culture's hunger for these unique assets.
Porting Yourself into the Metaverse - What is Metahero?
Recently launched on the Binance Smart Chain (BSC), Metahero combines three-dimensional scanning with Non-Fungible Token smart contracts for the purpose of creating avatars and objects for use in the metaverse.
Metahero is a blockchain-based project that utilises three-dimensional (3D) scanning and modelling technology in order to generate ultra-high-definition (UHD) avatars and virtual items that can be used across games, virtual reality and social media, and in online fashion. The company's core mission is to offer futuristic virtual opportunities where people can recreate real-world assets and then move them into the metaverse.
[Najumi, M. Metahero (HERO) price prediction: A cutting-edge project. (Accessed January 14, 2022)].
Metahero, at it's core, is a three-dimensional scanning technology which in operation performs an analysis of any real world object to accumulate the necessary data on the objects appearance. It then takes this data and renders the object digitally. To accomplish this, Metahero has partnered with Wolf Studios, arguably one of the best three- dimensional scanners in the industry. Wolf Studio's technology has already found successful utility within the gaming, music and fashion industries.
It must be emphasized that the mere digital recreation of an object imparts only a small portion of the value. Metahero takes every digital recreation in NFT format and immutably registers it on the blockchain rendering it immediately monetizable. By pursuing this, Metahero will construct a marketplace and tokenized structure providing creators and merchants access to future unique digital opportunities.
Metahero's versatile target demographic includes gamers, artists, celebrities and influencers, marketing professionals, professional athletes and online fashion platforms. It effectively enables anyone in the world to be able to scan a real-world asset – including themselves – to create a UHD avatar within just a few minutes. A user simply needs to install the Metahero app and have the appropriate amount of HERO tokens in order to pay for the scan online.
[Id.].
The HERO Token and its Utility
The native utility token for the Metahero metaverse is the HERO token. The HERO token was built upon the Binance Smart Chain and the initial public sale will be held on PancakeswapV2. BSC was chosen by the developers to ensure scalability and to assure that investors of any size can participate.
The HERO token will be a deflationary token type with a 5% fee added to each platform transaction. Taxation will vary according to the use case assigned. 0 to 2% of each platform transaction will be proportionately distributed to all token holders as a passive reward. 0 to 8% of each platform transaction is burned causing an ever-decreasing supply of tokens.
The HERO token is intended to be the exclusive token for use within the Metahero metaverse. This exclusive use includes: paying for scans, paying royalty fees, paying franchise fees for the Metahero 3D scanners, and, completing transactions on the 3D NFT marketplace.
The mechanics associated with the HERO token are nicely summarized in the following three scans from the Metahero Whitepaper (which must be downloaded from the website by clicking here: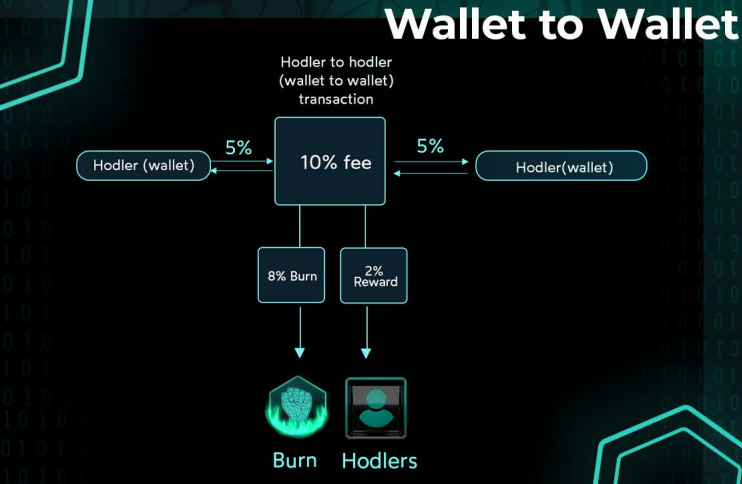 [Metahero Whitepaper]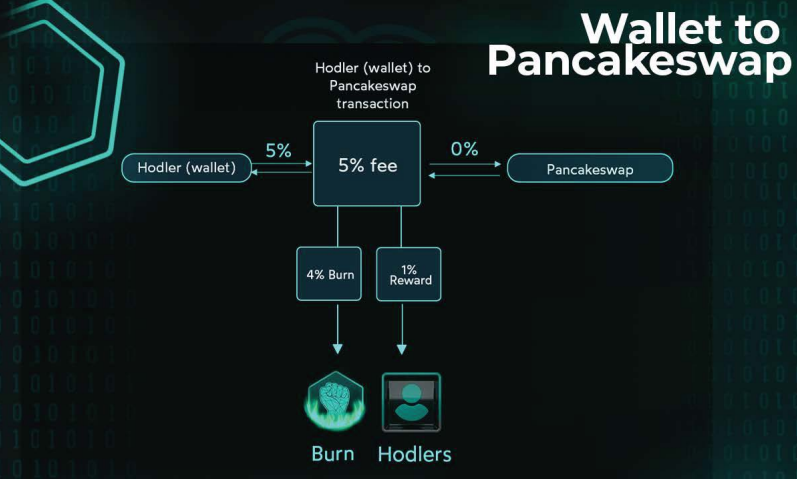 [Metahero Whitepaper]


[Metahero Whitepaper].
The Technology Behind the Scans (Injecting Yourself into the Metaverse)
As already been noted, Metahero has partnered with Wolf Studios to provide the scanning technology necessary the merge the created digital imagery with the metaverse. A diagram from the Metahero website describes this technology as follows: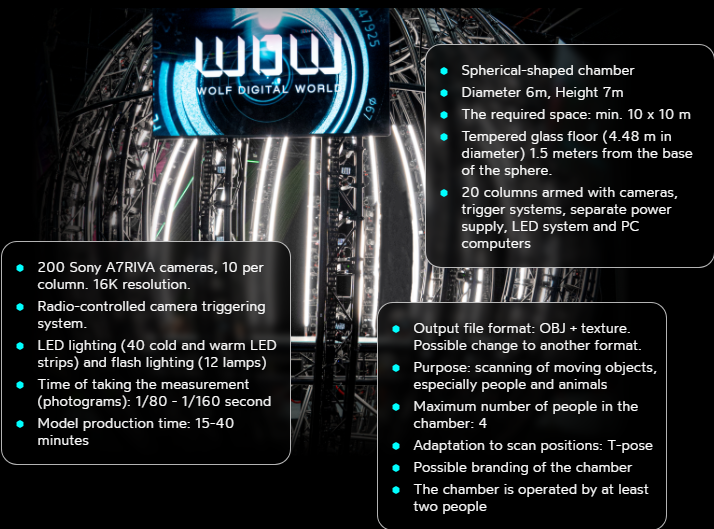 Photo Source
Twelve of these meta-scanning chambers will be initially distributed throughout extremely urbanized areas worldwide. The first of these chambers has already been installed in Doha, Qatar.
Investors/Partners in the Metahero Project
Wolf Digital World (Official Partner)
TenSet (Marketing Partner)
KuCoin (Listing Partner)
Kanga Exchange (Listing Partner)
Yahoo!Finance
Business Insider
Cointelegraph
MarketWatch
BSC News
CryptoDaily
Forbes
Beyond Scanning - The Everdome
As per the Metahero website: "Metahero and WDW have come together to transport the world into the next frontier... to Everdome. The combination of the virtual world with the real world will give everyone new experiences and opportunities, all in Ultra-HD" [Metahero Everdome Gateway. (Accessed January 16, 2022)].
The Everdome will facilitate real life actions within the metaverse, for example:
Branding: "The hyper-realistic aspect of Everdome will bring brands, companies, and people that have a focus on quality" [Metahero. Everdome The Dome. (Accessed January 16, 2022)].
Social: "Just looking for a place to hang out, maybe even engage in some gaming - Everdome will provide a space for professional and social occasions" [Id.].
Professional: "Hold business meetings, conferences, or any type of event/task that you would undertake in the real world - all in Everdome" [Id.].
Buy/Sell Products: All companies and brands that settle in Everdome will be able to provide products to their existing and new customers" [Id.].
In Everdome, users are able to purchase land in order to increase their NFT holdings as well as that of digital land. With similarity to the real world, users can expand their real estate portfolios by buying, renting and leasing land within Everdome. Advertising spaces will be made available. And users are able to increase their customer bases through the availability of marketplaces.
Tokenomics for Everdome are separate from Metahero. For Everdome there will be a maximum of 100,000,000,000, with tokens being distributed as follows: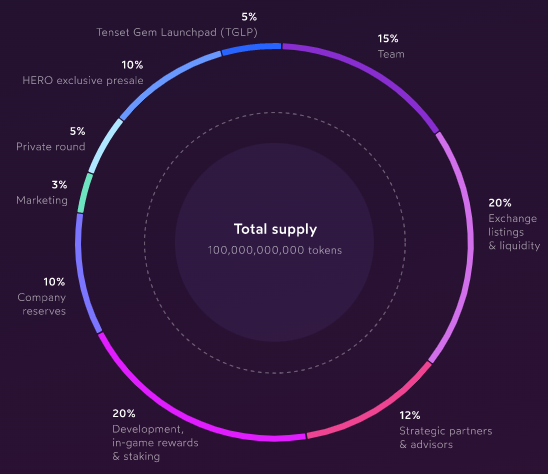 Photo Source.
Tokenomics of Metahero
Per CoinMarketCap, at the time of the writing of this article (January 16, 2022 at 14:55 EDT) there is a circulating supply of 5,100,000,000 HERO. With the current price of $0.1114 the market capitalization of Metahero (HERO) is $568,024,609. There is a total supply of 10,000,000,000 coins authorized yielding a fully diluted market capitalization of $1,115,229,057. Presently, Metahero (HERO) is ranked No. 232 by CoinMarketCap.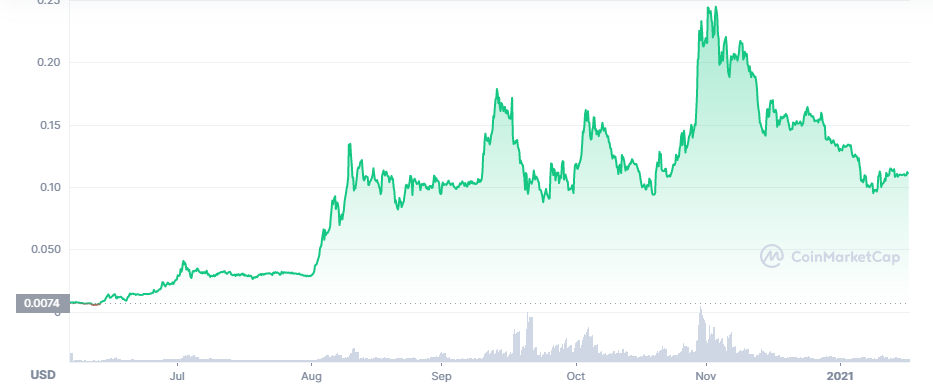 Photo Source
The price chart for HERO from its initial issuance to date shows volatility however a distinctive pattern and trend of price growth is indicated.
What May the Future Hold for Metahero?
'One of Metahero's key selling points is how they allow users to scan their assets or themselves in ultra-high definition and present these in the digital world,' said Anndy Lian, Asia chairman of BigONE Exchange and chief digital advisor for Mongolia's national productivity agenda. 'There is a high demand for this niche within the cryptocurrency and gaming sectors. In addition, the popularisation of the metaverse has no doubt contributed to the project's success,' Lian told capital.com.
[Najumi, supra.].
Several future price predictions by experts include:
Wallet Investor: sees the price of HERO rising to $0.552 by the end of December 2022, $1.338 by the end of December 2024 and $1.733 by the end of December 2025.
DigitalCoinPrice: sees the price of HERO rising to $0.21935894287 in December 2022, $0.26219545478 in 2025 and hit $0.58264192480 in 2028.
Gov.Capital: has presented a graph depicting its price prediction as follows: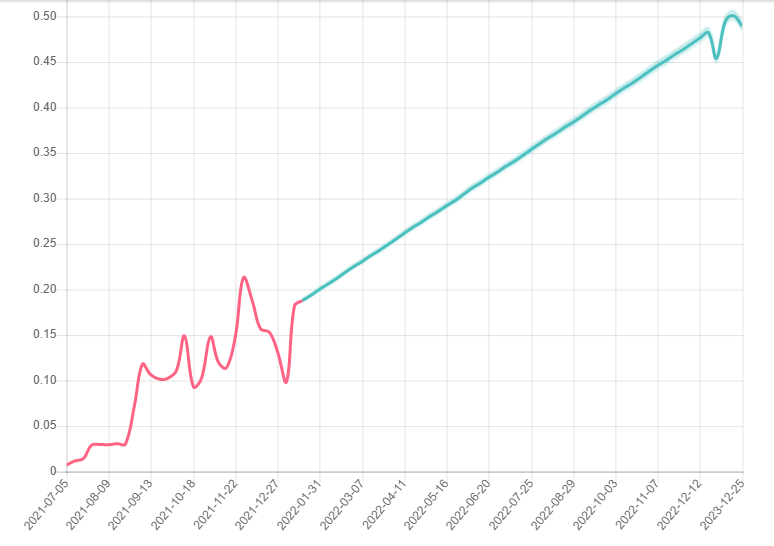 Photo Source
Please keep in mind that while these price predictions paint a rosy future for Metahero (HERO) as an investment, they are just that - predictions. No one has a crystal ball that can predict and guarantee future price performance and potential returns. As such, as a potential investor, you may take the prediction for what it is, as the same is no guarantee of future price performance of Metahero (HERO) due to the volatility of the cryptocurrency markets.
Several Items Worthy of Mention
Metahero is basically funding itself having provided $10,000,000 to the project. As a result only a relatively small ICO was organized for the project.
All of the collected funds were assigned to ensure liquidity for trading on the decentralized PancakeSwap exchange and are permanently locked. This is one sure sign of this project's good intentions.
The smart contracts used by Metahero have been audited by Certik and have received positive results.
Final Thoughts
While in general many of the NFT and metaverse projects have been garnering a lot of attention this past year, this attention is coming more and more into focus with each passing day. The Metahero project is no exception to this and in fact may actually gain more attention than other projects due to its demonstrable utility.
At first blush, the future of this project looks bright.
DISCLAIMER: The content herein is presented for educational purposes only and should not be construed as investment advice. Any loss incurred as a result of investing in Metahero (HERO) is yours and yours alone and may not be imputed to this author. Any foregone gain by not investing in Metahero (HERO) is yours and yours alone and may not be imputed to this author.
Posted Using LeoFinance Beta
---
---