After the Ethereum Merge, Both Circle and Tether Only to Support Ethereum PoS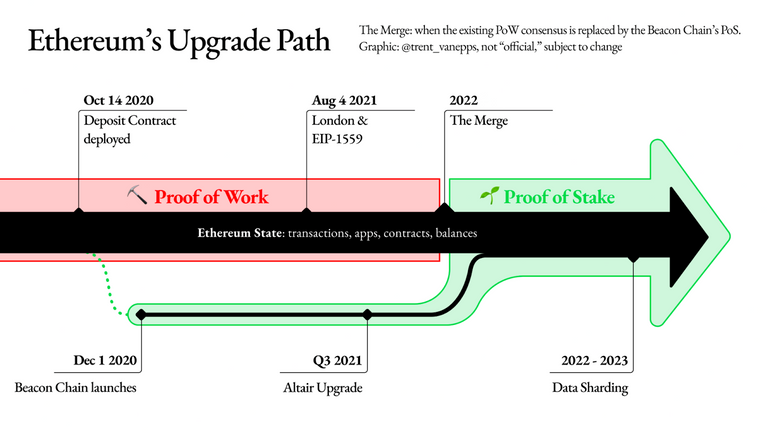 Photo Source
Introduction
By now, that is unless you have been living under a rock, you must be aware of the upcoming merger of Ethereum giving rise to Ethereum 2.0 - Ethereum with a Proof of Stake consensus. Nonetheless, at that time a fork of the Ethereum chain will occur and the existing Proof of Work Ethereum chain will exist side by side with the new protocol. This fork is making the various applications on the Ethereum chain decide which path to follow- ETH PoS or ETH PoW.
Circle (USDC)
On Tuesday, August 9, 2022, Circle, the entity responsible for the USDC stablecoin, announced its full support for Ethereum's transition to Proof of Stake following the merge. In a Blog published August 9, Circle writes:
As Ethereum approaches 'The Merge' event, we are excited about the future scaling opportunities it unlocks as well as the reduced energy consumption profile of the network. USDC is the largest dollar-backed stablecoin issued on Ethereum and, as the issuer of USDC, Circle intends to fully and solely support the Ethereum proof-of-stake (PoS) chain post-merge [...] USDC has become a core building block for Ethereum DeFi innovation. It has facilitated the adoption of L2 solutions and helped broaden the set of use cases that today rely on Ethereum's vast suite of capabilities. We understand the responsibility we have for the Ethereum ecosystem and businesses, developers and end users that depend on USDC, and we intend to do the right thing [...] While we don't speculate on the possibility of forks post Ethereum Mainnet merge, USDC as an Ethereum asset can only exist as a single valid "version," and as stated previously, our sole plan is to fully support the upgraded Ethereum PoS chain.
[Reginatto. J. USDC and Ethereum's Upcoming Merge. (Accessed August 10, 2022)].
"Unlike others, Circle continued that it doesn't expect any issues as the Ethereum blockchain begins its transition, stating: 'We do not anticipate disruptions to USDC on-chain capabilities nor to our fully automated issuance and redemption services. Circle's testing environment is connected to the Goerli Ethereum testnet, and we will monitor closely as it merges with Prater in the coming days" [Sun, Z. Circle plans to only support Ethereum PoS chain after Merge is complete. (Accessed August 10, 2022)].
"Circle's statement comes after decentralized oracle network Chainlink (LINK) announced that it will not support forked versions of Ethereum after the much-anticipated Merge upgrade takes place in September. 'Users should be aware that forked versions of the Ethereum blockchain, including PoW forks, will not be supported by the Chainlink protocol' [The Daily Hodl. USDC Issuer Circle Joins Chainlink in Only Supporting Proof-of-Stake Ethereum After the Merge. (Accessed August 10, 2022)].
Currently, USDC is both the largest dollar-backed stablecoin issued on Ethereum and the largest ERC-20 asset overall, with over $45 billion in market capitalization residing in the ecosystem at the time of publication. Its reserves are audited and held at U.S. financial institutions such as BlackRock.
[Sun, supra].
Tether
"Hot on the heels of an official announcement from USD Coin (USDC) issuer Circle Pay, stablecoin giant Tether has now also officially confirmed its support behind Ethereum's upcoming Merge upgrade and switch to a proof-of-stake (PoS) consensus mechanism-based blockchain. The announcement came on the same day as its stablecoin competitor, who pledged they will only support Ethereum's highly anticipated upgrade" [Quarmby, B. Tether also confirms its throwing weight behind the post-Merge Ethereum. (Accessed August 10, 2022)].
In a statement likewise issued on August 9, 2022, Tether set forth:
Ethereum is nearing one of the most significant moments in blockchain history as it prepares to make the move from POW to POS. Tether believes that in order to avoid any disruption to the community, especially when using our tokens in DeFi projects and platforms, it's important that the transition to POS is not weaponized to cause confusion and harm within the ecosystem. For this reason Tether will closely follow the progress and preparations for this event and will support POS Ethereum in line with the official schedule. We believe that a smooth transition is essential for the long term health of the DeFi ecosystem and its platforms, including those using our tokens.
[Tether. USD₮ Supports ETH Proof-of-Stake Transition. (Accessed August 10, 2022)].
While Tether issued this official announcement August 9, prior thereto and on July 31, 2022, Tether's Chief Technology Officer, Paolo Ardoino, indicated the company's plan to support ETH PoS post merge: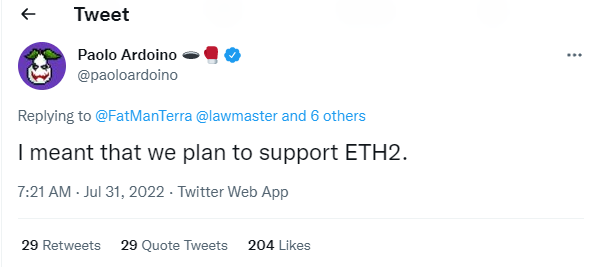 Photo Source
Tether (USDT) is currently the largest stablecoin in crypto, with a total market cap of $66.6 billion, while USDC is relatively close behind at $54.1 billion, according to CoinGecko. Both stablecoins have a significant amount of their circulating supply on Ethereum's current proof-of-work (PoW) blockchain, with USDT at $32.3 billion and USDC taking the top spot at $45.1 billion at the time of writing. Given the size of these stablecoins and their dominance over the stablecoin market, the show of this support in this instance should result in a smooth transition for the Ethereum, Tether and USD Coin ecosystems, as well as the broader crypto market as a whole.
[Quarmby, supra].
Nonetheless, despite the foregoing, Ethereum founder Vitalik Buterin has argued that centralized stablecoins, such as USDC and Tether, could be the 'significant' deciders of which protocol the industry would follow after future hard forks.
A hard fork occurs when there is a radical change to the protocol of a blockchain network that effectively results in two versions. Usually, one chain ends up being preferred over another: 'At the moment of the merge, you will have two [separate] networks […] and then you have exchanges, you have Oracle providers, you have stablecoin providers that are kind of deciding in a way, which one they respect. 'Because at that point, you'll have 100 billion of USDT on one chain and 100 billion of USDT on the other chain, cryptographically — and so, they [Tether] need to stop respecting one of them,' explained Buterin.
[Mitchelhill, T. Vitalik: Centralized USDC could decide the future of contentious ETH hard forks. (Accessed August 10, 2022)].
Buterin maintains he has seen no indication that this issue would come to light in the upcoming merge, but noted that the centralized stablecoin issue is a future concern. Specifically, Buterin stated: "I think in the further future, that definitely becomes more of a concern. Basically, the fact that USDC's decision of which chain to consider as Ethereum could become a significant decider in future contentious hard forks." [Id].
He added that in the next five to ten years, Ethereum may see more contentious hard forks where centralized stablecoin providers could carry more weight. 'At that point, maybe the Ethereum foundation will be weaker, maybe the ETH 2 client teams will have more power, and maybe someone like Coinbase, would both run a stablecoin and have bought up one of the client teams by then […] like lots of those kinds of things could happen,' he said.
[Id].
"After Ropsten and Sepolia, Goerli was the last remaining testnet scheduled to undergo the Merge, officially becoming a proof-of-stake (PoS) blockchain as of 1:45 am UTC, Aug. 11. The Goerli testnet merge has been finalized without any major issues today, suggesting that there will be no delays to the tentative Ethereum Merge date set for Sept. 19" [Quarmby, B. Ethereum Merge on track as Goerli test merge successfully finalized. (Accessed August 11, 2022)].
Posted Using LeoFinance Beta
---
---