Another Contagion Victim - Hodlnaut Suspends Withdrawals and Deposits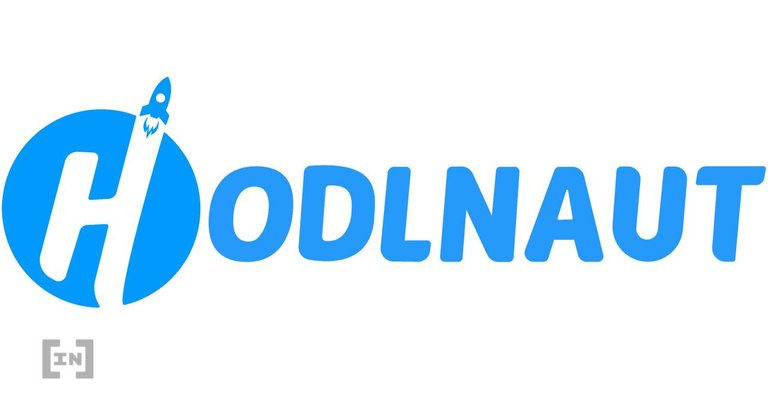 Photo Source
"Crypto lending platform Hodlnaut is suspending transactions including withdrawals and deposits, citing market conditions and a lack of liquidity as a reason. On Monday, the crypto lending business released a formal statement explaining why it had to cease its operations and stating that it was already working on a recovery strategy" [LollyCrypt. Hodlnaut suspends services due to liquidity crisis. (Accessed August 9, 2022)].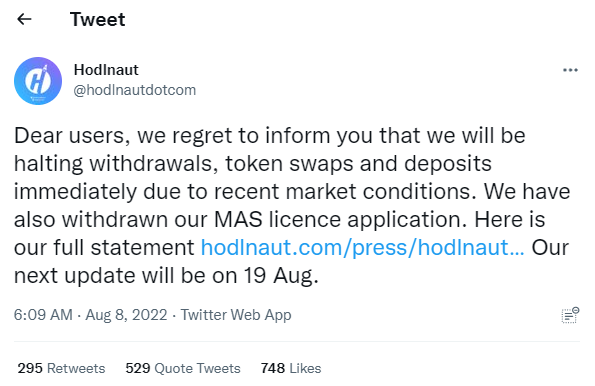 Photo Source
It is worthy to note that the 'full statement' referred to in the tweet above contains a useful 'FAQ' section with a good quantity of relevant information. Accordingly, if interested, this 'full statement' may be accessed by clicking here.
"The crisis in the industry was mainly behind the demise of Terra, the financial difficulties of Celsius Network and the loan default of Three Arrows Capital. In particular, according to the bankruptcy of the court documents Hodlnot was also listed as one of Celsius' institutional clients" [Warren, D. Singapore-based Hodlenaut halts withdrawals citing 'market situation'. (Accessed August 9, 2022)].
The collapse of the Terra (LUNA) ecosystem—now known as Terra Classic (LUNC)—and the bankruptcy of prominent crypto hedge fund Three Arrow Capital marked the beginning of the crypto loan crisis (3AC). The simultaneous market turbulence had a cascading effect on cryptocurrency lenders who had exposure to both the Terra ecosystem and the hedge fund. Major cryptocurrency lenders like Voyager Digital, Celsius, and Blockchain.com ceased their operations. Despite the fact that Hodlnaut was able to avoid any 3AC liability, some sources suggest that the company was not upfront about its investments in Terra's now-defunct algorithmic stablecoin. In a post shared in June on Twitter by the user name Fatman, Hodlnaut was exposed widely during the stablecoin's depeg and was found to have misrepresented their position.
[LollyCrypt, supra].
In the absence of any supporting documentation, Hodlnaut dismissed these claims and maintained it neither purchased any UST nor suffered any loss attributable to UST yield services. Nonetheless, "[i]t should be noted that Hodlnaut reportedly held more than $187 million in TerraUSD [UST] – now TerraClassicUSD [USTC]. Therefore, several speculate that its latest move could be in light of the dramatic downfall of Terra" [Kiran, S. Crypto: Hodlnaut with $500m AUM halts withdrawals on the platform. (Accessed August 9, 2022))].
"The crypto lender also said it would withdraw its application for a licence from the Monetary Authority of Singapore (MAS) to provide digital token payment services, for which it received in principle approval in March. An MAS spokesperson said it had rescinded the approval following the request" [John, A., Lin, C. and Howcroft, E. Singapore-based crypto lender Hodlnaut suspends withdrawals. (Accessed August 9, 2022)].
As a result of the withdrawal of it's MAS application, Hodlnaut, under the laws of Singapore, would no longer be able to legally offer 'token swap features'.
Additionally, "[t]he crypto lending platform said it would suspend all of its social media accounts except for the official Twitter and Telegram. Apart from the social media suspensions, founder Juntao Zhu has gone private on Twitter" [Jha, P. Crypto lending platform Hodlnaut suspends services due to liquidity crisis. (Accessed August 9, 2022).
It should be noted that at the time of the withdrawal freeze, Hodlnaut stated "it has more than $500 million in assets under management" [Knight, O. Crypto Lender Hodlnaut Freezes Withdrawals, Citing Market Conditions. (Accessed August 9, 2022)].
"The apparent downfall of another crypto lending platform invoked furious reactions from the crypto community with many advocating for investors to store their crypto off-exchange. Others pointed toward the domino effect that the UST collapse created in May with effects being seen even now" [Jha, supra].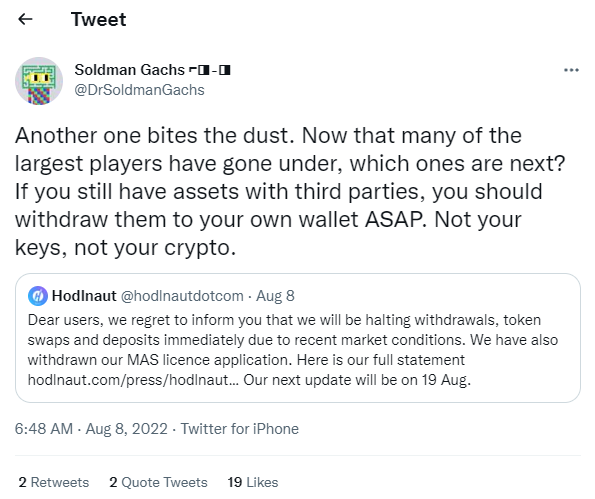 Photo Source
Posted Using LeoFinance Beta
---
---