BLOKTOPIA: A New Metaverse Project Built on the Polygon Network (A Deep Dive)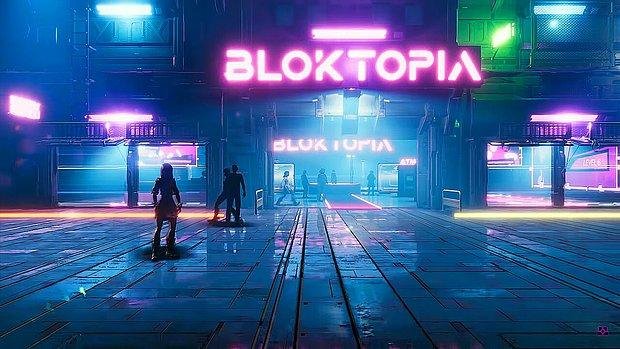 Photo Source
Introduction to Bloktopia
Thanks to the COVID-19 pandemic the need for a new communications paradigm has been amplified. And the metaverse is the technology to satisfy this need. The metaverse provides people the new platform of a virtual world where they can communicate and share experiences even when they cannot participate in activities together in the real world. That which you cannot do in the physical world may now be done in the metaverse.
In essence, the metaverse is created through a union of VR (Virtual Reality) and AR (Augmented Reality) which supports such activities as: games, work, education, entertainment, socialization communications, and commerce. It is usually displayed in a futuristic, high-tech, urban format.
Strategy Analytics, an international research entity has forecast that the worldwide metaverse market could be valued at $280 billion as early as 2025 [See, e.g. Lehot, L. A Glimpse Inside The Legal Metaverse. (Accessed January 13,2022)]. So as the metaverse is in its nascent stages, now is the time to give serious thought to adding promising metaverse projects to your portfolio.
What is Bloktopia?
In format, Bloktopia is a 21 story virtual skyscraper (the 21 stories picked to pay symbolistic tribute to the 21 billion maximum supply of Bitcoin). This high-tech tower rises from an ill-fated virtual world that is based on an NFT driven economy that permits the platform's users to own and develop land replete with activities, events, and advertising opportunities allowing said users to monetize their efforts. "Bloktopia will provide an unprecedented VR Experience for the crypto community, bringing users together all in one immersive and engaging environment." [Blocktopia. Litepaper V1.9. (Accessed January 13, 2022)].
Bloktopia is supported by the Polygon Network and built on Unity (a cross-platform game engine developed by the founders of Sony Playstation VR). The Bloktopia metaverse is powered by 3D Creation Engine, which arguably is the most advanced real-time video game engine in the world at present. As such, within the Bloktopia protocol, "[c]ryptocurrencies, blockchain technology, VR, AR all merge to create a decentralized hub for future entrepreneurs, investors, players and developers" [La Capra, E. What Is Bloktopia (BLOK)? One of the Biggest Metaverse Projects. (Accessed January 13, 2022)].
The Four Principles of the Bloktopia Metaverse
Basically, as set forth in the Bloktopia Litepaper, these four principles of the Bloktopia metaverse comprise the stated goals upon which the platform aims to provide it's users. These four principles are:
Learn: "EDUCATE YOURSELF IN THE WORLD OF CRYPTO - The world of crypto can be an extremely difficult place to navigate your way around. With Youtube, Telegram, Twitter & other news platforms, Bloktopia will position itself as a central hub, where users can come and learn in an open and friendly environment" [Supra. Bloktopia. Litepaper V1.9].
Earn: "GENERATE REVENUE THROUGH MULTIPLE INCOME STREAMS - Bloktopia will be a land of earning opportunities for Bloktopians. Following the IDO, Bloktopia real estate will be made available for Bloktopians to purchase. Other opportunities will consist of passive earning, staking and advertising" [Id.].
Play: "RELAX, SOCIALISE, HAVE FUN AND COMPETE - Users can come and play games, entertain friends and network through a truly immersive, first-person perspective of a virtual reality world" [Id.].
Create: PUSH THE BOUNDARIES OF YOUR CREATIVITY - Create scenes, artworks, challenges and more, using the simple Builder tool, then take part in events to win prizes. For more experienced creators, the SDK (software development kit) provides the tools to fill the world with social games and applications" [Id.].
The BLOK Token and its Utility
The native utility token for the Bloktopia metaverse is the BLOK token and holders of the BLOK token are known as Bloktopians. The Bloktopia Litepaper V1.9 at page 17 presents a concise but highly informative chart displaying the utility of the token and its resultant value and may be found by clicking here. Several uses and values are worthy of mention herein:
Bloktopia will offer free access to anyone regardless of token ownership. However owners of large stakes of BLOK will receive future exclusive benefits.
Bloktopia will operate on a governance model. Owners of platform NFTs will vote on governance proposals through a Decentralized Autonomous Organization. All proposals are submitted to the DAO and voted upon by the NFT holders, majority vote winning.
BLOK tokens may be staked providing the investors opportunity to earn rewards.
The BLOK Token and the REBLOK/ADBLOK NFTs
Ownership of the BLOK token allows its holders the ability to acquire NFTs representing ownership of REBLOK and ADBLOK. The action of purchasing Land in Bloktopia is known as REBLOK. REBLOK ownership may be in the form of a sole ownership (through one NFT) or joint ownership (through multiple NFTs). In the same manner as real world land ownership, REBLOK can be leased for a single event or to a tenant for long-term rental income.
ADBLOK consists of the stream of revenue generated by Bloktopia advertisements. A portion of the fees generated through Bloktopia advertisements are redistributed to BLOK token holders. "Placing an ad in Bloktopia's metaverse is not much different from posting an ad in the real world. On Bloktopia, ads can be placed on billboards and virtual screens and even "broadcast" on the radio for all to hear" [Oliveira, J. What is Bloktopia (BLOK) token, Play to Earn Game and metaverse?. (Accessed January 13, 2022).
Bloktopia's Tokenized VR Skyscraper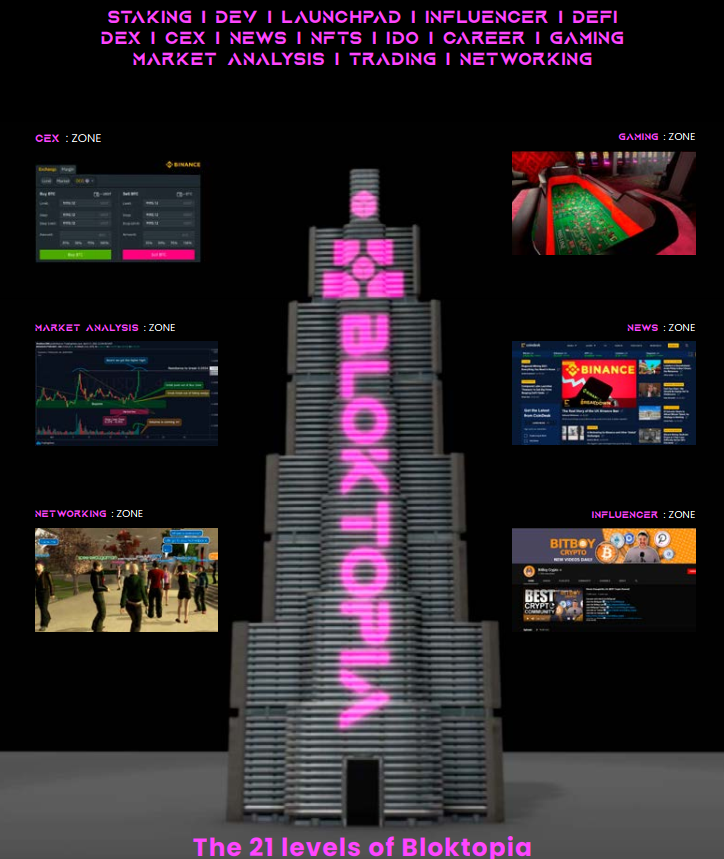 Photo Source
In order to further the core principles of Bloktopia discussed above, the virtual skyscraper is divided into six major zones at present:
CEX/DEX/DeFi zone
Gaming
Market analysis
News
Social Networking
Influencer.
"Bloktopia's mission is to create the...Everything Crypto Ecosystem. A place where enthusiasts will come to LEARN, EARN, PLAY & CREATE" [Supra. Bloktopia. Litepaper V1.9].
Ancilliary zones at this time are: staking, development, launchpad, career, IDO, NFTs, auditorium.
Getting Started - Entering the Bloktopia Metaverse
To gain entrance into the Bloktopia metaverse requires the creation of a Bloktopia Wallet by email or social media (Google, Facebook or Twitter) with two-factor authentication for security. This wallet grants its owner a passport within the Bloktopia metaverse and is the main location for BLOK token storage.
This Bloktopia wallet supports multiple blockchains - POLYGON, BTC, ETH, BSC plus many others. A user can create a Bloktopia wallet by one simple click, or alternatively, by importing a wallet via private key. Within the Bloktopia wallet, the owner may store and view ERC-1155 NFTs, one of the only wallets permitting such utility.
Once in possession of the Bloktopia wallet, the user will be required to create a personalized avatar and name it. Many customizable combinations exist for avatar creation and the opportunity is present to enhance the avatar while in Bloktopia through purchases made from the marketplace. Once this avatar is created and named it will be automatically applied to the Bloktopia wallet/passport.
When the avatar creation is complete, it will spawn outside the Bloktopia tokenized skyscraper. Access to Bloktopia is made with the avatar through the skyscraper's concourse.
All Bloktopians will enter on level one, it will therefore have the largest footfall of the skyscraper. This level will be key to all users as it will contain cryptocurrency pricing information, a helpdesk, an agenda and a navigation area.
Users can gain an overview of the events taking place during the day and register to participate. This level will be home to prime retail space; these are premium locations with
a major presence from the likes of, Binance, Coinmarketcap, CoinGecko and major Crypto influencers.
[Supra. Bloktopia. Litepaper V1.9].
Tokenomics
Per CoinMarketCap, at the time of the writing of this article (January 13, 2022 at 12:05 EDT) there is a circulating supply of 8,340,000,000 BLOK. With the current price of $0.04074 the market capitalization of Bloktopia (BLOK) is $339,675,499. There is a total supply of 200,000,000,000 coins authorized yielding a fully diluted market capitalization of $8,144,558,314. Presently, Bloktopia (BLOK) is ranked No. 255 by CoinMarketCap.
A review of the price chart of Bloktopia clearly shows the coin price is currently well below its ATH (All Time High Oct 31, 2021 $0.1777), however, its price is well above its demonstrated ATL (All Time Low Oct 06, 2021 $0.00367).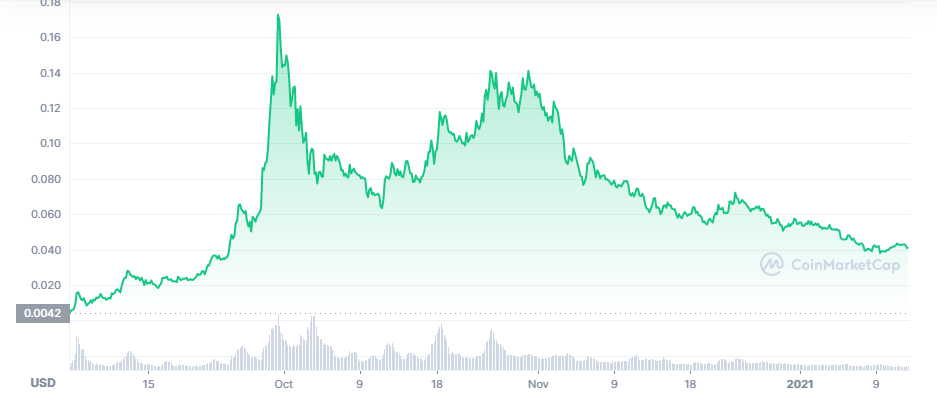 Photo Source
One Reasonable Expert Price Prediction
PortalCripto forecasts:
In the next 3 years the Bloktopia price can reach is 0.67565 USD and the lowest Bloktopia price can be 0.04189 USD. According to our calculations, at the end of 2023 we expect the Bloktopia price to be around 0.18675 USD, although it could easily end up at the 0.30216 USD price levels by the end of 2024. When we calculate the Bloktopia price forecast in the near future at the end of 2025 we surprisingly found a remarkable value of 0.48889 USD per Bloktopia.
[Supra. Olivera. What is Bloktopia (BLOK) token, Play to Earn Game and metaverse?].
Investors in the Bloktopia Project
Investors in Bloktopia include:
Animoca Brands (Lead Investor)
AU 21 Capital
Anti Fund
Avalanche
Polygon
Shima Capital
Magnus Capital
Genblock Capital
TKX Capital
X 21
CryptoWendyO
ZBS Capital
BitBoy Crypto
A Word About Bloktopia and Polygon
The Bloktopia team decided to build upon the Polygon blockchain as it is arguably one of the most active layer-2 Ethereum scaling solutions in today's market. More particularily, Bloktopia seeks to take advantage of Polygon's EVM compatibility, high speed, low cost transactions and the overall compatibility of the network with its protocol. As per the Bloktopia Litepaper: "This will allow us to connect, develop and most importantly develop at scale on the Ethereum network. The power of Ethereum is that it provides a credible layer of trust for users, however by leveraging the Plasma framework on Polygon, it has significant advantages over other networks allowing scalability, security and overall better user experience [Supra. Bloktopia. Litepaper V1.9].
Final Thoughts
Bloktopia is a platform that derives attractiveness from the multiple revenue streams available to its users. Given these multiple revenue streams the platform has the potential to grow quickly, thereby adding to its overall value (and token price).
It appears a bright future is ahead for the Bloktopia project.
AUTHOR'S NOTE:
Your author holds a long position in Bloktopia (BLOK).
The content herein is presented for educational purposes only and should not be construed as investment advice. Any loss incurred as a result of investing in Bloktopia (BLOK) is yours and yours alone and may not be imputed to this author. Any foregone gain by not investing in Bloktopia (BLOK) is yours and yours alone and may not be imputed to this author.
Posted Using LeoFinance Beta
---
---