Celsius Bankruptcy Filing Illuminate Trouble - Customers May Not Be Repaid Anything!

Photo Source
Crypto lender Celsius Network has revealed a $1.2bn hole in its balance sheet caused by what chief executive Alex Mashinsky called "poor" investments and other "unanticipated" losses. Celsius made the disclosure as it sought US bankruptcy protection this week after freezing customer funds in June, which made it the latest victim of the crash in crypto markets that has forced two other large companies into recent bankruptcy.
[Shubber, K. Celsius Network reveals $1.2bn shortfall in bankruptcy filing. (Accessed July 15, 2022)].
A chapter 11 bankruptcy document signed off by Celsius CEO Alex Mashinsky on July 14 has revealed that the company holds around $4.3 billion in assets against $5.5 billion in liabilities, representing a $1.2 billion deficit. User deposits made up the majority of liabilities at $4.72 billion, while Celsius' assets include CEL tokens as assets valued at $600 million, mining assets worth $720 million, and $1.75 billion in crypto assets.
[Newar, B. Celsius bankruptcy filings show a company in deep trouble. (Accessed July 15, 2022)].

Photo Source
The value of the CEL tokens has drawn suspicion from some in the crypto community however, as the entire market cap for CEL tokes is only $321 million, according to CoinGecko data. Among the crypto assets are 410,421 Lido Staked ETH (stETH) tokens worth about $479 million which are generating 5% APY, though the tokens themselves cannot be redeemed for Ether (ETH) until the Ethereum network transitions into Proof-of-Stake consensus in the Merge.
[Id].
Mashinsky laid out the details showing the scale and magnitude of Celsius' problems in a 61 page Declaration in Support of the Chapter 11 Bankruptcy and First Day Motions. This proves to be a very interesting read and the full text of this Declaration may be found by clicking here.
To partially summarize: "the filing suggested they may face significant losses and blamed the company's problems on a mixture of bad bets, market conditions and a failure to manage its rapid growth. 'The amount of digital assets on [Celsius's] platform grew faster than the company was prepared to deploy. As a result, the company made what, in hindsight, proved to be certain poor asset deployment decisions', Mashinsky wrote in the filing. [Shubber, supra].
Mashinsky further admitted a series of mistakes made by Celsius which helped give rise to its problems.
One was a $510mn loss discovered in 2021 when Celsius sought to recover collateral it had pledged to cover borrowings from an unnamed 'private lending platform'. "The lender was unable to return the . . . collateral on a timely basis," Mashinsky wrote. Some $440mn of that remains outstanding, he added. Celsius also incurred losses of almost $100mn when collateral it had pledged to secure a loan from Tether — the stablecoin issuer that is an equity investor in Celsius — was liquidated by mutual agreement in recent months.
[Id].
In a Tweet yesterday, (July 14, 2022), Cory Klippstein, founder of Swan Bitcoin scolded both Celsius and Voyager for filing Chapter 11 Bankruptcy instead of SIPA (Securities Investor Protection Act) relief.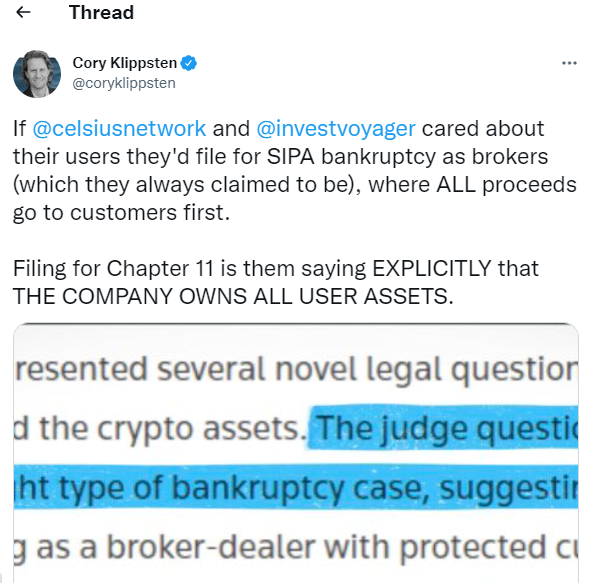 Photo Source
Under SIPA when a brokerage firm fails, it is required to either transfer it's accounts to another brokerage or in the alternative be liquidated with resulting funds distributed pro rata to the investors. Basically, the effect of a SIPA filing is to transfer the brokerage's assets to it's customers in the hope they recover at least a portion of their investment deposit; [See e.g. United States Courts. Securities Investor Protection Act (SIPA). (Accessed July 15, 2022)].
By filing Chapter 11 Bankruptcy, Frances Coppola, crypto skeptic economist and blogger, believes the the Celsius investors will see none of their investment deposits repaid. In a blog published yesterday (July 14, 2022), she maintains that Celsius was being operated as an 'unregulated financial intermediary' - in other words, a 'shadow bank'.
In her blog, she explains:
Celsius is not an asset manager, it's a shadow bank. And deposits in banks aren't even 'customer assets', let alone 'assets under management'. They are unsecured loans to the bank. They are thus liabilities of the bank and fully at risk in bankruptcy. Depositors in a bank do not have any legal right to return of their funds. Even if the terms of the account say funds can be withdrawn whenever the customer chooses, the bank can refuse to allow customers to withdraw their funds if it doesn't have the cash to pay them.
[Coppola, F. Why Celsius Network's depositors won't get their money back. (Accessed July 15, 2022)].
"Celsius's terms of use make it completely clear that customers who deposit funds in Celsius's interest-bearing accounts are lending their funds to Celsius to do with as it pleases. And it specifically says that in the event of bankruptcy, customers might not get all - or indeed any - of their money back" [Id]. Specifically, Celsius' Terms of Service provide:
PLEASE CAREFULLY REVIEW THESE TERMS BEFORE USING, OR CONTINUING TO USE, ANY OF CELSIUS' SERVICES. THE TERMS INCLUDE IMPORTANT INFORMATION ABOUT YOUR RELATIONSHIP WITH CELSIUS, INCLUDING MANDATORY ARBITRATION OF DISPUTES BETWEEN YOU AND CELSIUS INSTEAD OF CLASS ACTIONS OR JURY TRIALS THE SERVICES ARE PROVIDED SOLELY FOR USE BY YOU, AND YOUR USE OF THE SERVICES IS EXPRESSLY CONDITIONED ON YOUR CONSENT TO, AND COMPLIANCE WITH, THE TERMS. BY ACCESSING OR USING OUR SERVICES, YOU AGREE TO BE BOUND BY THE TERMS. IF YOU DO NOT AGREE TO ANY OF THE PROVISIONS OF THESE TERMS YOU SHOULD IMMEDIATELY STOP USING THE SERVICES. IN ADDITION, OUR PRIVACY POLICY IS INCORPORATED INTO THE TERMS IN ITS ENTIRETY. WE ENCOURAGE YOU TO READ THE TERMS CAREFULLY AND USE THEM TO MAKE INFORMED DECISIONS.
[...]
These Terms and your use of any of our Services do not create a fiduciary relationship between us and you; your Celsius Account is not a checking or savings account, and it is not covered by insurance against losses.
[...]
CELSIUS IS NOT A BANK OR DEPOSITORY INSTITUTION, AND YOUR CELSIUS ACCOUNT IS NOT A DEPOSIT ACCOUNT. ELIGIBLE DIGITAL ASSETS REPRESENTED IN YOUR CELSIUS ACCOUNT ARE NOT HELD BY CELSIUS AS A FIDUCIARY, ARE NOT INSURED BY ANY PRIVATE OR GOVERNMENTAL INSURANCE PLAN (INCLUDING THE FEDERAL DEPOSIT INSURANCE CORPORATION (FDIC) OR THE SECURITIES INVESTOR PROTECTION CORPORATION (SIPC)), AND ARE NOT COVERED BY ANY COMPENSATION SCHEME.
[...]
Celsius and our third-party partners may experience cyber-attacks, extreme market conditions, or other operational or technical difficulties which could result in the immediate halt of transactions either temporarily or permanently. Provided that Celsius has taken reasonable commercial and operational measures to prevent such events in technical systems controlled by Celsius, Celsius is not and will not be responsible or liable for any loss or damage of any sort incurred by you as a result of such cyber-attacks, operational or technical difficulties or suspensions of transactions.
[...]

Consent to Celsius' Use of Digital Assets
In consideration for the Rewards payable to you on the Eligible Digital Assets using the Earn Service, for us entering into any Loan Agreement, and the use of our Services, you grant Celsius, subject to applicable law and for the duration of the period during which you elect to utilize the Eligible Digital Assets in the Earn Service (if available to you) and thus loan such Eligible Digital Assets to us through your Celsius Account, or as collateral under the Borrow Service (if available to you), all right and title to such Eligible Digital Assets, including ownership rights, and the right, without further notice to you, to hold such Digital Assets in Celsius' own Virtual Wallet or elsewhere, and to pledge, re-pledge, hypothecate, rehypothecate, sell, lend, or otherwise transfer or use any amount of such Digital Assets, separately or together with other property, with all attendant rights of ownership, and for any period of time, and without retaining in Celsius' possession and/or control a like amount of Digital Assets or any other monies or assets, and to use or invest such Digital Assets in Celsius' full discretion. You acknowledge that with respect to Digital Assets used by Celsius pursuant to this paragraph:
You will not be able to exercise rights of ownership;
Celsius may receive compensation in connection with lending or otherwise using Digital Assets in its business to which you have no claim or entitlement; and
In the event that Celsius becomes bankrupt, enters liquidation or is otherwise unable to repay its obligations, any Eligible Digital Assets used in the Earn Service or as collateral under the Borrow Service may not be recoverable, and you may not have any legal remedies or rights in connection with Celsius' obligations to you other than your rights as a creditor of Celsius under any applicable laws.
[Celsius. Terms of Use. (Accessed July 15, 2022)].
These terms of use were set forth above to demonstrate the lengths Celsius went to to protect itself against the situation it now faces (great job covering their a%#!!!). It also further emphasizes the point that once funds were deposited with Celsius, it could do anything it wanted to do with regard to the deposited funds.
This speaks volumes toward the importance of reading the posted 'official' Terms of Use before making any investment.
The One Year Price Chart for Celsius clearly displays the effects of the trouble it is facing: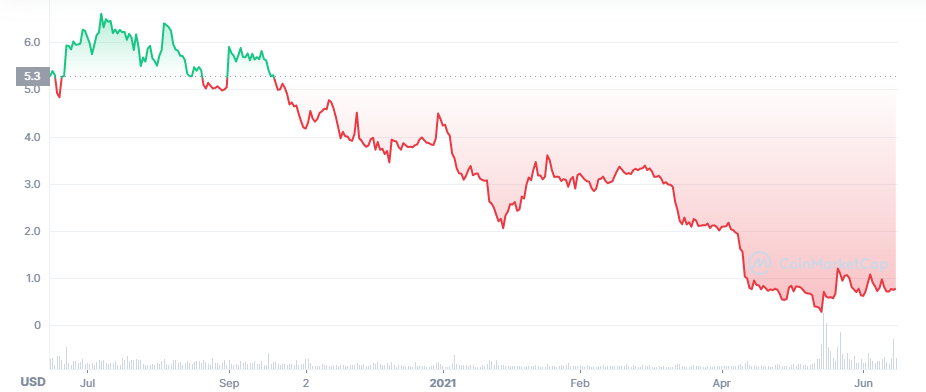 Photo Source
At the time of the writing of this article (July 15, 2022 @ 12:49) Celsius is trading at $0.7774, down 3.53% over a 24 hour period per CoinMarketCap.
Posted Using LeoFinance Beta
---
---