No Plan to Auto-Convert Tether...Yet, says Binance

Photo Source
Auto-Conversion
In an official statement Monday (September 5, 2022), crypto exchange Binance announced:
In order to enhance liquidity and capital-efficiency for users, Binance is introducing BUSD Auto- Conversion for users' existing balances and new deposits of USDC, USDP and TUSD stablecoins at a 1:1 ratio. With effect from 2022-09-29 03:00 (UTC), users will trade with a consolidated BUSD balance on the Binance Platform that reflects their balances of these four stablecoins (BUSD, USDC, USDP and TUSD) post conversion. This will not affect users' choice of withdrawal: users will continue to be able to withdraw funds in USDC, USDP and TUSD at a 1:1 ratio to their BUSD denominated account balance.
[Binance Team. Binance to Auto-Convert USDC, USDP, TUSD to BUSD (Binance USD). (Accessed September 6, 2022)
Then the announcement further notes that Binance is sunsetting a few specific spot trading pairs.

The pairs will be removed before the auto-conversion September 29 deadline and they will cease trading three days prior to the cut-off. "Binance will remove and cease trading on the following spot trading pairs at 2022-09-26 03:00 (UTC): USDC/BUSD, USDC/USDT, USDP/BUSD, USDP/USDT, TUSD/BUSD, TUSD/USDT," Binance details.

Three days after those pairs are removed, Binance will also discontinue ADA/USDC, ATOM/USDC, AUD/USDC, BCH/USDC, BNB/USDC, BTC/USDC, BTTC/USDC, EOS/USDC, ETH/USDC, LINK/USDC, LTC/USDC, SOL/USDC, TRX/USDC, WIN/USDC, XRP/USDC, ZEC/USDC, BNB/USDP, BTC/USDP, ETH/USDP, ADA/TUSD, BNB/TUSD, BTC/TUSD, ETH/TUSD, TRX/TUSD, and XRP/TUSD trading pairs on September 29.
[Redman, J. Binance to Drop USDC Trading Pairs, Plans to Auto-Convert Specific Stablecoin Balances to BUSD. (Accessed September 6, 2022)].
"USDC is the second largest stablecoin by market cap at $51 billion, according to CoinMarketCap. Binance's BUSD stablecoin comes third, with a market cap of $19 billion, while USDP and TUSD are far smaller. The move will effectively remove direct custody of USDC, USDP and TUSD for Binance's 120 million users worldwide" [Otieno, N. Binance to Convert Users' USDC Into Its Own Stablecoin. (Accessed September 6, 2022)].
A Binance spokesperson noted: "the auto-conversion and move to cease most trading services for USDC is 'not a temporary measure,' and that it 'will continue" [Quarmby, B. Binance: No plans to auto-convert Tether, though that 'may change'. (Accessed September 6, 2022)].
Changpeng Zhao (CZ), CEO of Binance, tweeted a clarification that Binance "won't be de-listing the three stablecoins, but is 'just merging all liquidity into one pair,' adding that it will offer the 'best price, lowest slippage for users" [Id].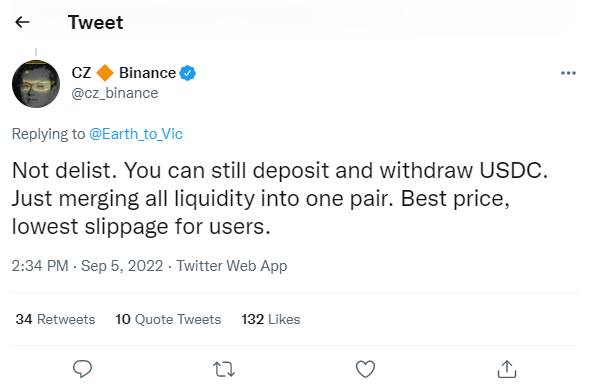 Photo Source
"The news is met with some scepticism, as some users have faulted the decision to convert rival stablecoins into Binance stablecoin. 'Crypto monopoly 101, Binance will remove $USDC as a tradable asset by Sep 25 to push their $BUSD.' a Twitter user by the name '@BloodgoodBTC' said. A Circle spokesperson also commented about the development: 'Based on market activity, it would seem much of this transition has already passed, and while optimizing dollar liquidity on the world's largest exchange may carry benefits, the paradigm does raise potential market conduct questions." [Otieno, supra].
"Binance also said it may expand or amend the list of stablecoins eligible for auto-conversion." [Id].
What about Tether (USDT)?
"In a statement to Cointelegraph, a Binance spokesperson confirmed there were no immediate plans to do the same to USDT, but noted that this could change, stating: 'We do not have plans to auto-convert USDT to BUSD as of now, but may change." [Quarmby, supra].
"In addition to being the largest crypto exchange by trade volume, Binance is the issuer of the third largest stablecoin BUSD. The dollar-pegged crypto asset has a market valuation of around $19.44 billion. USDC's market cap is $51.89 billion today, just below tether's (USDT) market cap of around $67.59 billion" [Redman, supra].
Data from Nansen shows that Binance has been gradually converting USDC to BUSD since mid-August, with roughly $1.5 billion worth switching over during that time according to the analytics platform's CEO Alex Svanevik. As it stands, Binance now has less than $1 billion worth of USDC on the platform, with around $993.3 million at the time of writing. In comparison, Binance holds a whopping $4.99 billion worth of USDT, more than any other exchange across the globe.
[Quarmby, supra].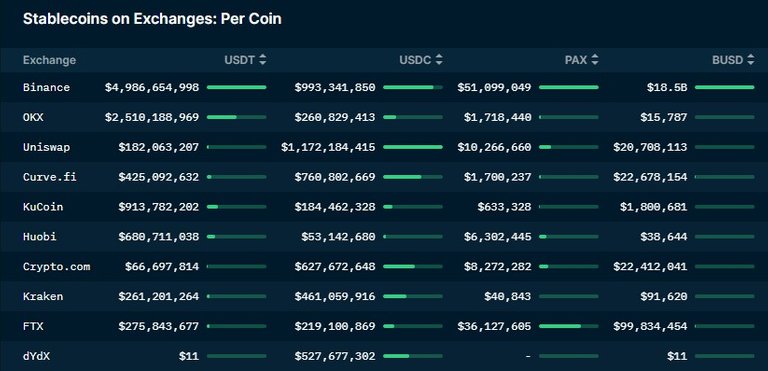 Photo Source
It is worthy to note that this "move from Binance comes alongside a temporary suspension of Ether (ETH) and Wrapped Ether (wETH) deposits and withdrawals on selected networks from Tuesday until the Ethereum Merge goes through later this month" [Id].
Posted Using LeoFinance Beta
---
---