Tether's Market Cap at 8 Month Low Photo Source
Tether presently holds the distinction of being the largest of the stablecoins as well as the third largest of all cryptocurrencies measured by market capitalization. However, the present market turndown is causing a loss in Tether's market value. In fact, yesterday, June 16, 2022, Tether's market capitalization fell below $70 Billion (to $69.3 Billion) to its lowest point since October, 2021. And at the time of the writing of this article (June 17, 2022 at 11:05) Tether's Market Cap is $69,152,653,004 per CoinMarketCap
A review of the 90-day Market Cap Chart for Tether evidences this drop as well as Tether's precipitous decline from its all-time high above $80 Billion in a less than two month period.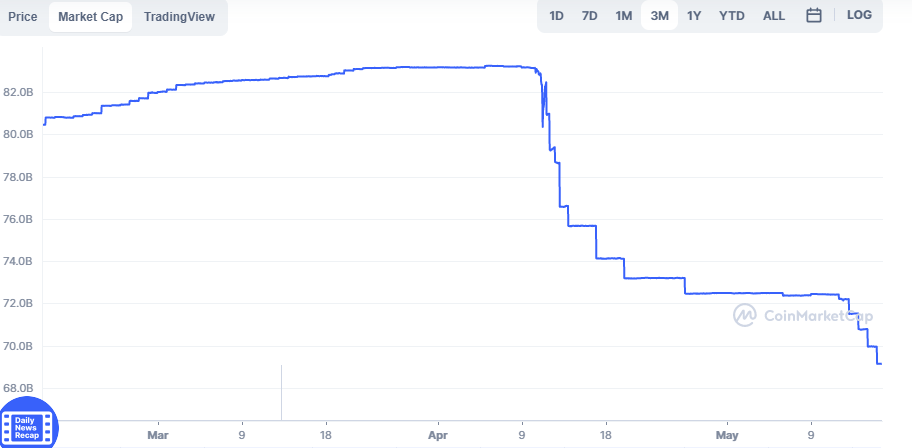 Photo Source
Tether's biggest rival, USDC, is the second-largest U.S. dollar-pegged stablecoin backed by the peer-to-peer payments technology company Circle. The stablecoin reached $50 billion market cap in February and has never beaten Tether's in market cap so far. While Tether has been losing its market share over the past few weeks, other stablecoins like the USD Coin (USDC) have been gaining value recently. As such, USDC market cap surged from about $48 billion in mid-May to $55 billion in mid-June.
[Partz, H. Tether's USDT market cap dips below $70B for an 8-month low. (Accessed June 17, 2022)].
The 90-day Market Capitalization chart for USDC clearly evidences this rise: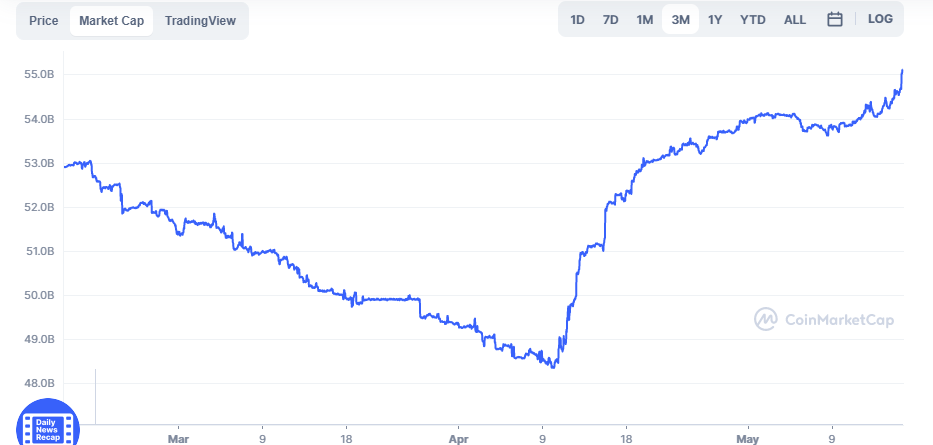 Photo Source
As of the time of writing this portion of this article (June 17, 2022 at 11:18) the market capitalization of USDC is currently $55,114,748,391.
"Tether's shrinking market cap comes amid the ongoing market panic and uncertainty, with the market capitalization of all cryptocurrencies dropping below $1 trillion for the first time since February 2021" [Id].
Tether representatives have actively taken to Twitter in the hopes of assuring their investors it is feeling no ill-effects from the present crypto lending crisis. In a tweet June 15, 2022, Paolo Ardoino, Tether CTO, stated: "No exposure to Celsius on our reserves. Liquidated without losses. No exposure to 3AC" [Ardoino, P. Tweet. (Accessed June 17, 2022)].
And in the fallout from the Terra/UST collapse, the amount of commercial paper collateralizing Tether has been questioned and criticized. In this regard, Ardoino tweeted: "Tether reduced almost 50% its CP holdings since 31st March 2022. By end of June only 8.4B CP left. CP exposure going to be reduced to 0" [Id].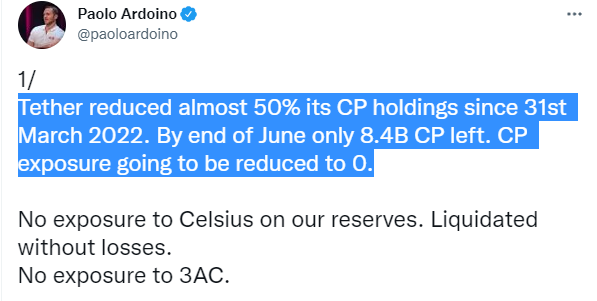 Photo Source
Posted Using LeoFinance Beta
---
---